Recommendations for new furniture and set up?



Answered
We just repainted and replaced the flooring. This room is connected to our kitchen (you can see the end of the built in eating area - see gray granite). We are ready to replace the couch and chairs but still need to find something with comfort and more seating area. We have large teenage boys who each want their space and lots of comfort. The room is small and therefore we have been limited to a larger couch. Lookin I keep the budget low (Rooms To Go budget) The bookshelves are new and tv will stay put on that wall. Please post pictures of ideas for new set up, new furniture etc. Thanks in advance for all the help!!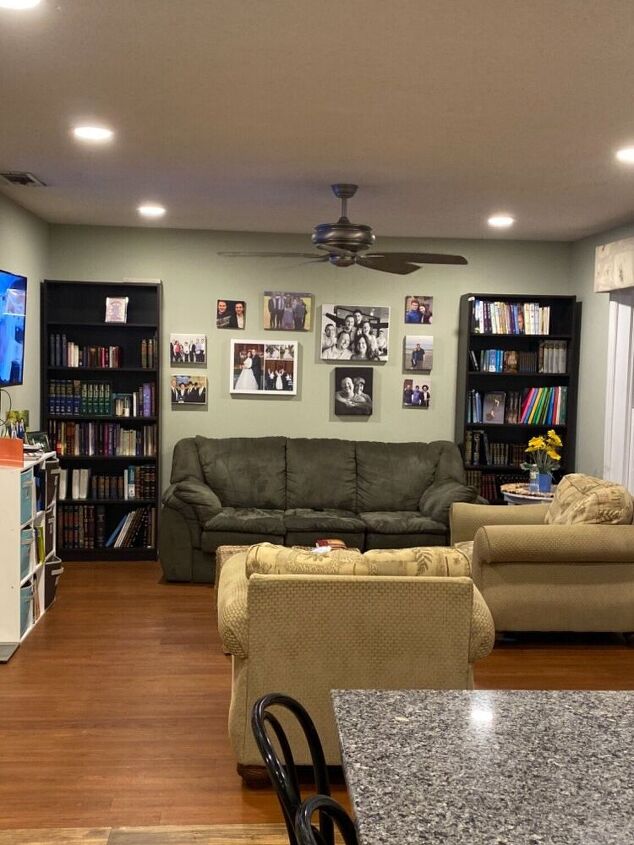 Related Discussions Rhonda
on Jan 06, 2019
I need advice on how to replace a toilet seat, please. What do I need to know when looking for a new one?

Douglas Hunt
on Aug 16, 2013
OK all you Hometalkers who are now savoring your caprese salads and your BLTs and your long-simmering sauces, what tomatoes have you grown this year that have done th... See more

Trish Washington
on Aug 13, 2020
We purchased a large entertainment center, and never use the space. Ideals for this space please?
ADOLFO
on Jul 17, 2020
I've just redecorated my living room adding up some french antiques I bought in Paris and Madrid but I would appreciate to have feedback on how it looks or whether th... See more
Jenna Thompson
on Jul 20, 2021
I just purchased my first home and I am trying to figure out a cohesive living room and kitchen layout. I'll be renovating the space and can move plumbing around but... See more
David Smith
on Aug 07, 2020
Hello Guys. I want to purchase one sofa for my living room. I don't have any higher budget. I want to know that which one you should recommended to purchase? A leathe... See more

Bernadette
on Jul 06, 2020
Hello! This is my living room. I see it all the time and don't really have a fresh perspective about it. What does it feel like? What does it look like? Any input w... See more