867 Views
7 Creepy and Crafty DIY Halloween Centerpieces for Your Home!
August 27th, 2023 10:06 AM
Get ready to cast a spell of spook-tacular creativity on your home this Halloween season with these DIY Halloween centerpieces!
From eerie mummies to charming succulent skulls, each project is a delightful blend of budget-friendly crafts and festive flair.
Whether you're looking to transform your kitchen into a haunted haven or simply want to add a touch of whimsy to your holiday decor, these easy-to-follow ideas will inspire you to create centerpieces that capture the spirit of the season.
Table of contents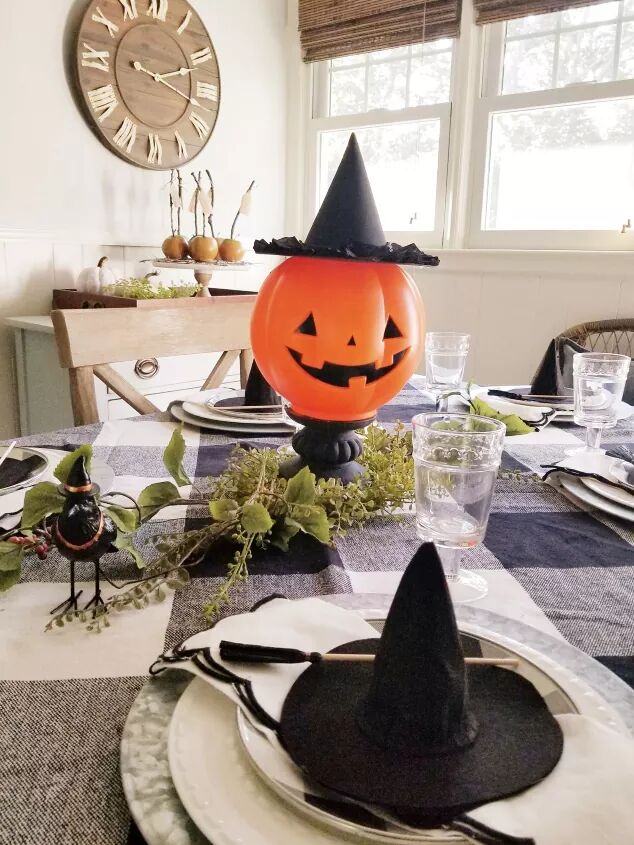 Photo: Jennifer | Simple Prairie Life
1. A Creepy-Cute Jack-o'-Lantern
Looking to add some Halloween charm to your kitchen without spending too much? With just a few materials and 20 minutes of your time, you can create your very own cute and inexpensive jack-o'-lantern centerpiece.
Using a plastic jack-o'-lantern candy bucket, a witch's hat, black paint, crepe paper, and more, Jennifer guides you step-by-step. Simply paint the hat and candle stand black, attach ruffled crepe paper to the hat, and glue the jack-o'-lantern onto a candle pedestal. What's great is that you can use it as a candy holder too. Plus, most of these items you might already have at home, with only a small purchase needed.
Get crafting and make your kitchen shine with Halloween spirit!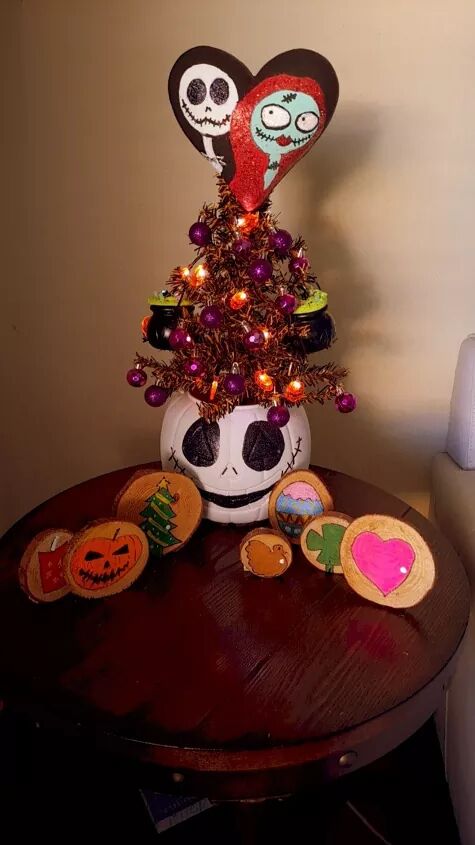 Photo: Victoria_Lady Dollar
2. Her Nightmare Before Christmas-Inspired Halloween Tree
Victoria_Lady Dollar takes you through this easy project using an affordable plastic pumpkin from Walmart. As a fan of Nightmare Before Christmas, she adds her creative touch to bring Jack Skellington to life.
With white spray paint, markers, Mod Podge, and black glitter, she crafts a whimsical centerpiece that captures the spirit of the holiday. Complete the look with battery-powered lights and ornaments from Dollar Tree.
This delightful project combines simplicity, fun, and a touch of spooky elegance. Happy Halloween crafting!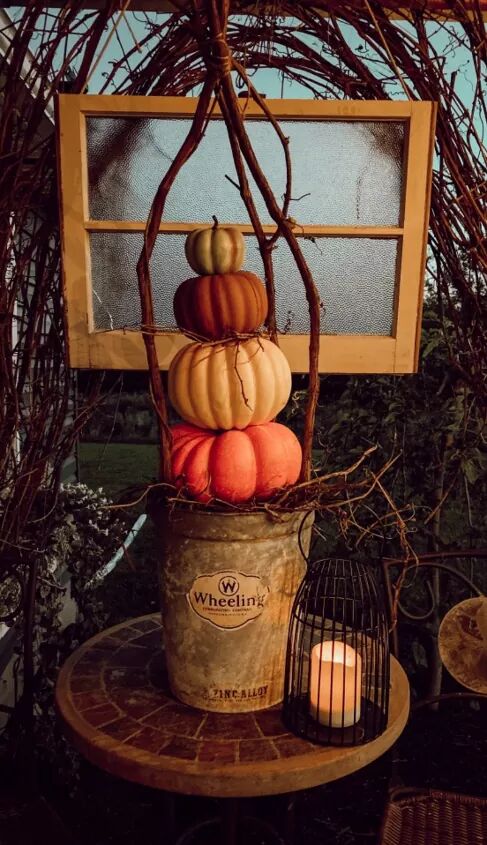 Photo: Laura | Mobilehome_Cottage
3. This Unique Caged Pumpkin Stack
Transform your kitchen into a Halloween haven with Laura's charming Caged Pumpkin Stack! Using faux pumpkins and some creative flair, she crafts a captivating centerpiece perfect for the spooky season.
By updating pumpkins with acrylic paint and adding a custom-colored touch, she breathes life into her project. With a galvanized steel bucket as the base and grapevine for the cage, Laura brings her vision to life. The stack of pumpkins, secured with hot glue and surrounded by dried vines, stands strong against wild winds.
With a dash of creativity and some crafting fun, you can add a touch of Halloween magic to your kitchen too. Try it out and let your festive spirit shine!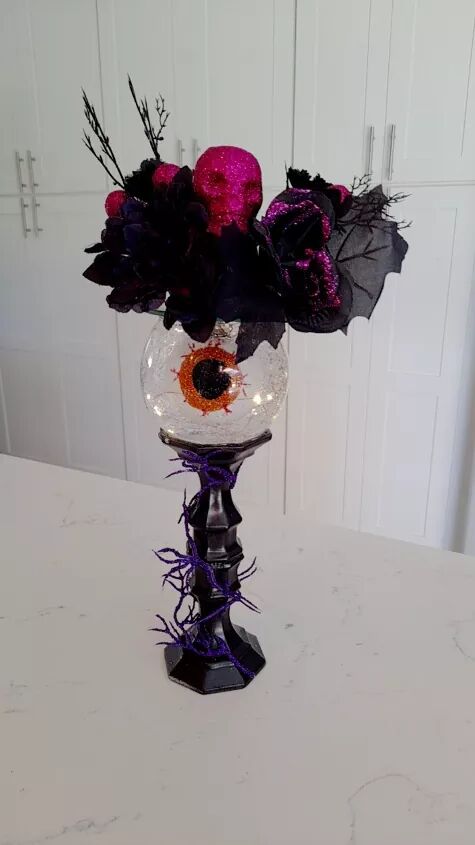 Photo: Victoria_Lady Dollar
4. A Budget-Friendly Eye-Ball Craft
Victoria_Lady Dollar's brings us another spooky and creative DIY Halloween Centerpiece!
Spray-painted candle holders, styled gel, crystal beads, and Halloween ornaments transform into two bewitching options. Both designs come to life with battery-powered lights, creating a hauntingly enchanting atmosphere.
Embrace the spookiness with this delightful centerpiece project.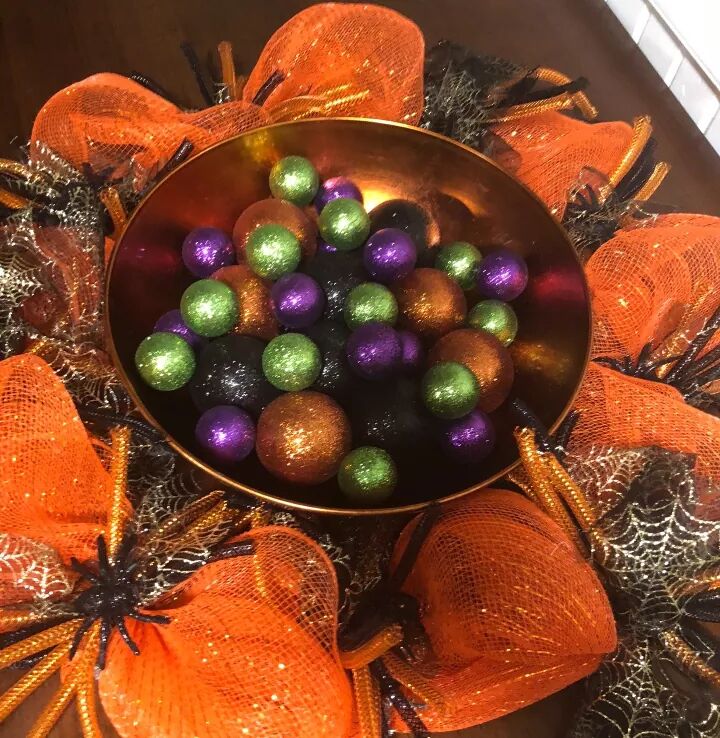 Photo: Heather Brown
5. This Glitzy Bling Centerpiece DIY
This quick and easy project turns a premade wreath, a decorative bowl, and Christmas balls into a dazzling centerpiece that's perfect for Halloween.
Heather's creative idea brings the spirit of the season to your kitchen table effortlessly. With just a few materials and one minute of your time, you can create a stunning centerpiece that captures the holiday charm.
Embrace the joy of crafting and let your table shine with this delightful DIY project!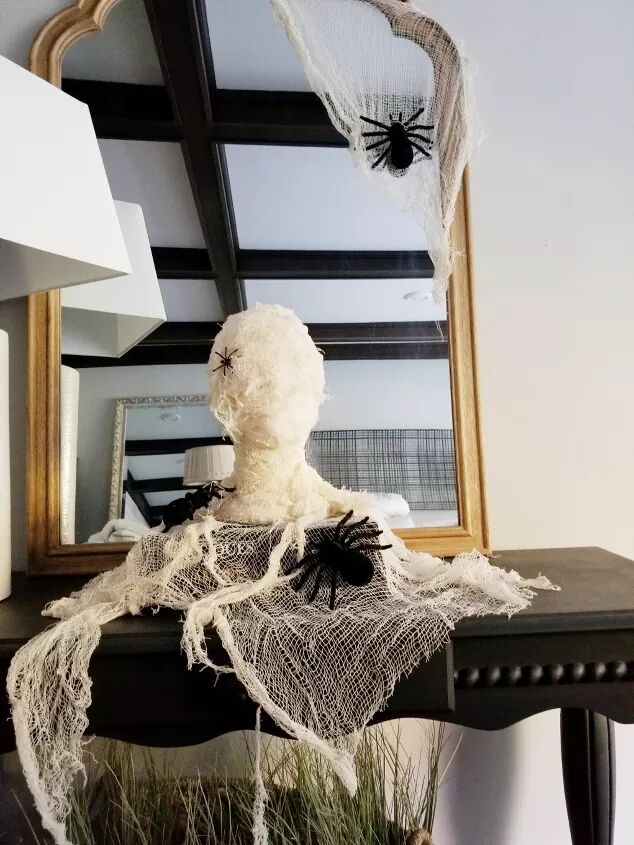 Photo: Jennifer | Simple Prairie Life
6. Her Eerie Mummy DIY
Craft a Halloween mummy using a styrofoam mannequin head and Dollar Store materials.
Jennifer from Simple Prairie Life, cleverly layers tissue paper with Modge Podge to create the mummy's base, then wraps it in creepy cloth strips. The result is an adorable and budget-friendly mummy head, perfect for a Halloween centerpiece.
Give it a try, let your creativity flow, and enjoy the festive spirit without breaking the bank!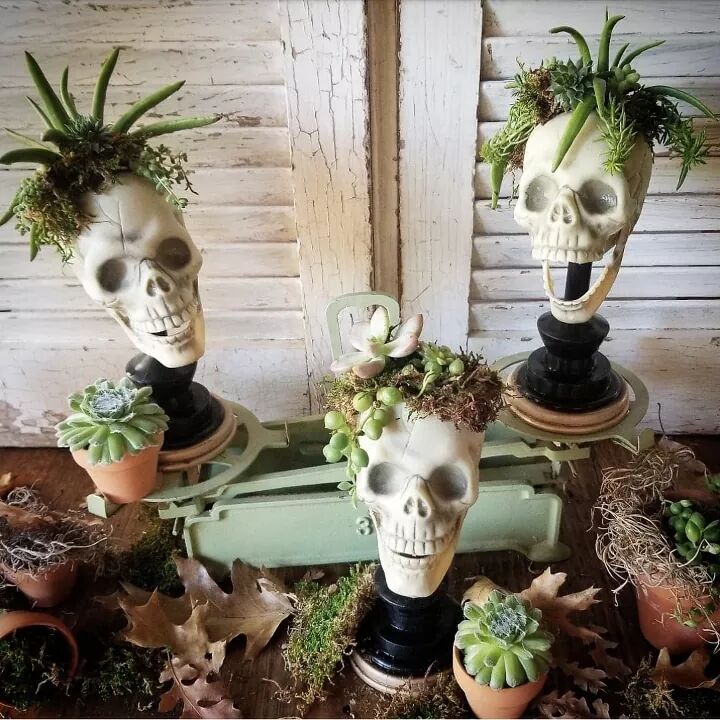 Photo: @JagCagDesign
7. These Spooky-Chic Succulent Skulls
Elevate your Halloween kitchen decor with the charming Succulent Skulls project by @JagCagDesign!
This quick and easy DIY involves filling Dollar Store skulls with moss and succulents, creating spooky-fun decor that's sure to delight everyone. By carefully arranging a mix of succulents and adding tucking moss in between, you'll achieve a creepy-fun feel that's perfect for the season.
This creative centerpiece idea combines natural elements with a touch of spookiness, making it a perfect addition to your kitchen table.


Bewitching DIY Halloween Centerpiece Ideas
Which centerpiece caught your eye? Let us know in the comments below – we'd love to hear about your favorite project and how you plan to add a touch of DIY magic to your Halloween celebrations.
Let your creativity run wild and have a hauntingly delightful time crafting your own spine-chilling masterpieces!
Enjoyed the project?
Published August 27th, 2023 6:01 AM
Popular Project Book
Popular DIY Questions