696 Views
Thanksgiving Tablescape: 6 Inspirational Ideas For the Perfect Setting
October 17th, 2023 1:16 AM
Get ready to set the scene for an unforgettable Thanksgiving celebration with the perfect Thanksgiving Tablescape.
We've rounded up six inspiring projects that will help you create a warm, welcoming atmosphere for your holiday feast.
Whether you're a fan of farmhouse charm, coastal elegance, or rustic simplicity, there's a Thanksgiving table theme for everyone. These creative ideas and DIY projects will add a touch of magic to your Thanksgiving gathering.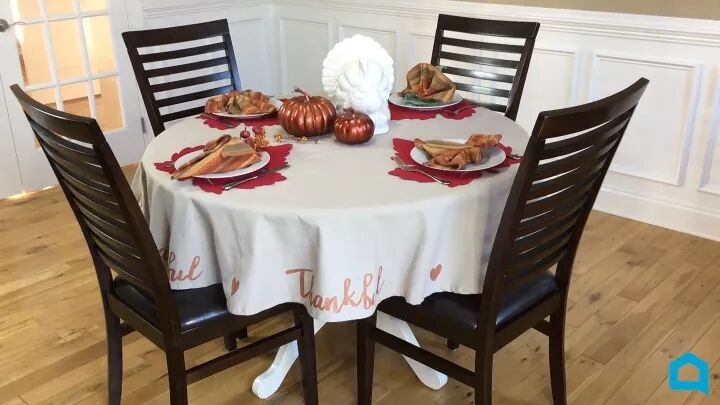 1. Design a One-of-a-Kind Thankful Tablescape
Alicia W's here to help you turn your Thanksgiving dining room into a feast for the eyes! With her guidance, you can whip up a custom tablecloth and fold napkins in three adorable ways.
Start with a plain tablecloth, launder it, and set it up on a clean surface with a protective plastic drop cloth. Get your creative juices flowing by cutting out your Thanksgiving-themed words, tracing them onto the cloth, and painting with a color of your choice.
But Alicia doesn't stop there. She's got the inside scoop on a charming turkey and cornucopia napkin fold that will steal the show. Complete the look with some pumpkins and a DIY Corn Husk Wreath.
Create a memorable Thanksgiving with this Thankful Tablescape.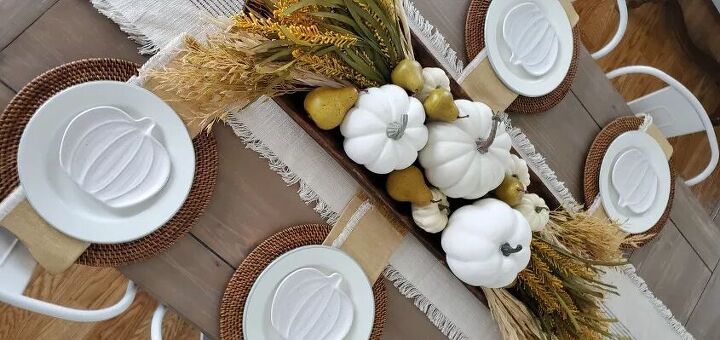 2. Create a Neutral Thanksgiving Tablescape
Get ready to welcome your guests with a Neutral Thanksgiving Tablescape by Georgia N. With the holiday just around the corner, she's here to show you how to create a simple tablescape using items you probably already have on hand.
Use a scarf or tablecloth as a runner and get creative with your centerpiece, like a dough bowl or basket. Faux florals and pumpkins add festive flair, while simple wicker chargers keep it versatile. Georgia's tip: Add color with cloth napkins. It's an effortless way to create a cozy ambiance without the need for fancy plates.
Your guests will love the inviting, down-to-earth feel of your Thanksgiving spread!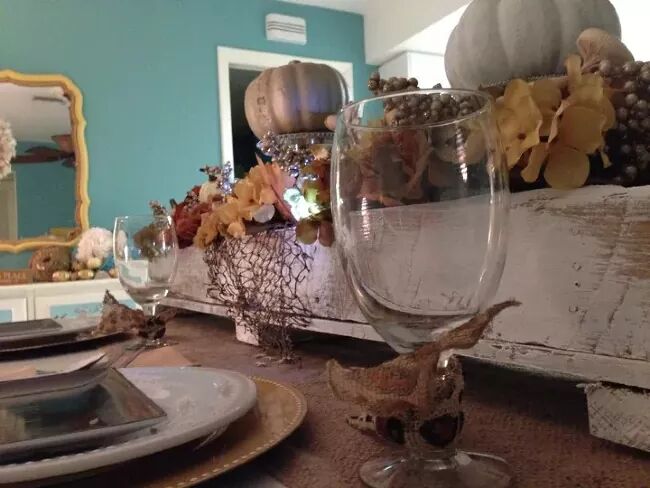 3. Curate a Coastal Thanksgiving Tablescape
Prepare for Thanksgiving with Bethany P's budget-friendly Coastal Tablescape. She brings a touch of the beach to her decor, using reclaimed wood to construct a rustic trough centerpiece and gives it a whitewash for the perfect weathered look.
Fringed burlap serves as an ideal table runner, and the centerpiece takes shape with creative heights, fall floral accents and baby pumpkins. Battery-operated twinkle lights, starfish decorations, and well-set place settings complete her coastal table.
Ditch tradition and embrace this seaside vibe.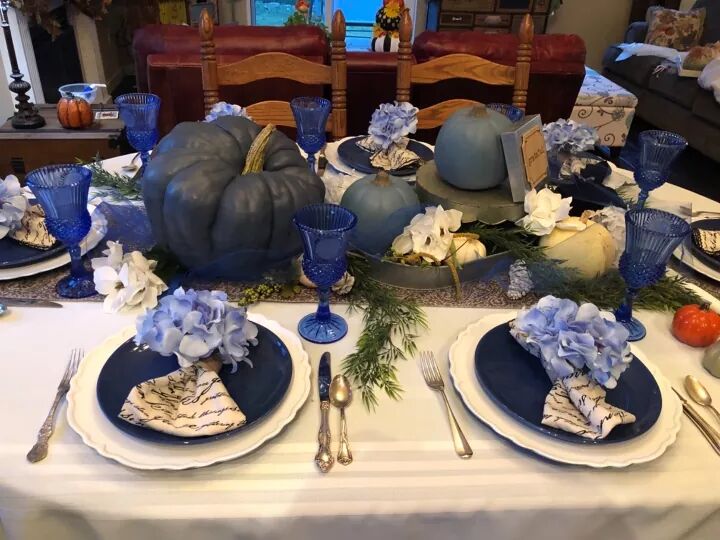 4. Make a Dreamy Blue and White Thanksgiving Table
Chris Kugler, a dedicated Thanksgiving host, transforms her family gathering with a stunning Blue and White-Themed tablescape.
She painted real and artificial pumpkins in lovely blue hues and found affordable yet elegant dinner plates and chargers. Her choice of a white tablecloth with a grey runner created the perfect canvas. For a unique touch, Chris painted pine cones white and crafted napkin rings with delicate flowers. Matching blue goblets and silver accents tied the theme together.
Chris's "thankful stick" tradition adds a heartwarming touch to the gathering, allowing family members to express their gratitude.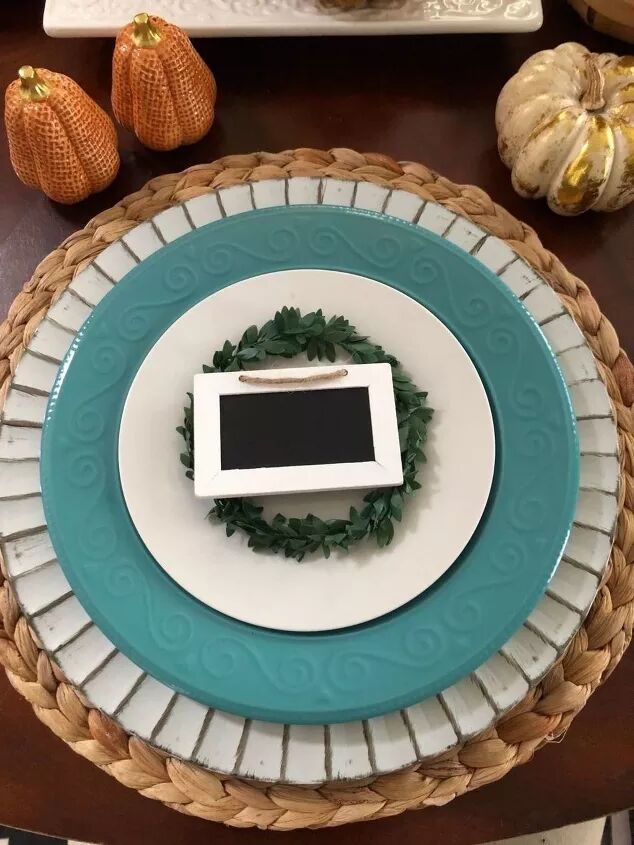 5. Set a Gorgeous Rustic Thanksgiving Tablescape
Stacy Davis, inspired by Instagram-worthy tables, embarks on creating a budget-friendly Rustic Thanksgiving Tablescape.
Breaking down the design into manageable pieces, she unveils her journey for those who thought interior design wasn't in their genes. She shares her three goals: adding texture, making it interesting, and crafting a memorable experience.
With a frugal yet appealing approach, Stacy's four-place setting costs tally up to $29, encouraging others to craft their unique Thanksgiving table settings.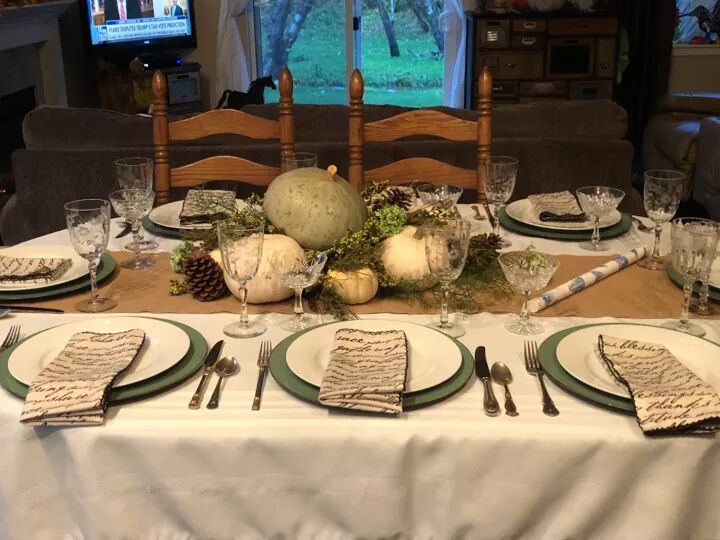 6. Style Beautiful Farmhouse Thanksgiving Table Decor
Chris Kugler is back and shares more Inspirational Table Designs from her past Thanksgiving feasts.
She first shares her "Count your Blessings Tablescape". She adorned her table with small pumpkins on a burlap runner, expressing her love for fall and leaves. She painted large leaves with Mod Podge and added a grateful sign for a heartfelt touch.
In her second setting, she created farmhouse Thanksgiving table decor. White chargers were transformed with chalk paint, allowing each guest's name to be elegantly inscribed. The silverware and napkins received personal touches, enclosed in decorated paper bags tied with twine. Last year, she embraced a green and white theme with chargers and plates. Unique cloth napkins with words like "thankful" and "gratitude" from Pier One added a special touch. Her table's center was adorned with a delightful mix of pumpkins, greenery, and pinecones.
Chris's creative journey is a testament to how a little imagination can turn a Thanksgiving table into a work of art.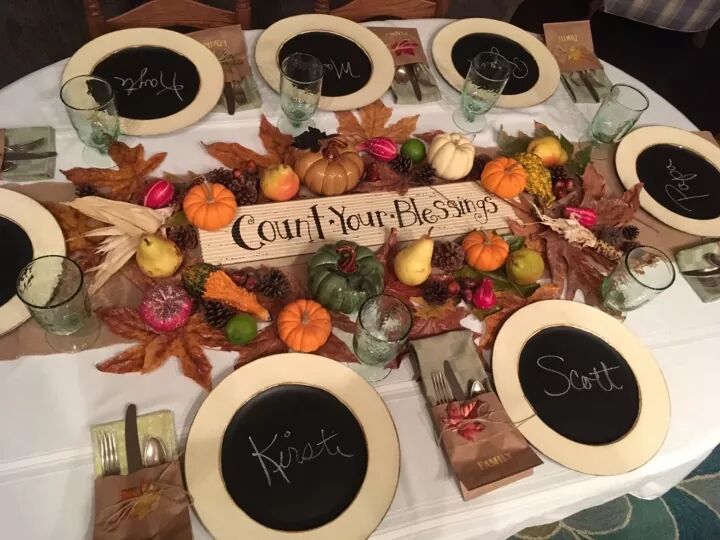 Find inspiration for your Thanksgiving celebration
Thanksgiving Tablescape Ideas
As you plan your Thanksgiving table themes, remember that the magic lies in the details. We hope these six projects inspire you to craft a Tablescape that captures the spirit of gratitude and togetherness.
Have an idea of your own or want to share your experience? We'd love to hear your thoughts and see your creations—drop a comment below and let's inspire each other this Thanksgiving season.
Enjoyed the project?
Published October 17th, 2023 1:09 AM
Popular Project Book
Popular DIY Questions