749 Views
4 Magical DIY Snow Globe Ideas That Are Super-Easy to Make
October 17th, 2023 6:41 AM
Explore these easy DIY snow globe ideas for the holidays. From budget-friendly Dollar Store creations to cute wine glass globes, there's something for everyone. All you need are simple materials like clear ornaments and wood pieces.
Get ready to add a flurry of holiday magic to your holiday décor this season.
For even more ideas, see Hometalk's ultimate guide to DIY Christmas decor here.
DIY snow globe ideas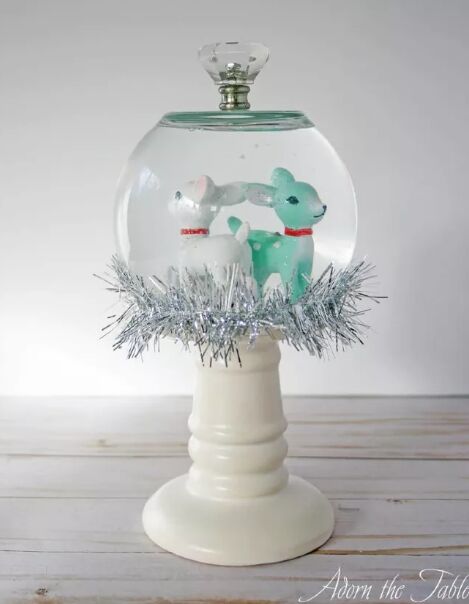 1. Dollar Tree holiday snow globe
This project by Adorn the Table guides you through making a DIY holiday snow globe using simple materials like a Dollar Tree pillar candle holder and a small round vase.
The key is creating a waterproof seal between the vase and candle holder. The items inside need to be waterproof, like ceramic or plastic, and small enough to fit comfortably.
The necessary supplies include distilled water, glycerin, marine adhesive sealant, and optional embellishments like tinsel or a glass doorknob. Following the steps carefully, you'll have a custom holiday snow globe perfect for decoration or gifting.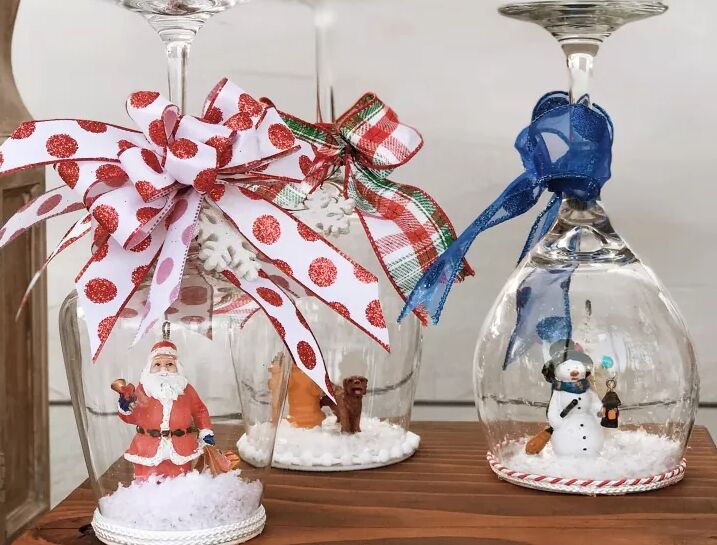 2. Wine glass snow globes
This project by Cindy | Something Painted White guides you in creating DIY wine glass snow globes that can be customized for any occasion.
You'll need wine glasses, canning jar lids or cardstock, figurines, artificial snow, ribbon, and white spray paint. Thrift stores are a great place to find affordable wine glasses. Ensure they're plain and in good condition.
Paint the jar lids white, then use hot glue to attach figurines. Add a small amount of snow to the glass, then glue the wine glass to the lid. Finish by decorating the base with ribbon. These snow globes can also double as candle holders.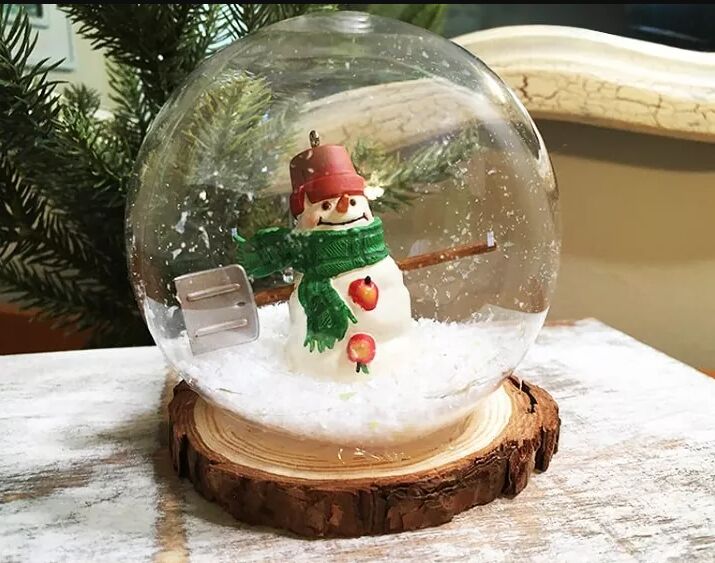 3. Plastic ornament snow globe
This DIY project by Craftidly | Dawn Stewart demonstrates how to make holiday snow globes using a clear plastic ornament ball, faux snow, and a wooden slice.
First, a hole is carefully cut at the top of the ornament ball to fit it over the ornament. Faux snow is then added, and the ornament is secured onto the wooden slice using hot glue.
Finally, the assembled snow globe is completed by sealing the ball with hot glue, ensuring the snow stays inside. These cute snow globes make lovely decorations or thoughtful gifts.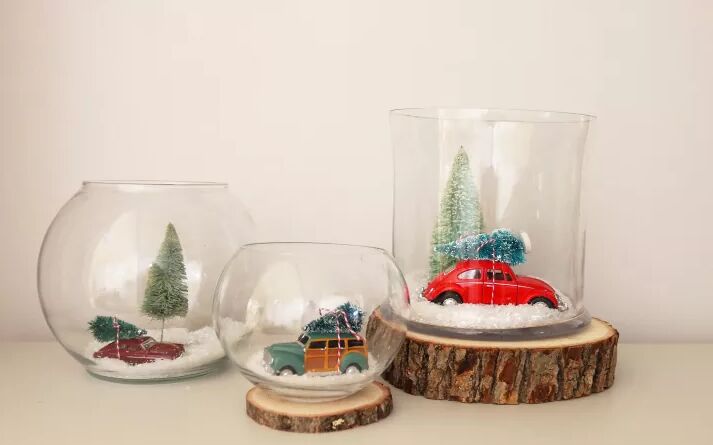 4. DIY Christmas centerpieces and vignettes
This project by Audrey Kuether offers step-by-step instructions for creating various DIY Christmas centerpieces and vignettes in a snow globe style.
The materials needed include toy cars, faux snow, miniature Christmas trees, glassware, ornaments, wood slices, pine cones, hot glue, and mini pom poms.
The centerpieces include a Christmas tree car scene, an ornament cloche, a wood slice scene, a pine cone Christmas tree, and a Christmas pick cloche. The tutorial also provides tips on how to style these creations effectively.
---
DIY snow globe ideas
These handmade DIY snow globe ideas add a special warmth to your holiday decor, making your space feel truly festive. Which will you be trying out? Let us know in the comments below.
Enjoyed the project?
Published October 17th, 2023 4:37 AM
Popular Project Book
Popular DIY Questions