586 Views
6 DIY Christmas Garland Ideas For Your Holiday Home Decor
August 30th, 2023 1:50 AM
Explore these creative DIY Christmas garland ideas!
Learn to craft a charming ornament garland with colorful bulbs and battery-operated lights, create a candy-themed deco mesh garland with festive ribbon, fashion a cozy burlap lighted garland using mini lights and knots, and master a vibrant deco mesh garland for doors and mantels.
Get ready to level up your holiday home with these joyful and hassle-free decorations.
DIY Christmas garland ideas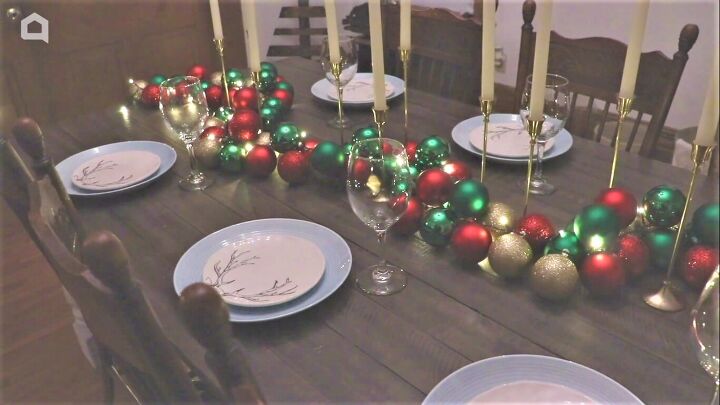 1. Ornament garland
First, Chloe Crabtree shows us how to transform your holiday décor by crafting a charming DIY ornament garland for your table.
Gather colorful Christmas bulbs with hooks and battery-operated string lights. Simply stretch out the lights and attach ornaments by sliding the hooks around the wire, alternating colors for an appealing spread. Once attached, drape the garland down your table's center, concealing the battery pack, and enjoy the festive glow.
This easy project adds a cheerful touch to your dining area, mantel, or stairwell, radiating the spirit of the season throughout your home.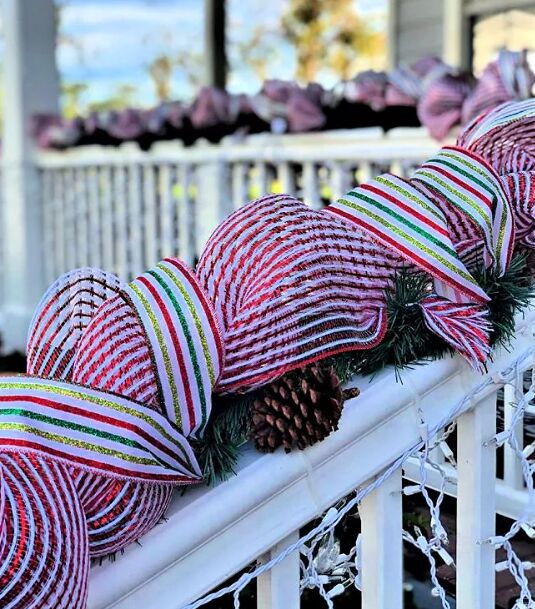 2. Candy-themed deco mesh garland
This time, Chloe demonstrates how to elevate your holiday decor with a candy-themed deco mesh Christmas garland perfect for creating an enchanting atmosphere for kids.
Begin by obtaining wired Christmas evergreen garlands, ensuring they lack additional decorations like pine cones. Stretch and fluff the garland for a natural appearance. Next, introduce red and white candy-striped deco mesh, securing it with the wired evergreen garland by creating loose poufs.
Use the same technique with festive holiday ribbon, pinching it and fastening it along the length of the garland. The result is a charming garland that captures the joy of a candy-themed Christmas, perfect for adorning your space with childlike wonder.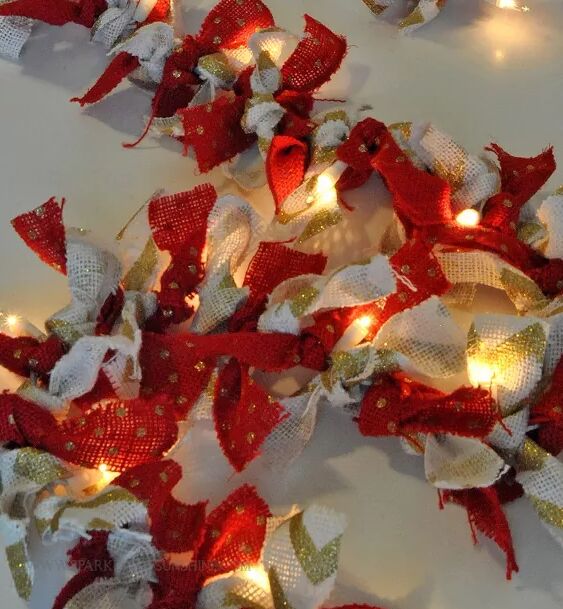 3. Burlap lighted garland
Next up, Christie @ Sparkles of Sunshine shows us how to make a simple DIY burlap lighted garland that requires only scissors and burlap ribbon.
Cut the ribbon into 8-inch strips and tie them into knots around a strand of mini lights, alternating colors. With around 76 strips needed for a short light strand, this project is delightfully simple yet visually impactful. Perfect for mantels, windows, or even Christmas trees, this burlap lighted garland adds a cozy touch to your holiday home.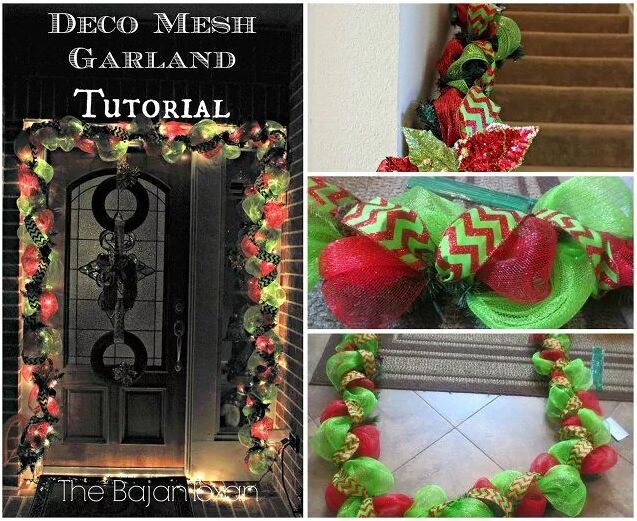 4. Deco mesh garland
Whether framing your front door, adorning your mantle, or gracing your stairs, this DIY deco mesh garland tutorial by Keitha The Bajan Texan guides you through the process.
Begin with well-textured garland featuring multiple greenery types and embellishments, and add lights for nighttime allure. Use wide deco mesh rolls, scrunching and securing them with pipe cleaners along the garland. Incorporate chevron ribbon for a contrast that brings your creation to perfection.
Enjoy the vibrant color and festive charm this deco mesh garland brings to your holiday home!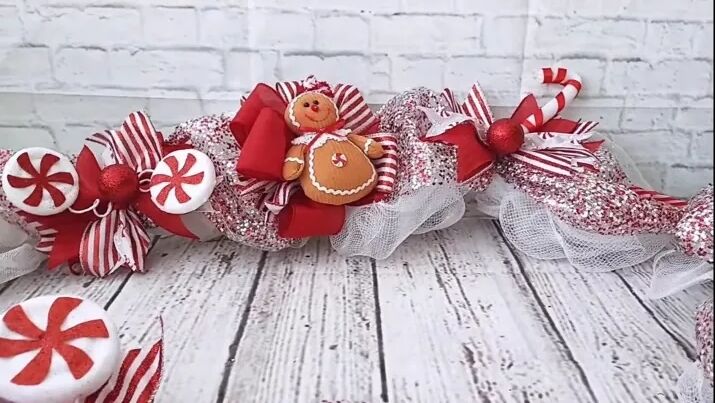 5. Gingerbread garland
Add a touch of gingerbread charm to your holiday decor with this delightful DIY gingerbread garland by Kiki DiY's. With just a few materials – two rolls of 5-yard 2.5" ribbon and one roll of 5-yard 1" ribbon – you can create a festive and adorable garland.
The process involves looping and zip-tying white and sparkly mesh, creating bows from the ribbon, and adding peppermint picks and a central gingerbread lady embellishment. Assemble the garland by combining candy canes and bows in a pattern, resulting in a whimsical and festive decoration perfect for your mantle, kitchen cabinets, windows, or any desired spot.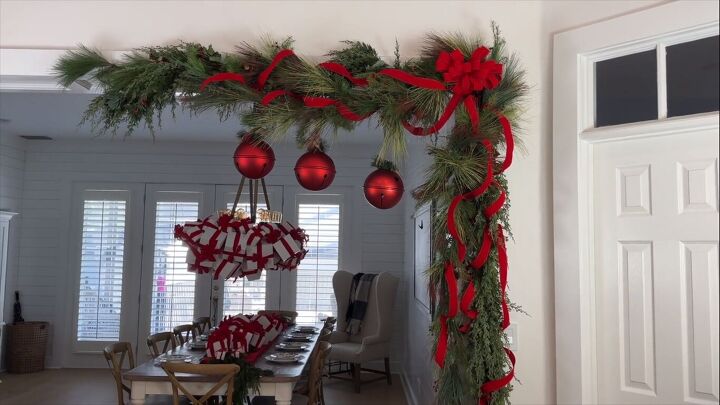 6. Corner Christmas garland
Chloe Crabtree strikes again and this time she's sharing how to create a stunning DIY Christmas garland that brings the magic of the holiday season to your home.
This tutorial guides you through the process, from attaching command hooks and garlands to making a big red bow and attaching jingle bells for that extra festive touch. With clear steps and tips, you'll discover how to hang garlands effectively and create a lush, inviting decoration that spreads holiday cheer.
How to Store Christmas Tree Garlands
Keep your holiday garlands looking gorgeous and make post-Christmas cleanup a breeze with this simple Christmas tree garland storage trick from Karen S Gillman.
Lay a painter's plastic drop cloth on the floor, place your garland on top, then roll it up carefully and staple the plastic if desired. Fold the rolled garland in half and hang it on a solid hook for storage.
When next year's festivities roll around, unroll, fluff, and hang your garland without hassle. This storage solution saves time, effort, and energy, ensuring your decorations stay stunning year after year.
DIY Christmas garland ideas
Whether adorning your table, mantle, or windows, these decorations bring joy year after year. Which of these DIY Christmas garland ideas was your favorite? Let us know in the comments below.
Enjoyed the project?
Published August 29th, 2023 8:41 AM
Popular Project Book
Popular DIY Questions