836 Views
8 Enchanting DIY Halloween Candles and Holders
August 30th, 2023 3:51 AM
Welcome to our guide on creating your own DIY Halloween candles and holders! Get ready to embrace the spookier side of crafting as we walk you through seven exciting projects. From crafting eerie paper clay candles to making charming ghost candle holders, we've got a range of ideas to add that perfect Halloween touch to your decorations.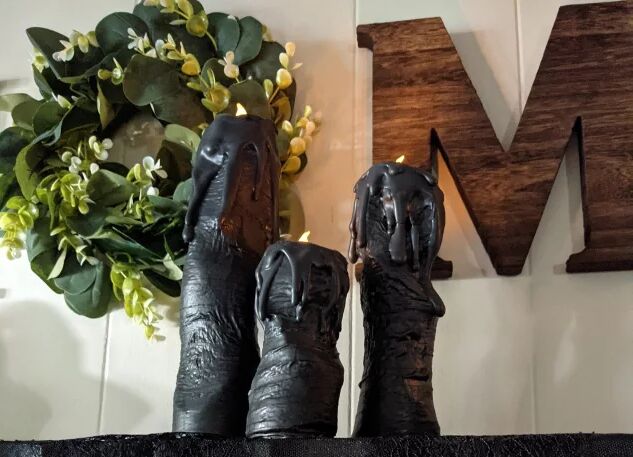 Table of contents
Photo: Deer Run Revamps
1. Spooky DIY LED Halloween Candles
Halloween enthusiasts, this one's for you. For just $5 and an hour of your time, you can conjure some DIY magic. Craft your own set of black LED candles using a pool noodle, electrical tape, hot glue, black paint, and flameless tealight candles.
The steps are easy and enjoyable, making it a perfect project for everyone. Simply cut the pool noodles into different sizes, modify them for tealights, and wrap them with tape for that authentic look. Let your hot glue skills shine as you create eerie drips down the sides. Paint it black and add a hauntingly cool touch to your tealights.
This project is a fantastic way to spruce up your Halloween decor affordably and creatively.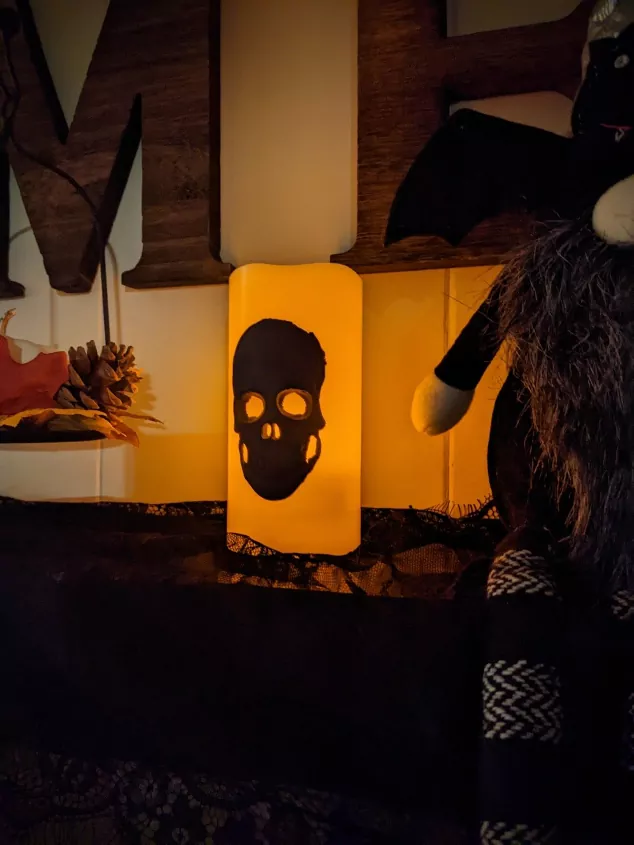 Photo: Deer Run Revamps
2. Eerie Paper Clay Halloween Candles
Add these hauntingly perfect Skull LED candles to your decor. Cleverly crafted with silicone molds and paper clay.
Follow the simple steps to press intricate designs onto plain candles, and after drying and painting, you'll have bewitching creations. The possibilities are endless, offering a chance to update your ambiance for any occasion.
From festive Halloween to year-round charm, these DIY candles are a fantastic way to add a touch of spookiness to your space.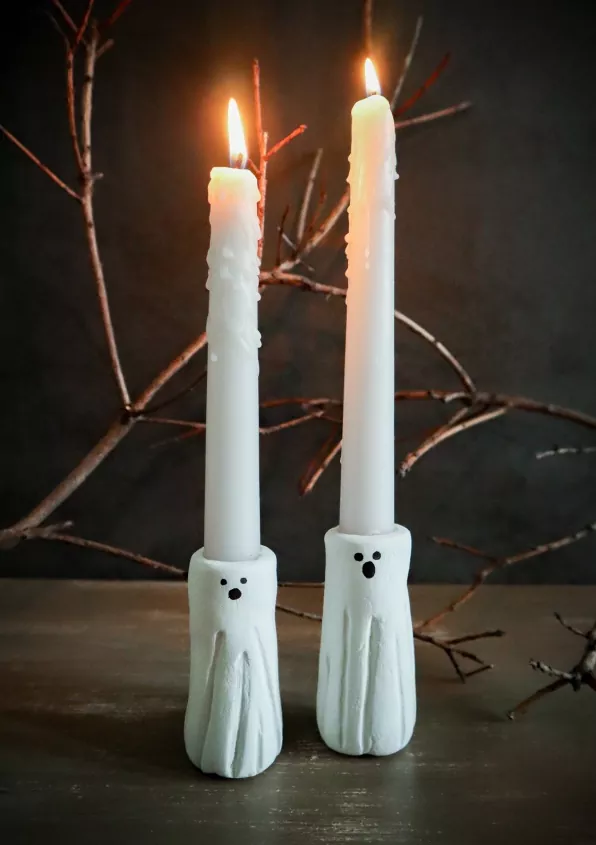 Photo: Angel Nichole
3. Charming Halloween Ghost Candle Holders
Craft the cutest ghostly candle holders using air dry clay and taper candles.
Shape the clay into adorable ghost forms, and with a gentle touch, create tapered slots for candles. The step-by-step guide ensures you achieve the perfect spooky shape. Let the clay dry, then add eyes and a mouth for a touch of character.
These DIY candle holders bring an enchanting ambiance to your living space – a blend of elegance and Halloween charm that's easy to achieve.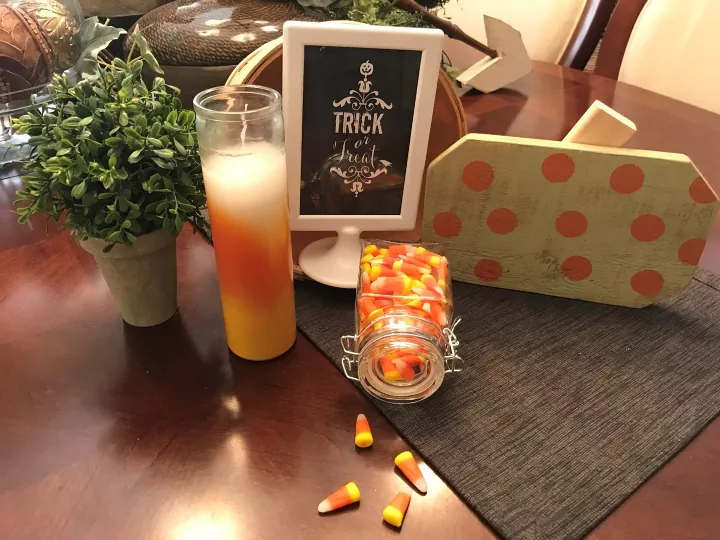 Photo: Shelly L Nemeth
4. Candy Corn Candle Decor
This Halloween candle craft is a breeze – grab a dollar store candle, some spray paint, and let the magic unfold.
With a simple color pattern mimicking candy corn, you'll achieve a charming yet spooky aesthetic. Lightly spray orange, then yellow, leaving white space for that iconic look. These candy corn candles not only make for fantastic fall decor but also serve as delightful gifts.
The result? Delightful decor that can be used throughout fall but radiate that Halloween charm you love.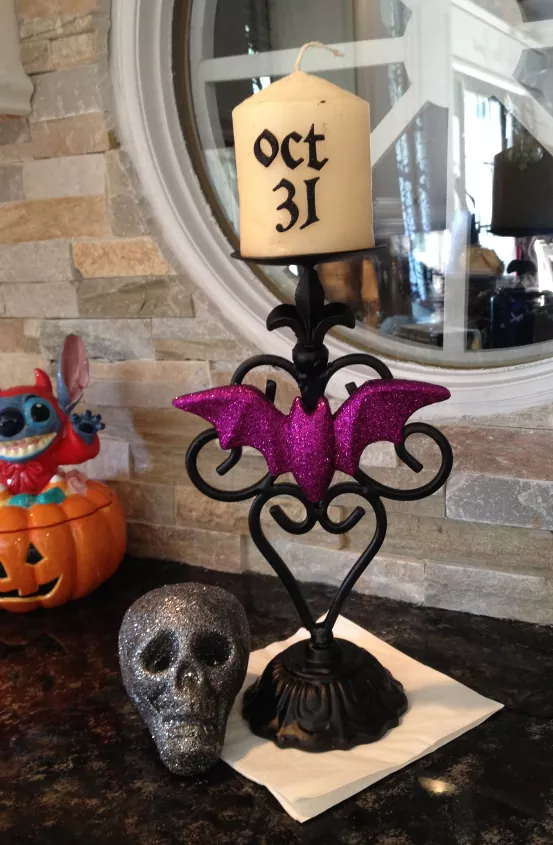 Photo: Tracy W
5. Gothic Disney Haunted Mansion Inspired Candlestick
https://www.hometalk.com/posts/decorate/rooms/candlesticks-disney-haunted-mansion-budget-4754994
Immerse your living room in an elegantly spooky vibe (gothic) with this "Disney Haunted Mansion Inspired Candlestick" project!
With a thrifted candlestick and a touch of creativity, this masterpiece is born for just $5. By repurposing and adding a bat accent, you'll achieve a spooky sophistication that resonates with the mansion's charm. Black spray paint, Halloween stickers, and a hint of DIY magic transform ordinary items into an elegantly eerie decor.
Let this project show you that Halloween decorating can be fun, artistic, and budget-friendly!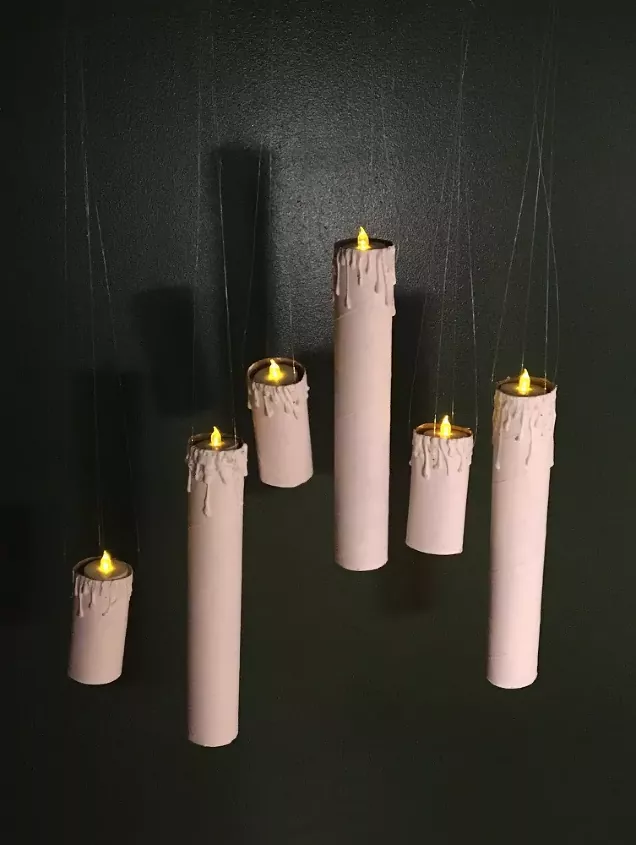 Photo: Amanda C
6. Whimsical Floating Candles With a Harry Potter Twist
Add a magical charm to your Halloween festivities with these budget-friendly fake candles that cost just $4 to make.
Crafted from old paper towel and toilet paper rolls, hot glue, fishing wire, and flameless tea lights, these floating candles are a delightful nod to Harry Potter. With step-by-step instructions, it's easy to create these spooky yet charming additions that will enchant your space.
Hang them around for a bewitching ambiance that's perfect for Halloween or any magical occasion.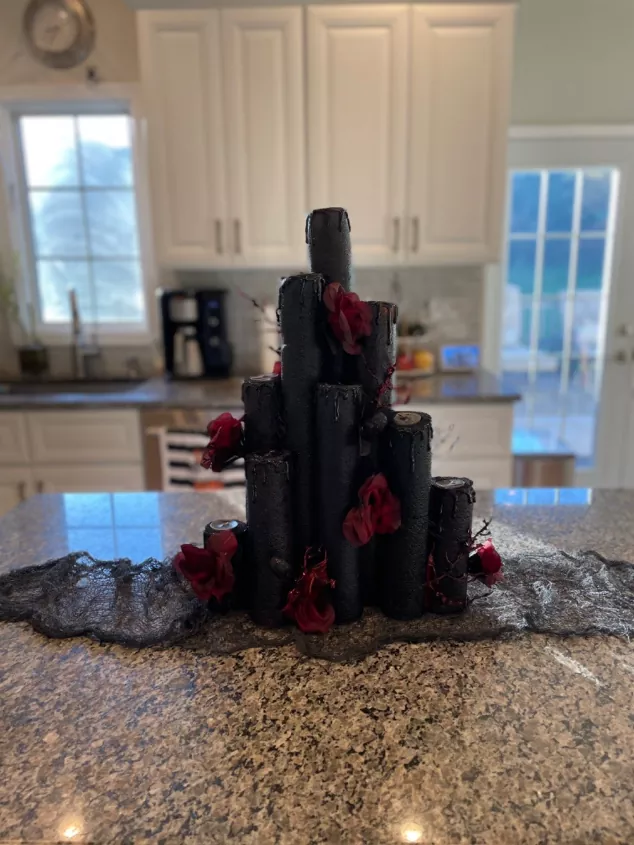 Photo: Jersey Girl Knows Best
7. Hauntingly Beautiful Pool Noodle Halloween Candles
Transform unused pool noodles into a captivating Halloween candle centerpiece.
By cutting and gluing them together, you'll create a spooky base for your decor. The added faux candles with dripping wax details bring an eerie charm. Enhance the arrangement with dark red roses, black leaves, skulls, and greenery to achieve an exquisite yet haunting effect.
This DIY centerpiece effortlessly combines elegance and spookiness, making it the perfect addition for an enchantingly eerie living room atmosphere.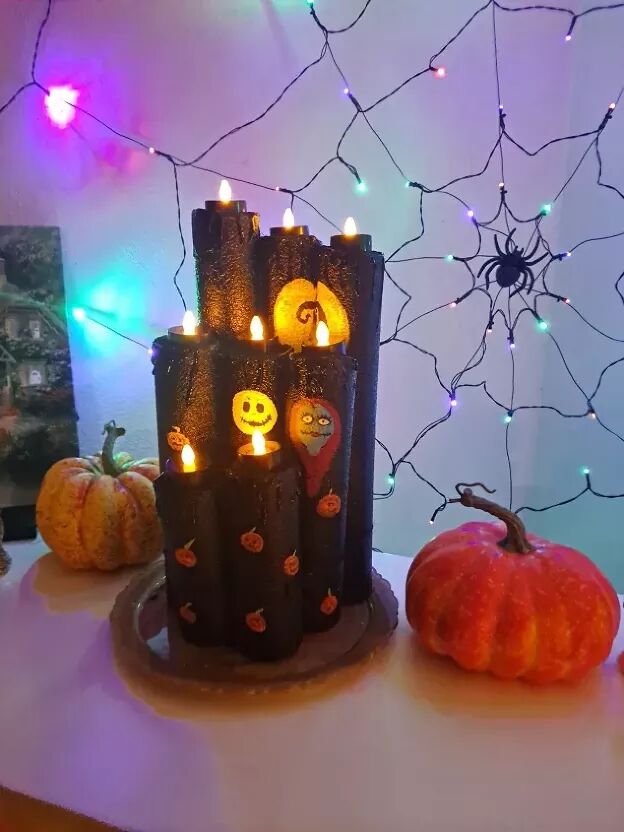 Photo: Victoria_Lady Dollar
8. Spookily Sophisticated Faux Black Candles
Create an elegantly eerie ambiance with "Faux Black Candles" by Victoria_Lady Dollar! Crafted from pool noodles and battery-operated candles, these faux candles are an easy and budget-friendly Halloween project.
Cut, glue, and paint to perfection, and add your personal touch with decorative details.
These charming candles can be customized to fit any theme, making them a versatile addition to your decor collection. Get creative and bring a spooky yet stylish atmosphere to your space.
More Haunting Halloween Decorating Ideas!
Ready to turn your house into a spine-chilling sanctuary? From sinister mirrors to spellbinding chandeliers, our
How to Turn Your Home Into a Haunted House
guide will help you transform your space into a gothic haven.
DIY Halloween Candles and Holders Projects
Our journey through the realm of DIY Halloween candles and holders has drawn to a close. These seven captivating projects have illuminated the path to crafting your own eerie ambiance.
So go forth and light up the darkness and don't forget to share your thoughts, ideas, and creations in the comments
Enjoyed the project?
Published August 27th, 2023 3:19 AM