102 Views
10 Creative Christmas Ornaments Made From Recycled Materials
September 8th, 2023 8:19 AM
Explore a variety of creative DIY Christmas ornaments made from recycled materials to discover how to turn everyday materials into festive decorations. From crafting poinsettias out of egg cartons to melting crayon shavings into vibrant ornaments, these projects offer simple, imaginative ways to adorn your tree.
Each project adds a personalized and eco-friendly touch to your holiday decor, proving that holiday crafting can be both fun and sustainable.
Ornaments made from recycled materials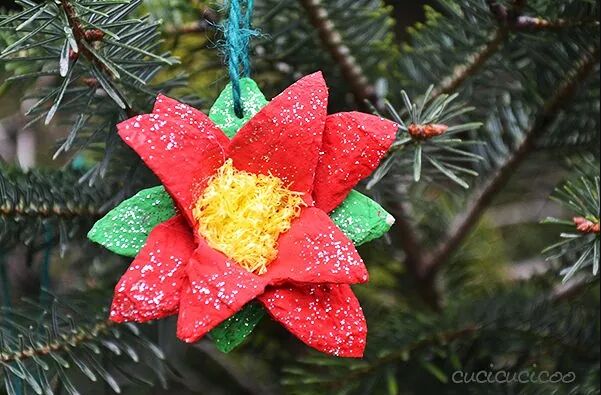 1. Egg carton poinsettia ornaments
First up, Cucicucicoo: Eco Sewing & Crafting shows us how to repurpose cardboard egg cartons and yellow fruit netting to craft adorable poinsettia ornaments.
Cut the egg carton into specific shapes, paint them green and red, then add glitter for a festive touch. Glue the pieces together, layering the colors to form the petals. To hang the decorations, attach a knotted loop of cord or ribbon.
These delightful poinsettias make fantastic decorations for your home or Christmas tree and are perfect for crafting with kids.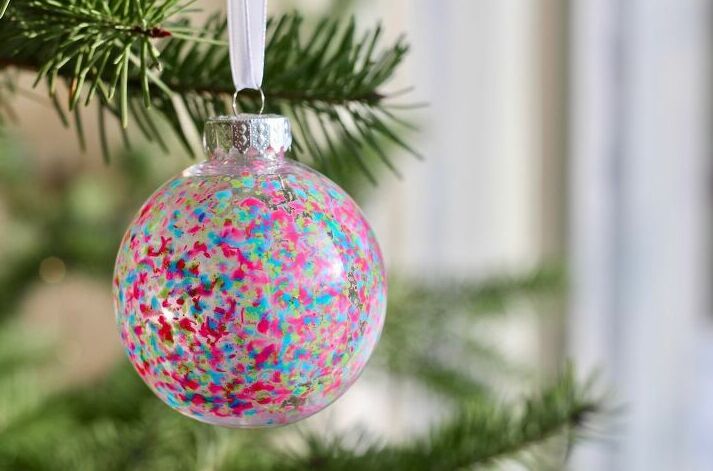 2. Melted crayon ornaments
Next, Mary Jane Duford of Home for the Harvest shares how to transform old crayon shavings into Christmas tree decorations by filling clear round ornaments.
Using a kitchen grater, create crayon shavings of your chosen colors. Fill the ornament with about 1 teaspoon to 1 tablespoon of shavings, then replace the cap and secure it in a container. Employ a hair dryer to melt the shavings, allowing the wax to cool before handling. Attach a ribbon or string for hanging, and marvel at the colorful results.
Experiment with different shavings amounts for varied effects—whether it's a rich, consistent color with more shavings, or a sprinkling of spots with fewer shavings. Let your creativity soar as you make these fun and unique ornaments that will brighten up your Christmas tree!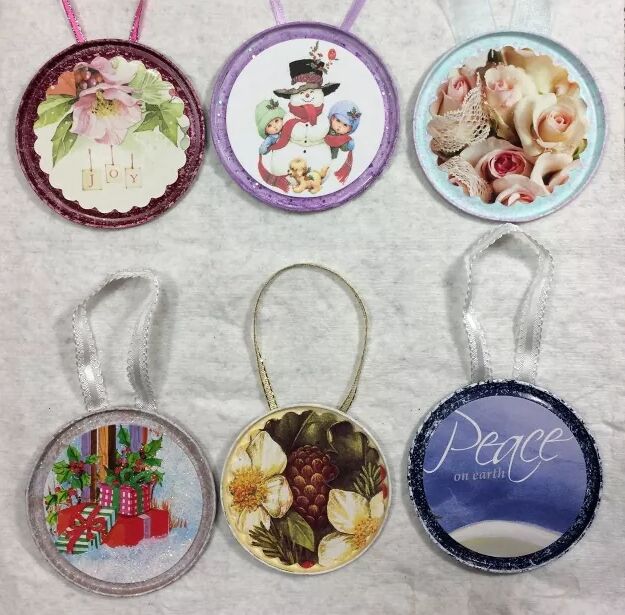 3. Tin can lid ornaments
Repurpose tin can lids into charming Christmas ornaments by following these simple steps by Judy Tosh. Start by cutting the lids off tin cans using a Safety Can Opener to ensure no sharp edges. Paint the lids in various colors, adding stenciled designs or glitter while the paint is wet. Alternatively, use scrapbook paper as a colorful backdrop.
Punch out pictures from Christmas cards or use small decorations, then glue them onto the lid's center. Attach ribbon or yarn as hangers, and voilà—your festive ornaments are ready! Explore different variations, like using dimensional stickers or scrapbook paper, for unique results.
This project offers a creative way to upcycle tin can lids and add a personal touch to your holiday decorations.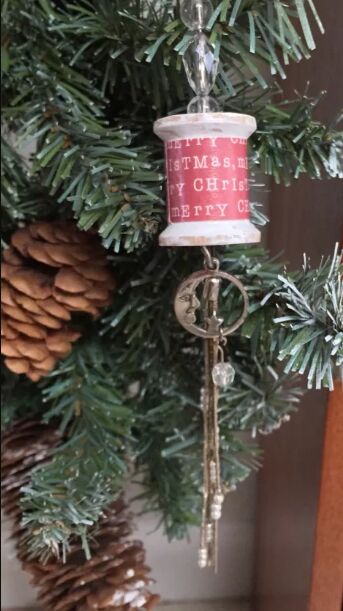 4. Wood spool ornaments
Teri.jeffrey demonstrates how to give classic vintage wood thread spools a new life by creating charming ornaments with a festive touch.
After discovering these gems while sorting through old threads, she sanded off labels, chalk-painted the ends with CraftSmart paint, and selected a red-and-white "Merry Christmas" scrap paper to fit the center. Distressing the spool ends and securing the paper with ModPodge gave it a lovely finish.
Adding scrap jewelry for bling, she repurposed a beaded ornament hanger by straightening it and threading the spool and jewelry through. With a bit of creativity, these ornaments became delightful gifts or decor pieces, proving that a simple wood spool can become anything from a holiday ornament to a fan pull or even a necklace.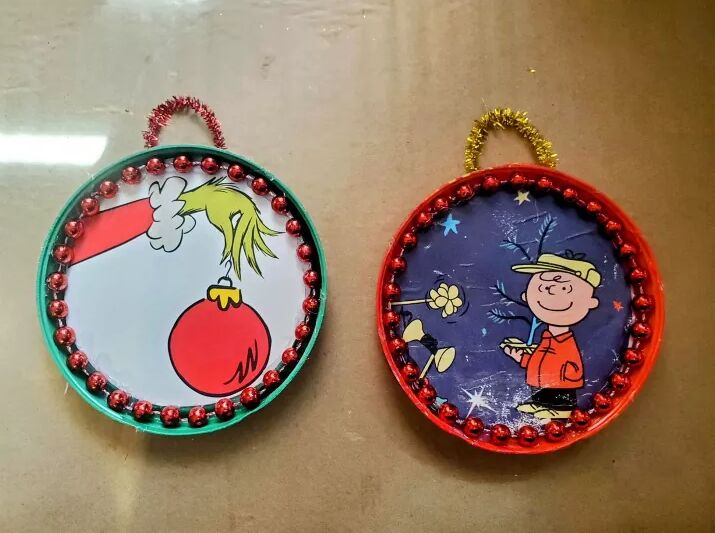 5. Lysol wipe lid ornaments
Next up, Vivian Siu shows us how to repurpose plastic lids from Lysol wipes containers, old Christmas greeting cards, and wrapping paper into unique upcycled Christmas ornaments.
Begin by painting the lids, tracing their shape onto the card and wrapping paper, then attaching pipe cleaners for hangers. Seal the lids with glue, and affix the card and wrapping paper using ModPodge. Finish by adding red beaded garland as decoration.
These ornaments can be personalized with family pictures and make a fun, eco-friendly addition to your Christmas tree.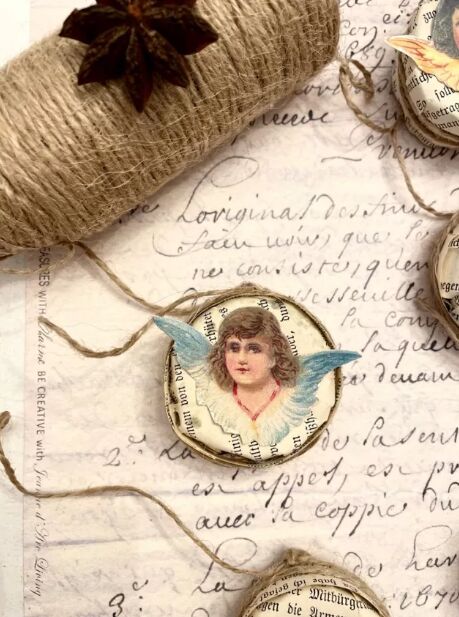 6. Tealight and book page ornaments
Transforming empty tealight containers into DIY Christmas ornaments is a simple and creative project, as shown in this tutorial by Silvia Acevedo Eldredge Gloor of Los MiMis Armoire.
After removing the leftover wax, cut book pages into circles and snip around the edges for flexibility. Glue the paper circles inside the containers, wrapping thread around for hanging. Personalize with angel faces, buttons, or star anise for decoration.
These upcycled ornaments can be used on wreaths, as gifts, or in various decor arrangements, showcasing your creativity and sustainable spirit. Share your own ideas and feedback in the comments to inspire others. Happy crafting!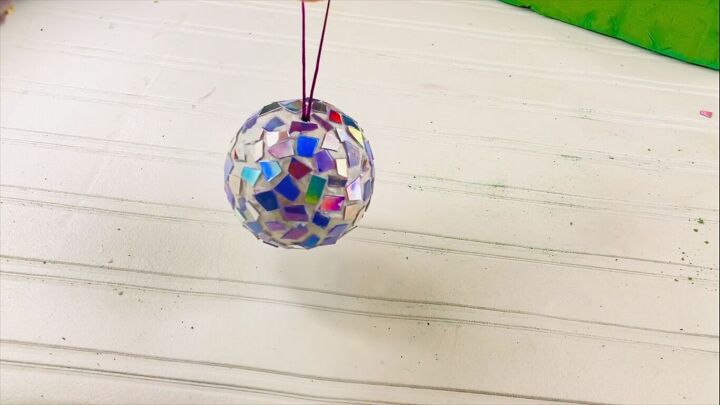 7. DVD glitter ball ornament
Julie McDowell - Design Artist introduces a creative holiday project that transforms old DVDs into sparkling Christmas ornaments.
By cutting the DVDs into small pieces and adhering them to a styrofoam ball using gel medium, you can craft a masterpiece that shimmers with vibrant colors and catches the light. With a simple ribbon loop, this upcycled DVD ornament adds a unique and eye-catching touch to your festive decorations.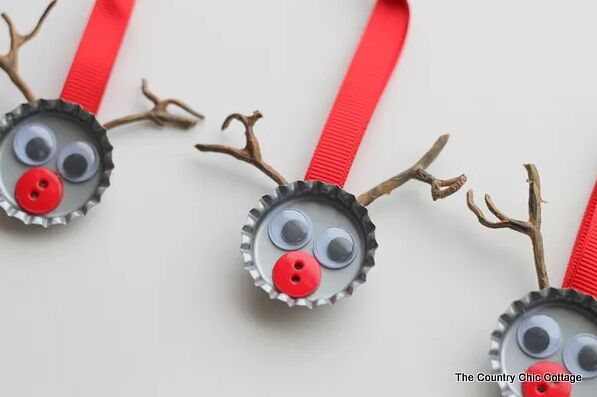 8. Reindeer bottle cap ornaments
In this adorable DIY project, Angie CountryChicCottage shares how to make reindeer bottle cap ornaments. Secure googly eyes and buttons inside the inverted bottle cap, then fasten red string and branches to create charming horn decorations.
It's a wonderful last-minute holiday craft to enjoy with your kids. These ornaments can be added to your tree or shared as delightful gifts.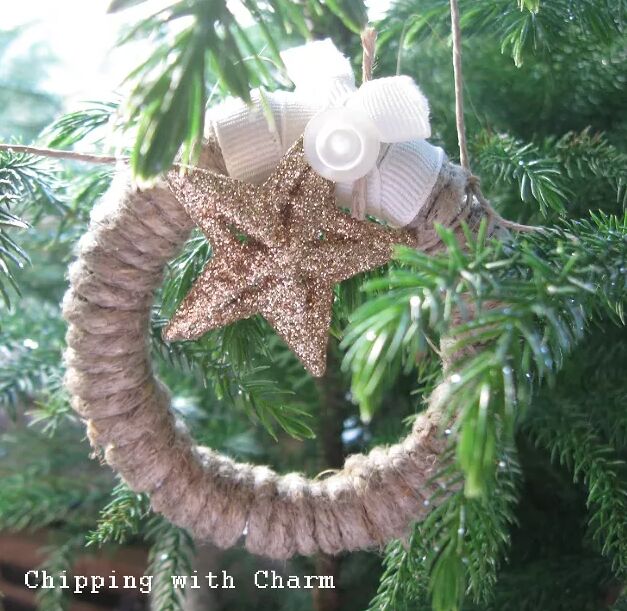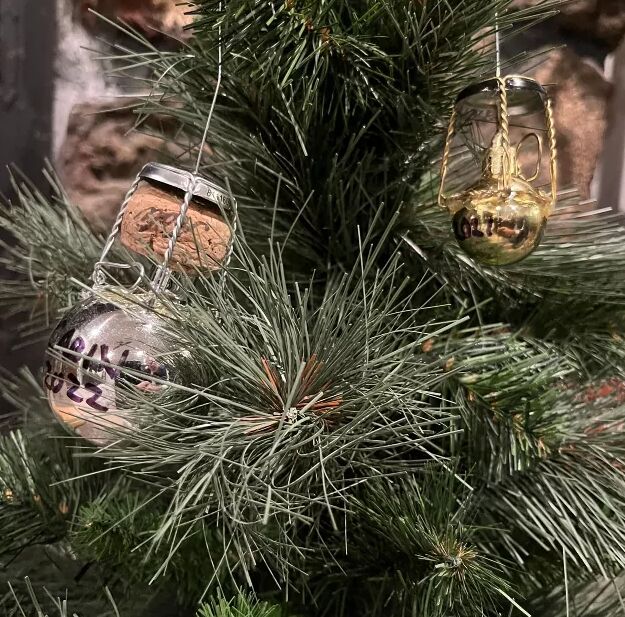 10. Champagne cork and muselet ornaments
This project by Jim Cox involves creating sentimental champagne bottle wire top ornaments for the Christmas tree. He repurposed wire tops from champagne bottles, adding hooks and attaching small ornaments with hot glue. Each ornament holds a special memory, with one marked "NYE 2021" and another from a friend's graduation.
More DIY home decor ideas using recycled materials
Ornaments made from recycled materials
These DIY Christmas ornament projects not only brighten up your Christmas tree but also bring a touch of sustainability to your festivities. As you hang these handmade treasures on your tree, remember the eco-friendly journey that went into their creation.
Which of these ornaments made from recycled materials are you going to try out this season? Let us know in the comments.
Enjoyed the project?
Published August 30th, 2023 12:10 PM
Popular Project Book
Popular DIY Questions