1.2K Views
8 DIY Christmas Lantern Ideas to Brighten Up Winter Nights
August 27th, 2023 10:02 AM
Get ready to light up your holiday and winter season with our captivating roundup of DIY Christmas lantern ideas. From transforming pickle jars into charming Christmas luminaries to crafting rustic wood lanterns and even creating enchanting ice lanterns, these creative ideas will add a warm and magical glow to your space.
Whether you're looking to repurpose everyday items or think outside the box, these step-by-step guides will help spark the festive spirit, brighten up your nights, and bring a touch of seasonal charm to your décor.
DIY Christmas lantern ideas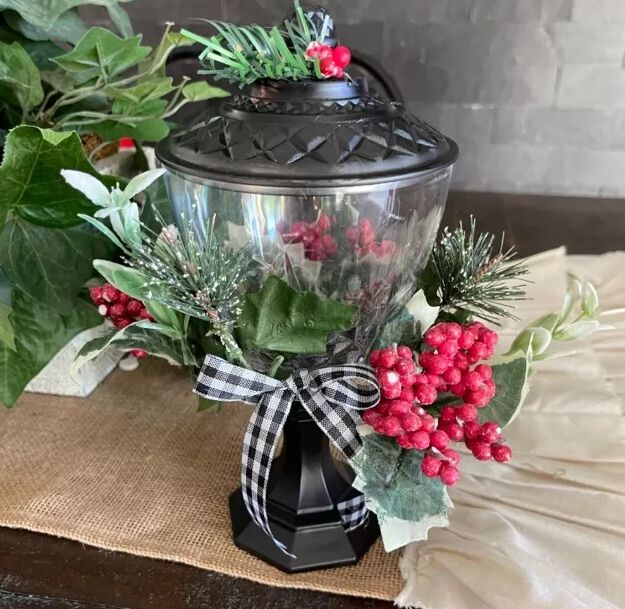 1. Candy jar Christmas lantern
First up, Shelly L Nemeth shows us how to create a budget-friendly DIY candy jar Christmas lantern using items from your local dollar store. Begin by spray painting a candy dish lid and a glass candle stick with black spray paint. After drying, add greens and berries to the lid for an extra touch.
Attach a mini candle wreath around the bottom of the candy dish, securing it with a bow. This quick and easy project, costing less than $3, results in a versatile lantern that can hold candy or battery-operated lights to illuminate your space or Christmas village.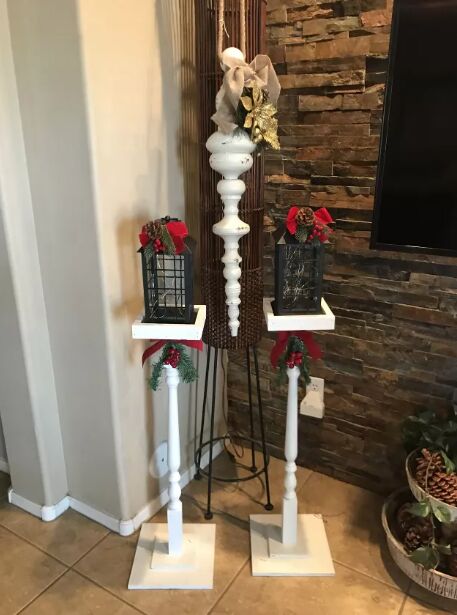 2. Christmas lantern stands
Shelly also shares how to create Christmas lantern displays that will add a touch of enchantment to your Christmas decor with this DIY project. Using large spindles as stands and LED lanterns, this tutorial guides you through the process of building customized lantern holders.
Craft a clever box design that accommodates the lantern while allowing easy battery access. By assembling wood squares and using 1x1 wood nails, you'll fashion a sturdy base that prevents tipping. Paint your creation black, add a bow for flair, and you have a versatile piece that can be adorned differently year-round.
Whether inside by the staircase or outdoors on the porch, these lanterns offer endless possibilities to light up your space.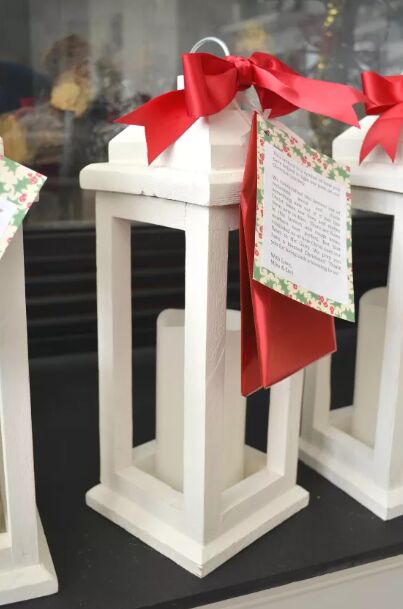 3. Scrap wood Christmas lanterns
Next, The Stonybrook House demonstrates how to transform your scrap wood into charming rustic wood lanterns, perfect for decorating your mantel or giving as Christmas presents.
Cut the wood pieces using a miter or table saw, then assemble the frame using glue, clamps, and nails. Attach the lantern top pieces and paint the lanterns, finishing them off with hooks and red bows. These lanterns can add a warm and cozy touch to your home decor, and you might even consider making larger versions for your porch.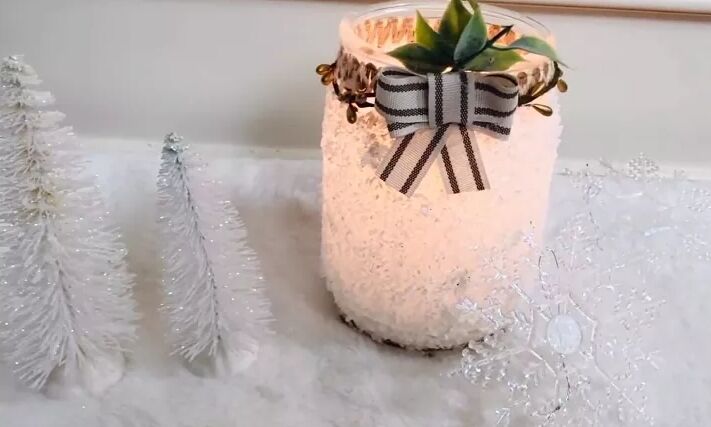 4. Winter snow lantern
Sun's Arts shows us how to create a charming winter snow lantern using Dollar Tree items and a repurposed candle jar.
Clean the old candle jar and decorate its neck with golden berry string and burlap ribbon. Apply Mod Podge mixed with white acrylic paint generously to the jar, then sprinkle Epsom salt on the wet surface. Seal with another coat of Mod Podge and add a farmhouse-style ribbon bow, along with greenery using hot glue.
Place a candle inside for a cozy winter decor piece that can adorn your home throughout the season. This DIY project adds a touch of warmth and elegance to your home decor, extending the holiday spirit into the winter months.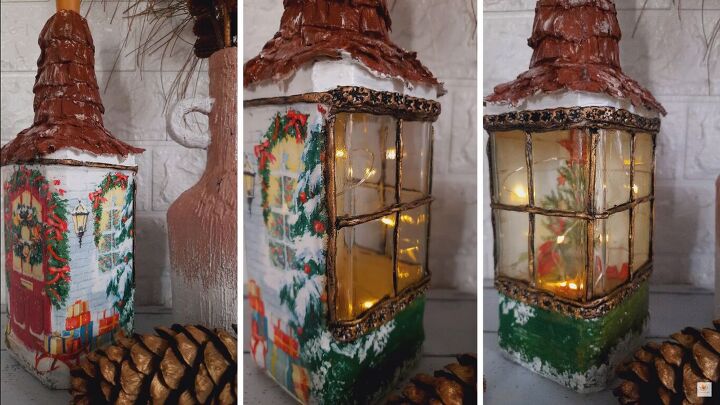 5. Christmas bottle lantern
Savrithri of All things beautiful shows us how to create a festive Christmas bottle lantern using a square glass bottle, Christmas paper napkins, Mod Podge, paint, air-dry clay, egg carton, and string lights.
Transform the bottle into a cozy hut-like lantern with decoupage designs, white paint for prominence, and added clay window patterns. Construct the roof using eggcarton pieces and enhance the lantern with painted details. Insert string lights to illuminate the lantern and showcase the charming design.
This DIY project combines decoupage, painting, and clay work to create a unique and whimsical Christmas decor piece that will brighten up any room.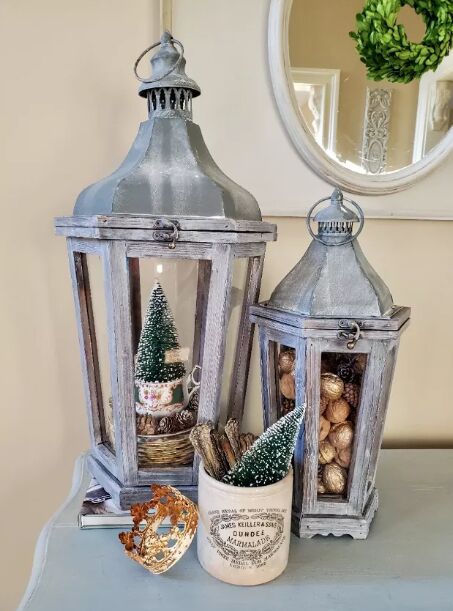 6. Refillable seasonal lanterns
Learn how to elevate your home decor with seasonal filler for lanterns in this project from Cloches & Lavender. The project begins with updating lanterns using white wax, providing a lighter and softer look.
The tutorial then introduces the concept of using dried orange slices, walnuts, and pinecones as filler decor for a warm and cozy touch. You can use different filler ideas, such as battery-operated candles with dried oranges, berry baskets, and painted walnuts.
Transition these ideas into holiday themes, like adding Christmas elements and incorporating sentimental pieces. Explore the versatility of lantern filler decor to enhance your space throughout the year.
DIY ice lantern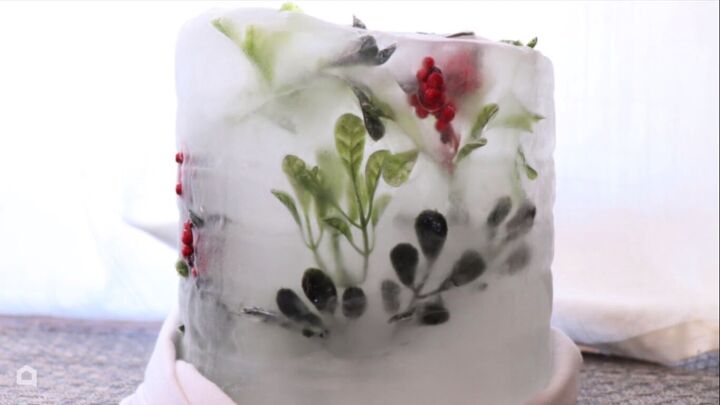 7. Ice lanterns
Create enchanting ice lanterns for your winter decor with this easy guide by Sarah Vanderkooy. Transform coffee cans into DIY ice lantern molds by removing the bottom, filling them with rocks, water, and winter florals, and then freezing them.
The ice lanterns can be illuminated with flameless candles, making them perfect for illuminating outdoor spaces during the winter. This simple project adds a touch of magic and warmth to your home's seasonal ambiance.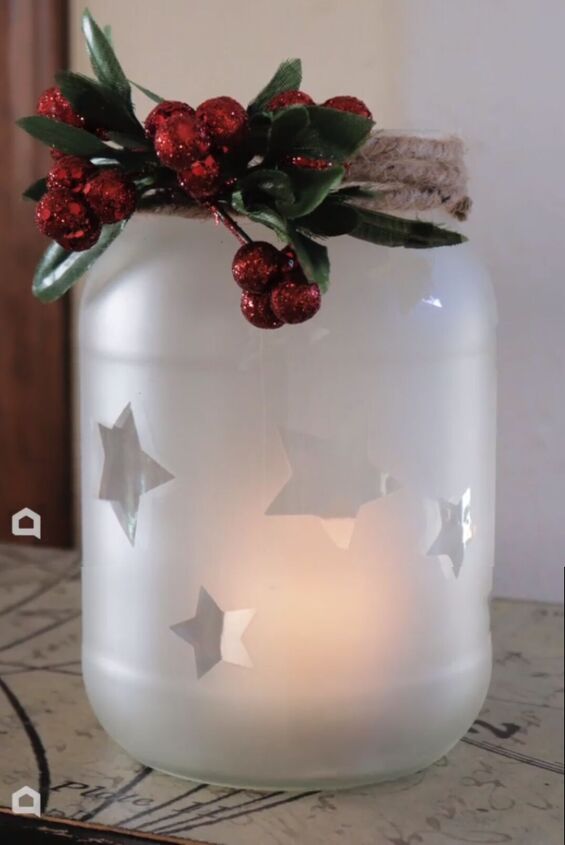 8. Pickle jar lanterns
Sarah also shows us how to repurpose pickle jars into charming DIY Christmas lanterns with this simple guide. Clean the jar, cut out contact paper stars, stick them onto the jar, then spray with frosted glass paint for a snowy effect.
After peeling off the stars, decorate the rim with rope, red berries, and green leaves using hot glue. Place a battery-powered tea light inside for a cozy glow. This project brings the magic of the holidays into your home using repurposed materials.
DIY Christmas lantern ideas
These DIY lantern projects offer a heartwarming way to illuminate your surroundings and create a cozy atmosphere, whether you're decorating your home, sprucing up your outdoor spaces, or looking for unique gifts for loved ones.
Which of these DIY Christmas lantern ideas was your favorite? Let us know in the comments below.
Enjoyed the project?
Published August 25th, 2023 11:39 AM
Popular Project Book
Popular DIY Questions