1.1K Views
3 Ways to Craft DIY Lollipop Decorations For a Candyland Christmas
October 11th, 2023 10:45 AM
DIY lollipop decorations
1. Plywood disc lollipops
For this Candyland Christmas theme, Kelly-n-Tony initially planned two giant lollipop decorations but ended up making six due to their ease and impressive appearance. Each lollipop only cost about $5 in materials.
The process involves cutting plywood discs, painting them white, and adding a lollipop swirl using either a vinyl sticker or hand-painting. The mop handle serves as the lollipop stick, attached with pipe clamps. After wrapping it in a shrink-tight gift bag and securing it with a zip tie, the wrap is shrunk with a blow dryer.
The finished lollipops can be displayed outdoors by inserting the stick into a rebar hammered into the ground.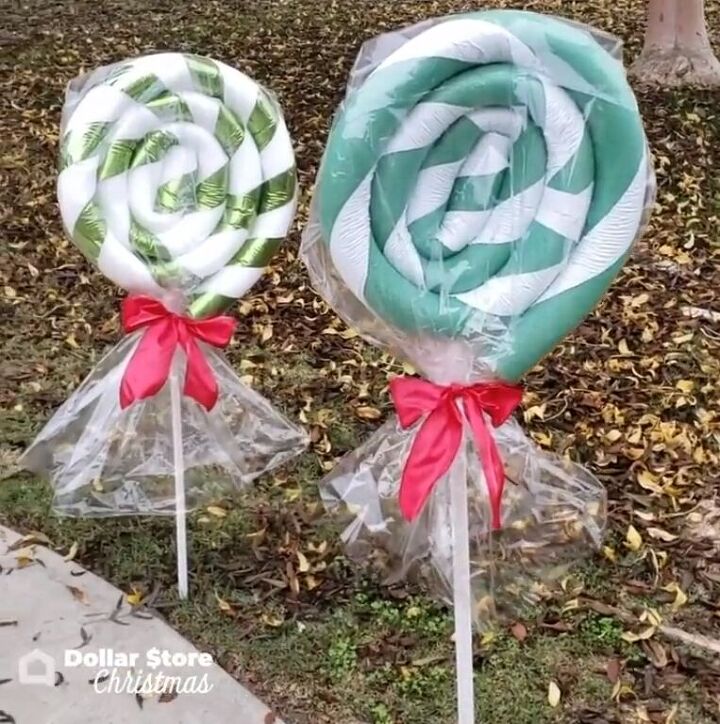 2. Pool noodle lollipops
This DIY tutorial by Mitch Couch guides you through creating eye-catching giant lollipops for outdoor Christmas decor in a different way to Kelly-n-Tony. Using pool noodles, white duct tape, and a few basic tools, the process is both fun and budget-friendly.
You'll start by gluing two pool noodles together, securing them with duct tape. Then, wrap the noodles, forming a coil and securing it with rubber bands. After making a hole for the stick, attach it with hot glue.
Finish by wrapping the lollipop in cellophane and adding a ribbon. These waterproof lollipops cost less than five dollars each and make a cute addition to your yard for the holiday season.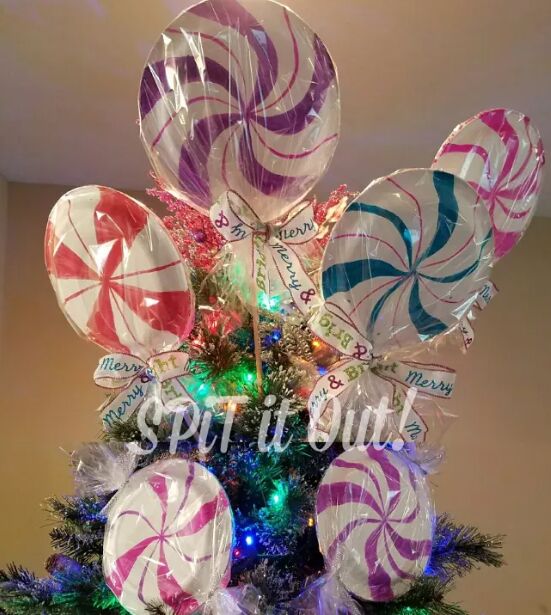 3. Paper plate lollipops
Next, this DIY project by Michelle Lewandowski Kline creates budget-friendly candy-themed Christmas decorations using paper plates. By painting them with Unicorn SPiT Vibrantly Colored Stain and Glaze, the plates transform into peppermint-styled lollipops.
The process involves painting triangles and lines to achieve the desired candy stripe look. Afterward, a dowel rod is inserted for support, and the plates are wrapped in cellophane and tied with ribbon.
The result is suitable for various settings like Christmas trees, stairways, or even outdoors in mild weather.
---
DIY lollipop decorations
Whether it's the plywood discs, playful pool noodle creations, or the budget-friendly paper plate lollipops, each project brings its own unique touch of festive magic.
Are you adding DIY lollipop decorations to your Candyland Christmas decor? Let us know in the comments below.
Enjoyed the project?
Published October 11th, 2023 6:59 AM