855 Views
6 Cute Christmas Jar Ideas For Your Holiday Crafting
October 17th, 2023 6:40 AM
Looking for ways to recycle your glass waste? Get stuck into fun holiday crafting with these easy DIY Christmas jar ideas.
Learn to make a cute gnome candy jar, a tiny Christmas scene in a jar, a snowy lantern, a Christmas lantern from a pickle jar, rustic mason jar lid ornaments, and charming Christmas centerpieces.
These crafts use simple materials and are perfect for decorating or giving as gifts. Follow the step-by-step instructions to create your own holiday magic!
For even more ideas, see Hometalk's ultimate guide to DIY Christmas decor here.
DIY Christmas jar ideas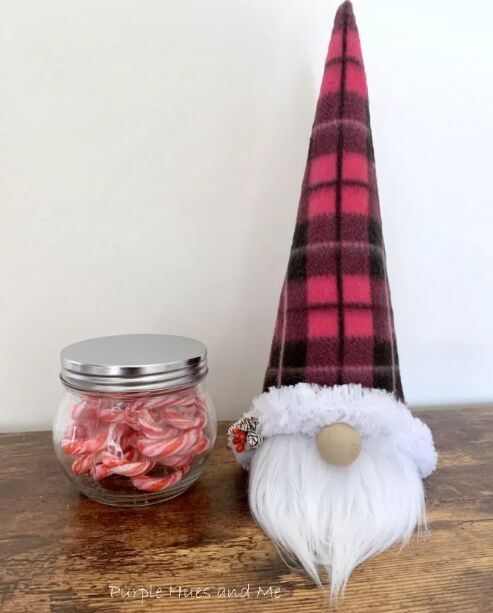 1. Christmas gnome candy jar
Learn how to make a Christmas gnome candy jar with this tutorial by Gail@Purple Hues and Me.
Using simple materials like poster board, a dollar store plaid neck wrap, and faux fur, you can craft a cone-shaped hat that fits snugly around a glass jar. With a few creative steps, including gluing, sewing, and trimming, you'll assemble this festive treat jar.
This would also make a thoughtful gift for loved ones.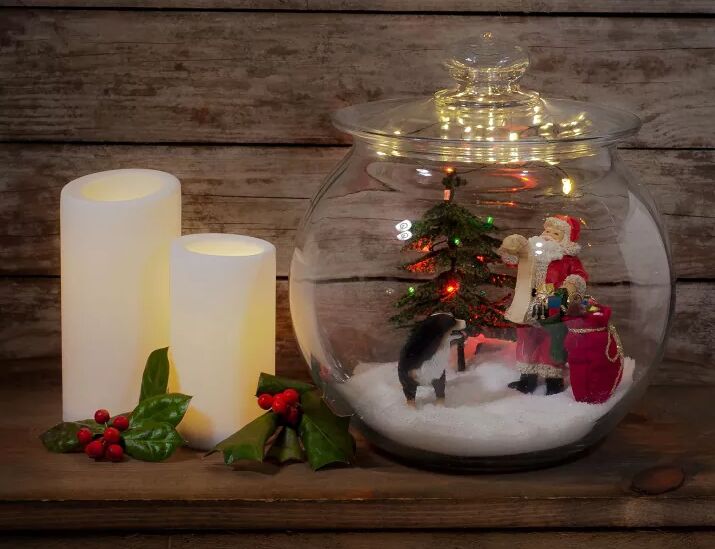 2. Christmas scene in a jar
Transform a clear glass jar into a cute miniature Christmas scene with this DIY project from by Miniatures.com. Gather some Epsom salt, some Christmas miniatures, and a glass jar.
Begin by pouring the Epsom salt into the jar to create the snowy base, leaving room for the miniatures. Then, arrange the miniatures on the snow to create a festive Christmas scene.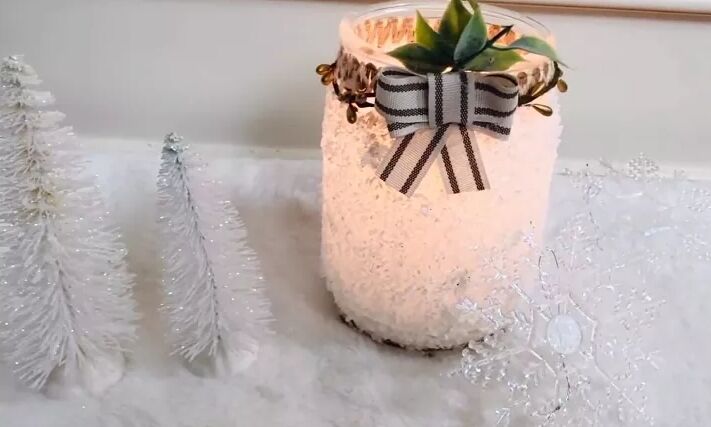 3. Snowy lantern
Sun's Arts shows us how to turn a used candle jar into a winter-themed snow lantern using a few Dollar Tree finds.
Clean the jar and decorate the neck with golden berry string and burlap ribbon. Mix Mod Podge and white paint, apply generously, then sprinkle with Epsom salt.
Seal with more Mod Podge and add a farmhouse-style ribbon bow. Attach greenery for a cozy finish, then place a candle inside for a warm glow.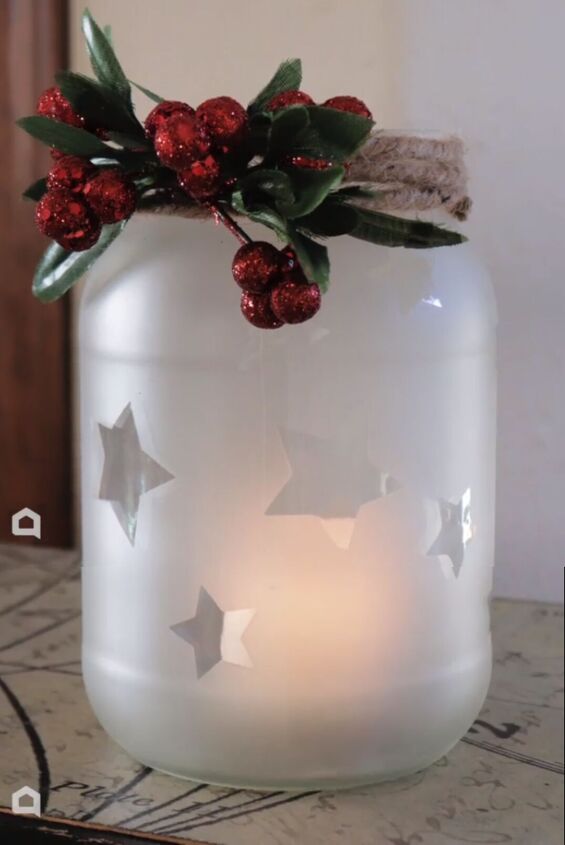 4. Christmas pickle jar lantern
Speaking of lanterns, Sarah Vanderkooy shows us how to repurpose pickle jars into Christmas lanterns with this easy DIY.
Start by washing and removing labels. Cut out star shapes from contact paper and stick them onto the jar. Spray with frosted glass paint for a beautiful effect.
Peel off the star stickers once dry. Decorate the rim with rope and Christmas sprigs and add a battery-powered tea light inside for that cozy winter glow.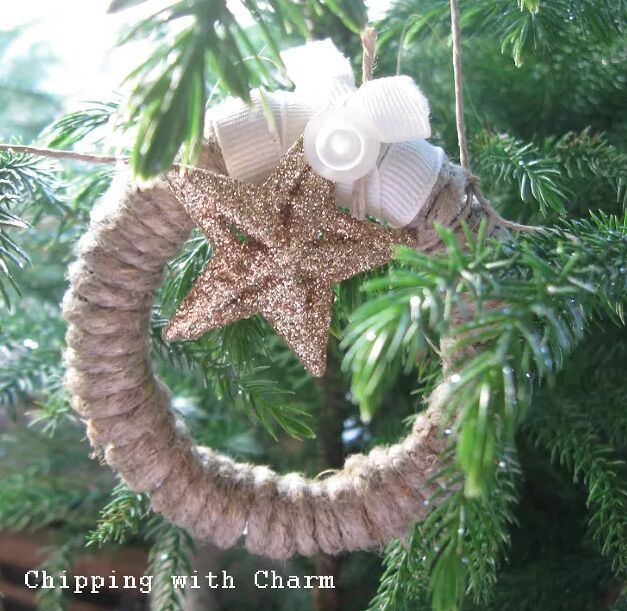 5. Mason jar lid ornaments
For something a little different, discover how to repurpose leftover mason jar lids into rustic Christmas ornaments with this simple DIY by Chipping with Charm, Laurel.
Begin by tying a knot inside the lid's rim, then wrap it tightly with rustic twine. Once wrapped, tie it off and tuck the knot in the back.
While it may take a bit of time, the process is straightforward. The combination of twine, sparkly ornaments, ribbon, and a delicate button looks lovely displayed on a Christmas tree.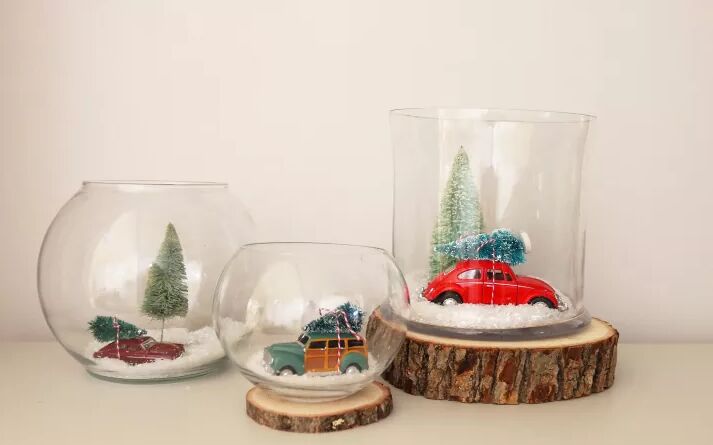 6. Christmas centerpieces and vignettes
Next, learn to put together DIY Christmas centerpieces and vignettes using toy cars, faux snow, mini Christmas trees, glassware, and ornaments.
The five different projects include a Christmas tree car scene, an ornament cloche, a wood slice scene, a pine cone Christmas tree, and a Christmas pick cloche. Once crafted, learn how to style the pieces in vignettes by playing with height and layering.
---
Christmas jar ideas
Now that you know how to make these fun holiday crafts, it's your turn to give it a try! You can decorate your own space or make special gifts for your loved ones.
Let us know your DIY Christmas jar ideas in the comments below.
Enjoyed the project?
Published October 17th, 2023 5:19 AM
Popular Project Book
Popular DIY Questions