1.7K Views
7 Outdoor DIY Candyland Christmas Decorations For Your Yard
October 11th, 2023 10:46 AM
Outdoor spaces can dazzle with holiday cheer using these DIY Candyland Christmas decorations. From vibrant garlands to whimsical giant lollipops and charming gingerbread-themed accents, these projects bring a touch of festive magic to your front porch.
Follow these step-by-step guides to craft your own outdoor DIY Candyland Christmas decorations.
For even more ideas, see Hometalk's ultimate guide to DIY Christmas decor here.
Outdoor DIY Candyland Christmas decorations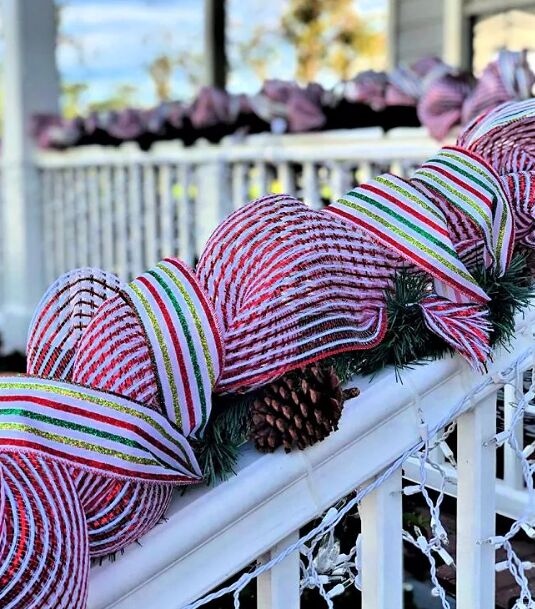 1. Deco mesh garland
This DIY project by Chloe Crabtree guides you in creating a candy-themed Christmas garland for your porch.
You'll start by purchasing wired evergreen garlands, avoiding ones with additional decorations. Then, spread out and fluff the garland branches. Next, add red and white candy-striped deco mesh, securing it with the wired evergreen garland about twelve inches apart.
Make sure to maintain a loose and poofed appearance. Add holiday ribbon in a similar fashion for an extra candy-themed touch.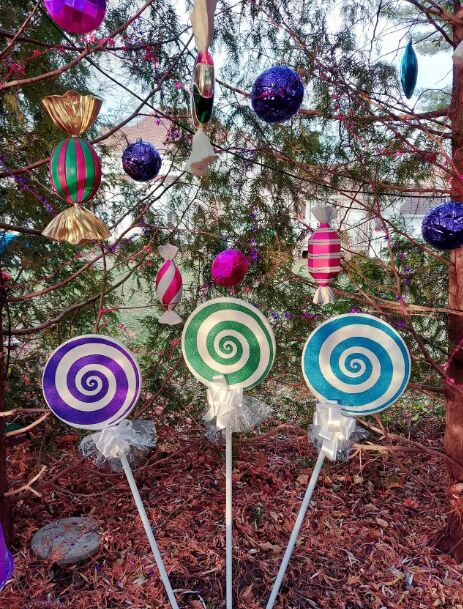 2. Giant lollipops
To create DIY giant lollipop decorations for a Candyland Christmas theme, follow these steps by Kelly-n-Tony:
Obtain materials like wood rounds, pipe clamps, screws, a Dollar Tree mop, a shrink gift bag, zip ties, rebar (for outdoor use), white paint, and Cricut glitter vinyl or colorful paint.
Paint the wood rounds white for the lollipop base.
Add a lollipop swirl using either a vinyl sticker or a hand-painted design.
Use the mop handle as the lollipop stick, attaching it with pipe clamps and screws.
Wrap the lollipop in a shrink-tight gift bag and secure it with a zip tie.
Shrink the bag around the wood round using a blow dryer.
Attach a bow to the lollipop using the provided gift bag accessories.
For outdoor display, insert a rebar into the ground and slide the open-ended mop handle onto it.
These DIY lollipops are cost-effective and make charming additions to a Candyland-themed Christmas display.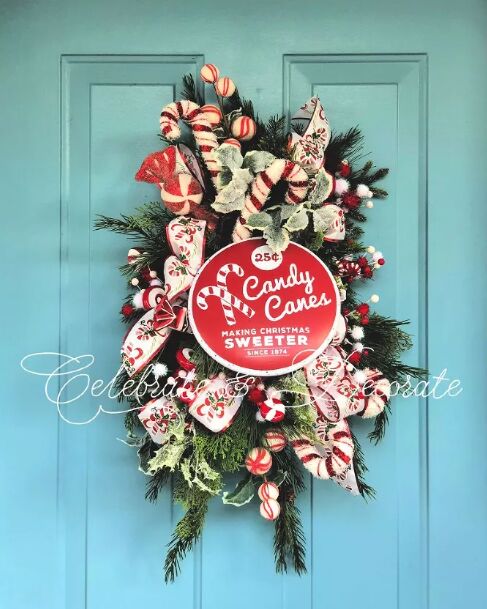 3. Candy cane swag
Chloe Crabtree is back with another great Candyland-inspired Christmas decor project.
To create a candy cane Christmas swag, start with a styrofoam base and attach wires with buttons to create a hanging loop. Build up the swag with artificial evergreens, focusing on the edges. Secure a sign in the center with wires and picks.
Insert candy canes and peppermint ball picks, and add ribbon loops for a lively touch. Hang the finished swag to greet guests with a sweet message.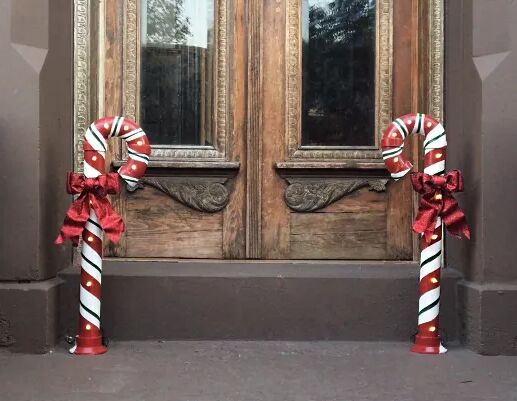 4. PVC pipe candy canes
This DIY project by Amanda C guides you in making PVC pipe candy canes for a Candyland-themed Christmas decoration. You'll need PVC pipes, LED lights, and some basic tools.
Sand off any labels on the pipes and assemble them into candy cane shapes. Wrap tape around the pipes to create stripes, then drill holes for the lights. Spray paint the candy canes and add a second stripe if desired.
Feed the lights through and secure them with rocks for stability. Optional: add bows for extra charm. The finished candy canes can be illuminated for a festive display.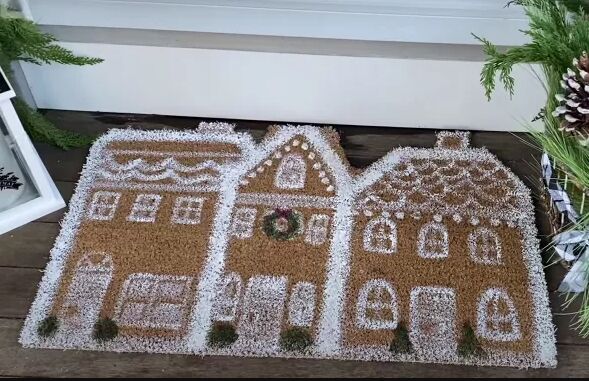 5. Gingerbread doormat
This project by Jennifer Howard| Cottage On Bunker Hill centers around crafting a DIY gingerbread doormat, drawing inspiration from a festive doormat found at Anthropologie.
Jennifer starts with a plain doormat, sketching and painting charming gingerbread houses with white acrylic paint. They enhance the mat with extra adornments like a wreath and bushes, resulting in a whimsical welcome mat reminiscent of a giant gingerbread cookie.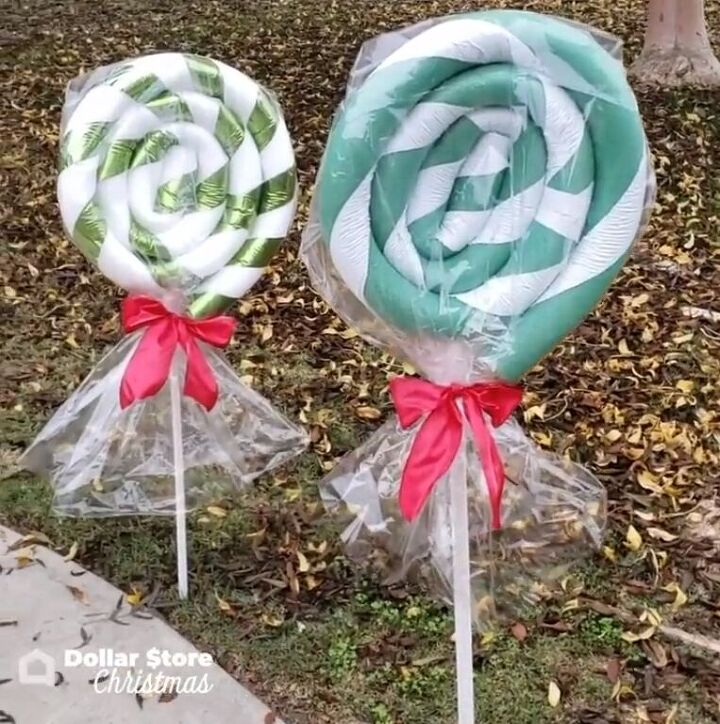 6. More giant lollipops
This DIY project by Mitch Couch guides you in creating budget-friendly, colorful giant lollipops for outdoor Christmas decor. You'll need pool noodles, white duct tape, a hot glue gun, scissors, a stick, cellophane bags, and ribbon.
First, glue two pool noodles together, secure with duct tape, and wrap with white tape. Coil the noodle and add rubber bands. Make a hole, insert a stick, and wrap in cellophane, finishing with ribbon.
These waterproof lollipops cost less than five dollars each and add a festive touch to your yard for the holidays.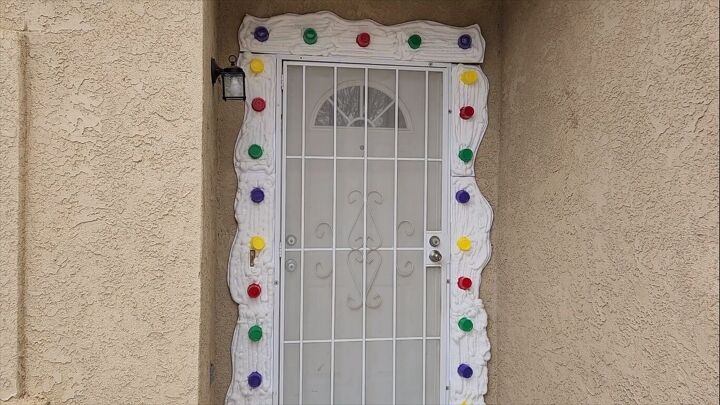 7. Gingerbread house door
Mitch Couch also shows us how to create a festive DIY gingerbread house door decoration for a budget-friendly Candyland Christmas look. Get foam board and colored cups from Dollar Tree, and expanding foam from a hardware store.
Cut cups in half for gumdrops, measure and cut the foam board, and make curved edges to resemble icing. Tape the pieces together and apply white expanding foam. Add colored cup gumdrops and attach the door frame to the wall with clear adhesive.
This project transforms your door into a spectacular gingerbread house, perfect for welcoming guests during the holiday season.
---
Outdoor DIY Candyland Christmas decorations
With these delightful DIY Candyland Christmas decorations, your outdoor space is bound to be a festive wonderland. Your front porch will be the talk of the neighborhood, welcoming guests with a warm, candy-coated embrace.
Let us know which of these outdoor DIY Candyland Christmas decorations you'll try out in your yard via the comments below.
Enjoyed the project?
Published October 11th, 2023 6:38 AM
Popular Project Book
Popular DIY Questions