1.2K Views
13 DIY Ghost Decor Ideas to Haunt Your Home This Halloween
August 19th, 2023 4:38 AM
Step into the realm of Halloween magic with a collection of enchanting and budget-friendly DIY ghost projects that are sure to bring that spooky feel of the season to your home. From ghostly figures crafted from chicken wire to whimsical upcycled wood ghosts, each DIY ghost decor idea offers a creative and simple way to celebrate the Halloween season.
Join us as we explore various crafting techniques, including macramé, painting, and repurposing, to bring these delightful Halloween decorations to life.
Whether you're a seasoned crafter or just looking for some last-minute ideas, these DIY ghost decorations will add a dose of spookiness to your decor. Get ready to unleash your creativity and transform your home into a Halloween wonderland!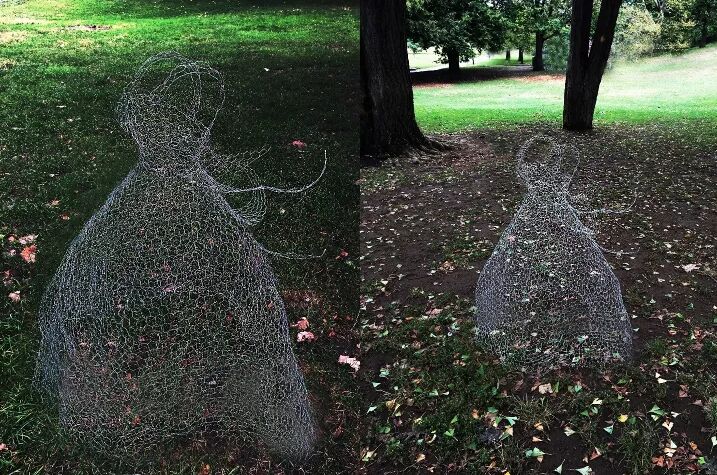 1. Chicken wire ghost dress
First up, this project by Amanda C is a DIY Halloween craft that teaches you how to create ghostly figures using chicken wire. The process involves measuring and cutting the wire for the torso, shaping it into a human-like form, creating a voluminous skirt by connecting triangular wire pieces, adding straps, spray-painting with glow-in-the-dark paint, and setting the ghost in your yard for an eerie effect.
Inspired by the work of artist Derek Kinzett, this chicken wire ghost dress aims to add spooky charm to your outdoor Halloween decor.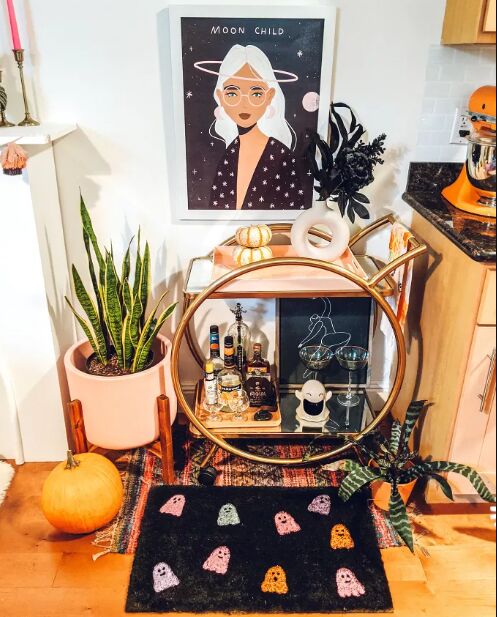 2. DIY ghost doormat
Next up, Amanda demonstrates how to makeover a damaged Christmas mat into a DIY ghost doormat, perfectly in tune with the Halloween spirit. First, she carves a sponge into the shape of a ghost, then applies spray paint. This is a cute and fun way to welcome guests for the Halloween season!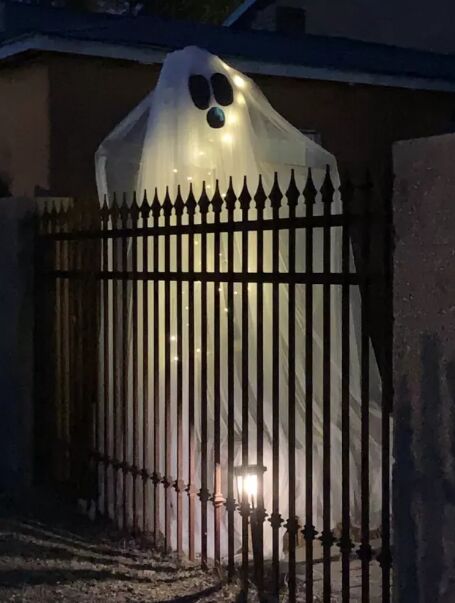 3. DIY illuminated yard ghost
Doodle T and Me! shows us how to create a striking 12-foot ghost decoration for Halloween using scrap lumber, gauzy net drapes, a white garbage bag filled with newspaper, and battery fairy lights. Connect the lumber to form the armature, fill the bag for the head, secure it, and drape the netting over it.
Add battery fairy lights for an enchanting effect and attach black hollow eyes and mouth for a spooky touch. Place the ghost outside and enjoy a captivating Halloween display that's easy and cost-effective to make.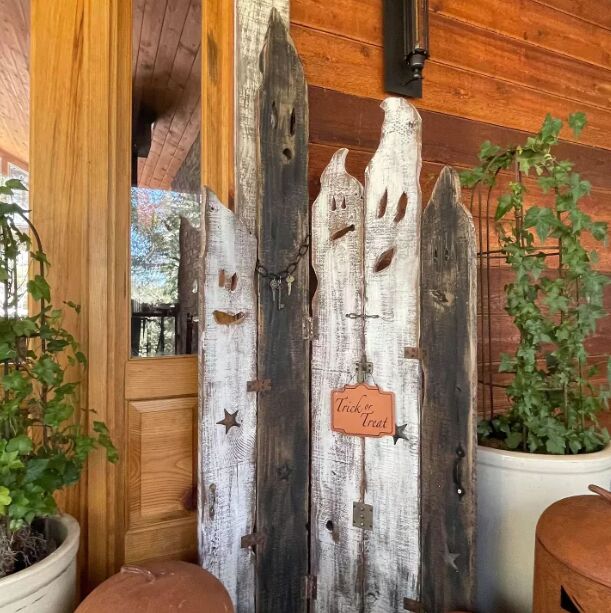 4. Upcycled wood ghosts
Have a blast with this enjoyable Halloween project by @JagCagDesign! Craft these upcycled wood ghosts using fence boards or any lumber you have. Cut the wood, sketch and cut out head, eyes, and mouth, then paint and distress for a rustic look.
Assemble the ghosts with salvaged hinges, rusty stars, and reclaimed items. These whimsical expressions bring spooky delight, turning old "junk" into delightful Halloween decor.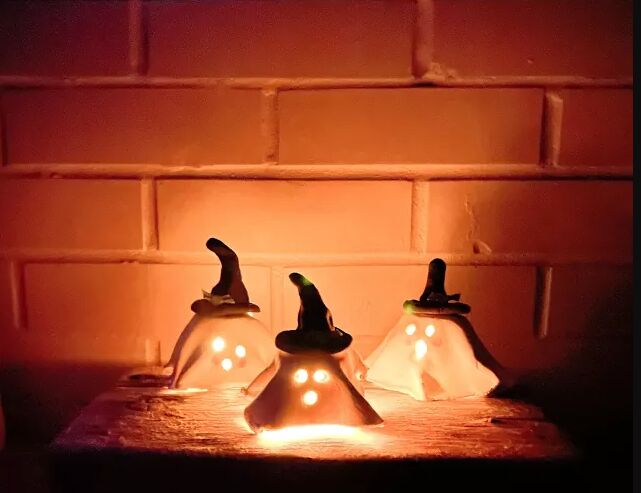 5. DIY clay tea light ghosts
Avoid the high price tags of ceramic tea light ghosts, which can cost up to $70-$90 for a set, by creating your own at a fraction of the cost. Following the instructions by Jackie of Sew Bright Creations, roll out air-dry clay, use a K-Cup for shaping eyes and mouth, smooth the clay, let it dry, and paint it white.
Optionally, add a witch's hat and battery-powered tea lights. These adorable ghost tea lights are a budget-friendly Halloween decor idea.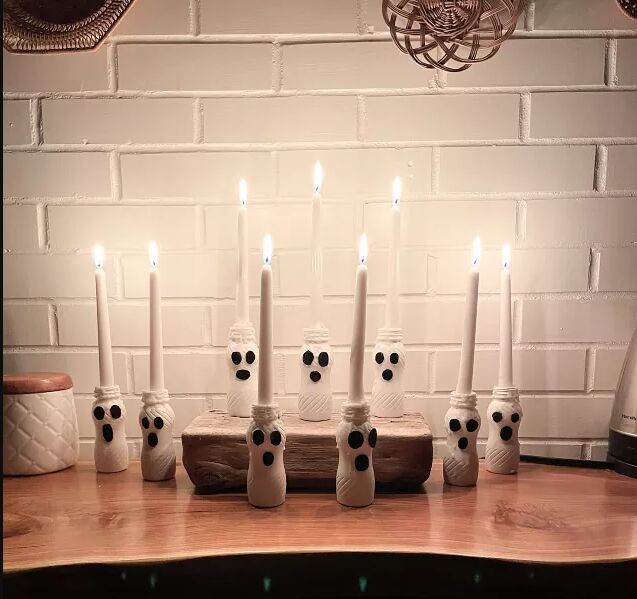 6. DIY ghost candles
Jackie also has another light-up ghost craft up her sleeves. Here, she shares how to repurpose yogurt drink containers into spooky DIY ghost candles called "Ghost-Gurts." Remove labels, cut black felt for eyes and mouths, and glue them onto the containers.
Melt the bottom of one candle to secure it inside another, adding rice for stability if needed. These cute ghost candles provide a fun Halloween décor idea, utilizing recycling for a budget-friendly and creative twist.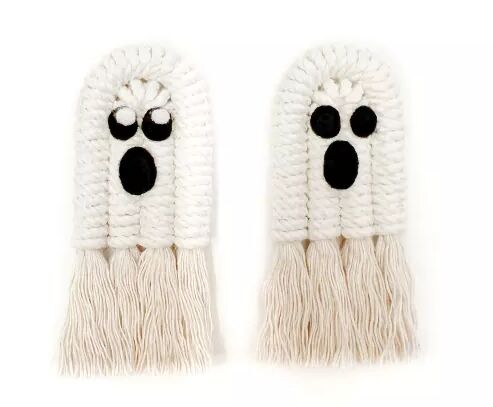 7. DIY macrame ghosts
Embrace the Halloween spirit with a family-friendly DIY craft by Stacy Summer Malimban featuring a mini macrame wall hanging of a boho ghost. This project uses a wrapping technique instead of intricate macrame knots, making it accessible for all skill levels.
Follow simple steps to form arches, secure them with hot glue, and create fringe. Add character with black polyester felt for the eyes and mouth, and optionally use white felt for pupils. No macrame expertise is required for this delightful Halloween decor piece!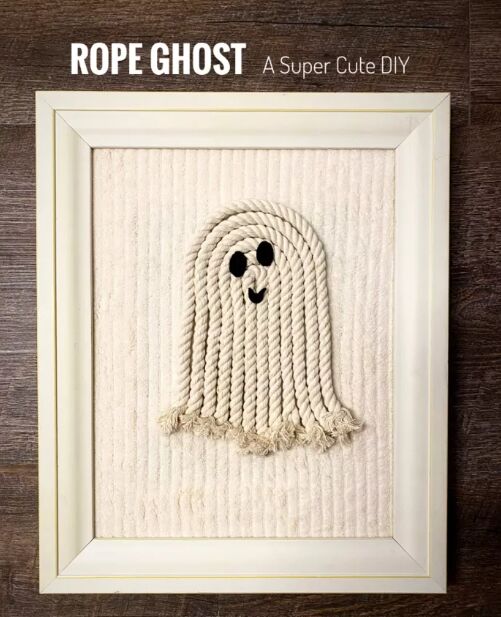 8. DIY rope ghost wall art
Elevate your Halloween decor with an adorable and easy-to-make DIY rope ghost by Jackie Barrell. Swap out your wall decor with this cute ghost, made using any frame without glass.
Cover the frame backing with fabric, reassemble the frame, and create a ghost shape by folding and gluing rope lengths. Complete the look by adding black felt eyes and a mouth. This simple project yields a delightful Halloween wall ornament that's both spooky and cute!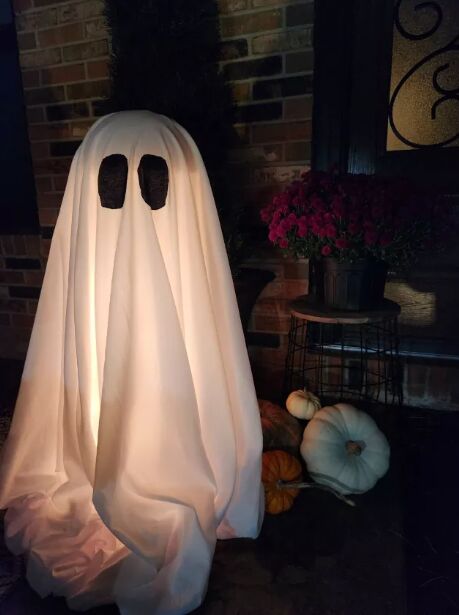 9. DIY tomato cage ghost
Jump on the hottest Halloween decor trend with these adorable and budget-friendly DIY tomato cage ghosts, as seen on Facebook and TikTok. Following the instructions from Taylor of Casually Coastal Designs, gather a tomato cage, styrofoam ball, white sheet, string lights, black felt, hot glue gun, and scissors.
Secure the cage prongs with a twist tie, attach the styrofoam ball, and wrap the cage with lights. Cover with a white sheet for a ghostly appearance and add felt eyes and mouth. Plug in your creation and revel in the spooktacular ambiance!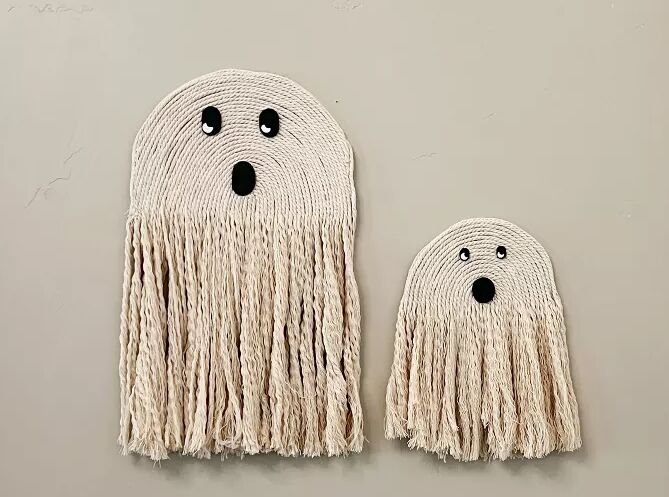 10. DIY boho ghosts
For another twist on the boho ghost trend, Erinn from apersoncould shows us how to create boho-style Halloween decorations with macramé cording. Cut and glue macramé cord onto a flat hard painting canvas in a semi-circle shape, then unravel the cord strands for a textured effect.
Add a face using materials like polymer clay, buttons, or fabric, and hang the finished ghosts on your wall. These neutral and adorable boho ghosts bring a stylish and creative touch to your Halloween ambiance.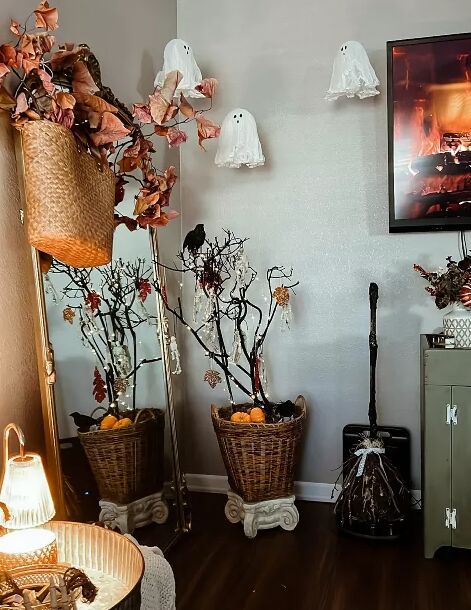 11. DIY cheesecloth ghosts
Relive the nostalgia of elementary school with these adorable DIY cheesecloth ghosts by Ana Ochoa - Sunrise Valley Farm Co. Inflate a balloon, drape it with layers of starch-soaked cheesecloth, and let it dry. Decorate with glitter, paint ghostly faces, and optionally hang them using clear twine.
These cheesecloth ghosts add a touch of whimsy and spookiness to your Halloween decor, capturing the essence of childhood crafting in a delightful and creative project.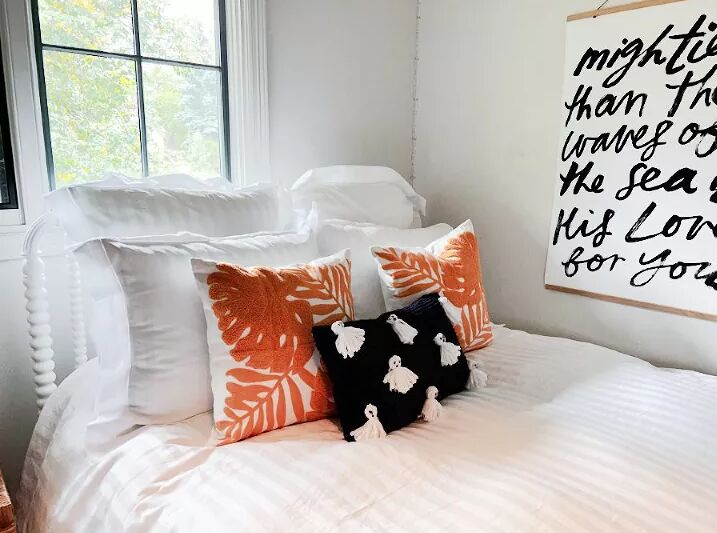 12. DIY ghost pillow
Next, The Tattered Pew shows us how to easily create an adorable DIY Halloween ghost pillow in under 30 minutes using a black pillowcase, yarn ghosts, and safety pins. Craft the cute yarn ghosts by wrapping yarn around cardboard templates, securing with knots, and drawing ghost faces.
Attach the ghosts to the pillowcase using safety pins, creating a Halloween-themed accent that's budget-friendly and no-sew. The finished pillow adds a playful element to your decor, and its simplicity makes it a family-friendly and enjoyable project for the spooky season.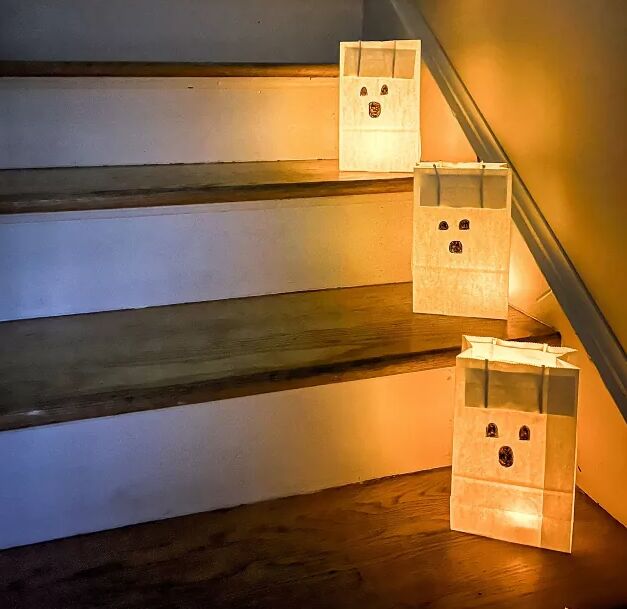 13. DIY paper bag ghost lanterns
Get in the Halloween spirit with an effortless DIY project by Nicolle - Our Tiny Nest, crafting DIY ghost lanterns using white kraft paper bags, battery-operated tea lights, and a black marker or crayon.
Draw eyes and a nose on each bag, place a tea light inside, and arrange them on stairs or mantles to create a delightful and festive atmosphere. This is an ideal last-minute decoration idea to embrace the Halloween season with creativity and warmth.
More Haunting Halloween Decorating Ideas!
Ready to turn your house into a spine-chilling sanctuary? From sinister mirrors to spellbinding chandeliers, our
How to Turn Your Home Into a Haunted House
guide will help you transform your space into a gothic haven.
DIY ghost decor ideas for Halloween
As the bewitching season approaches, take these DIY ghost decor ideas and let your creativity flow, infusing your home with the playful and eerie atmosphere that makes Halloween so magical. Which was your favorite DIY ghost project? Let us know in the comments below.
Wishing you a spooktacularly delightful and crafty Halloween season!
Enjoyed the project?
Published August 17th, 2023 10:39 AM
Popular Project Book
Popular DIY Questions