358 Views
From Pilgrims to Pumpkins: 13 Creative Thanksgiving Wreath Ideas
September 13th, 2023 2:39 PM
As the cozy scent of Thanksgiving feasts fills the air, it's time to bring the warmth and charm of the season to your front door with delightful Thanksgiving wreaths. In this post, we're diving into a world of creativity and craftsmanship, exploring unique ideas and projects that will make your home feel extra inviting this holiday season. From turkey-themed wreaths to rustic and elegant designs, we've got a wreath idea for every style. Let's explore these Thanksgiving wreath ideas and get inspired to decorate our homes in style!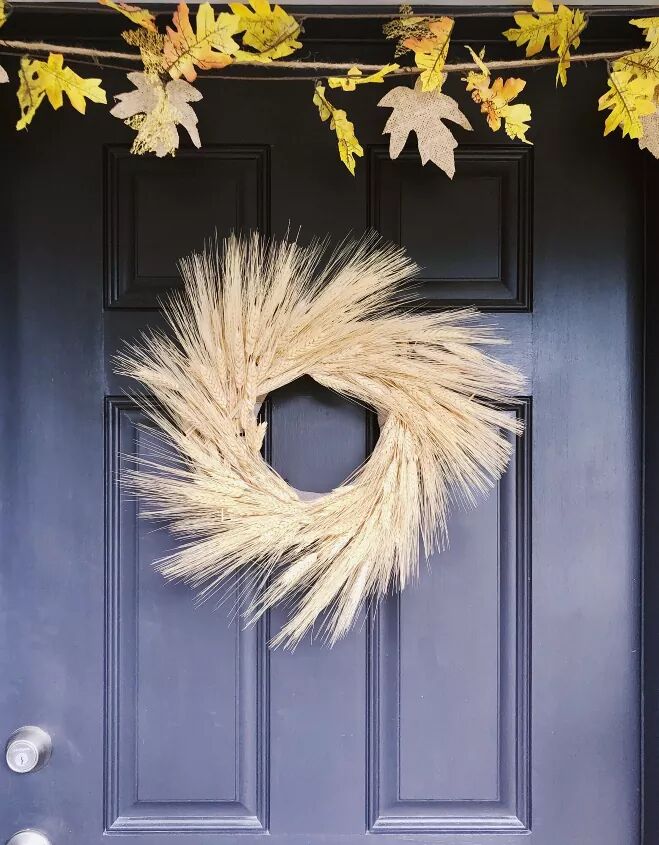 1. Make a Rustic Wheat Wreath
Ashleigh Sommer crafts a stunning Fall Wheat Wreath that brings a cozy autumn feel to your front door. This delightful project costs just $10, and if you need all the materials, it'll still be an affordable $20.
You'll need dried wheat, a foam wreath, scissors, zip ties, and optional sealer spray. To create the wreath, simply bundle 5-7 stems of wheat together, trim the ends, and attach them to the wreath using zip ties. Add filler pieces strategically, securing them discreetly with zip ties.
Hang it up and enjoy a gorgeous Thanksgiving craft that rivals expensive store-bought alternatives.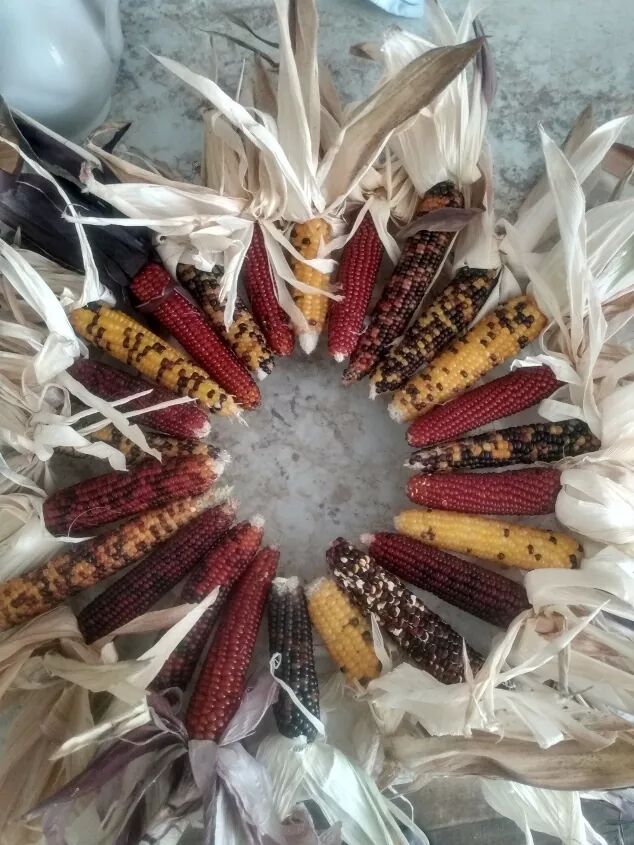 2. Diy a Charming Indian Corn Wreath
Corine Mapes, from Junk to Gems, shares her creative DIY Indian Corn Wreath project that's as easy as it is charming.
With just three materials and $2, you can make this in 25 minutes. Corine used Indian corn from her garden and a 12" wreath form, wrapping it with muslin to conceal the green. Using hot glue, she affixed the corn, creating a rustic and festive wreath. It's a quick and budget-friendly way to add a touch of autumn to your home decor.
Give it a try and welcome the Thanksgiving season with your own handmade creation!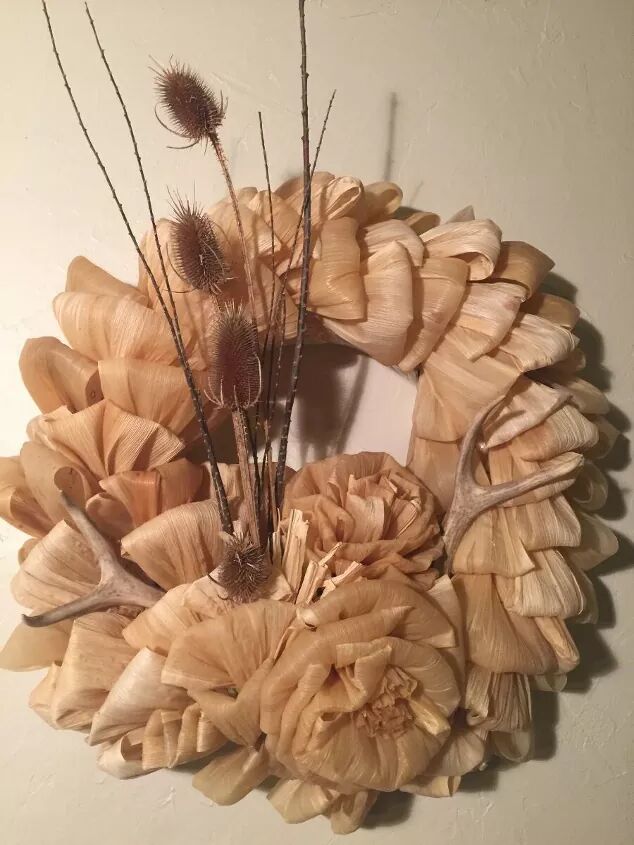 3. Craft a Rustic Corn Husk Wreath with Deer Antlers
Nena Regalado shares a creative and budget-friendly DIY project for the holidays - a Corn Husk Wreath with Deer Antlers.
With just 10 materials costing $17 and 4 hours of your time, you can craft this rustic beauty. Soften corn husks in hot water, fold them around floral picks, and secure them with wire to create a wreath. Attach the husks to a straw wreath, leaving the plastic on, and then add antlers and dried florals for a unique touch.
This heartfelt project transforms a holiday tradition into a charming decoration – give it a try and adorn your home with a piece of homemade artistry.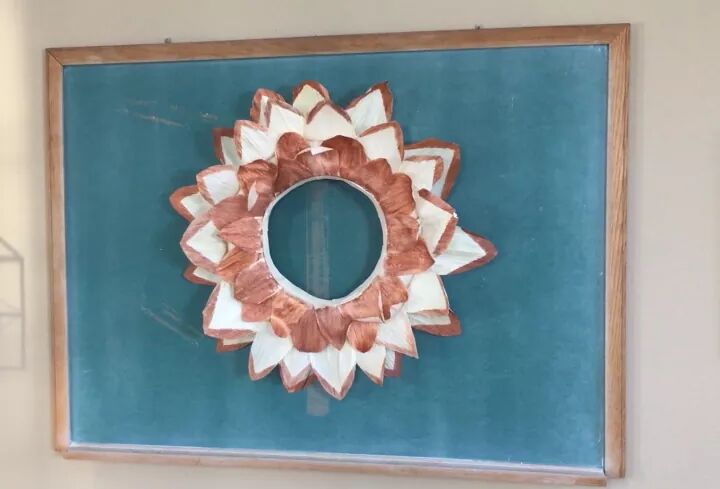 4. DIY a Pretty DIY Corn Husk Wreath
Join Alicia W as she crafts a stunning corn husk wreath for just $7.00 in under 2 hours.
With this easy-to-follow DIY project, you can create a budget-friendly and unique fall wreath.
Follow Alicia's steps to make your own beautiful corn husk wreath and add a touch of seasonal charm to your home this autumn.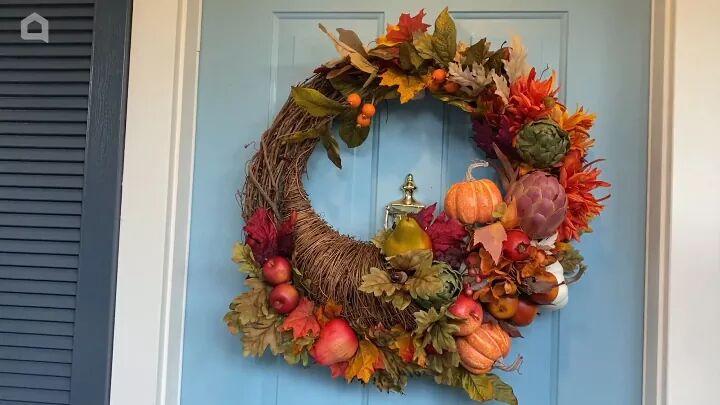 5. Build a Stunning Cornucopia Wreath
Join Chloe Crabtree in crafting a beautiful Cornucopia Wreath for your front door this Thanksgiving.
Combining store-bought wreaths, Styrofoam, and seasonal items like gourds and apples, you can create a stunning wreath following easy steps.
This project is perfect for Thanksgiving as it captures the essence of abundance and harvest, setting a welcoming tone for your guests.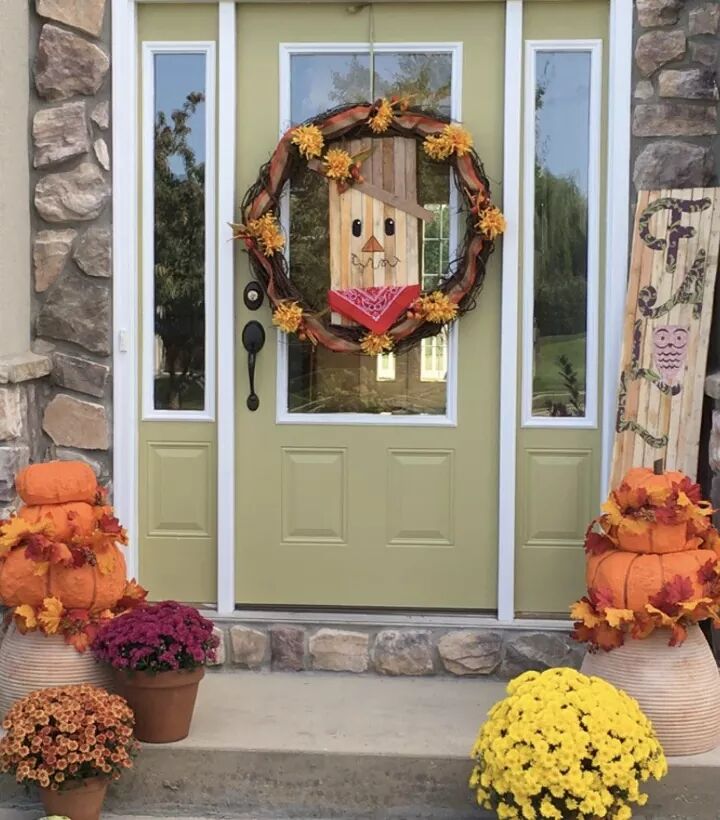 6. Make a Cute Reversible Scarecrow Snowman
Again, Alicia W crafts the perfect Thanksgiving wreath that can seamlessly transition into the winter season. Her reversible fall to winter wreath offers the best of both worlds with its charming scarecrow and snowman sides.
Begin by assembling the wreath's base with lathing strips, and then follow Alicia's step-by-step painting instructions to craft an adorable scarecrow on one side and a snowman on the other side. Alicia also guides you in adding decorations and concealing the bottom wood with a scarf.
Finally, hang your delightful, seasonally versatile wreath to welcome both fall and winter with a touch of handmade charm.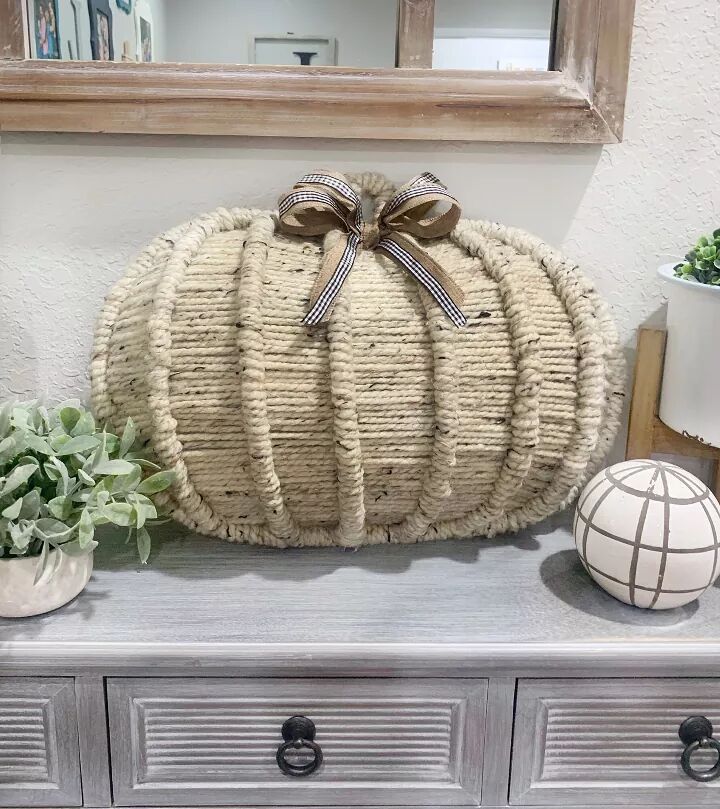 7. Craft a Sweater Weather Pumpkin Wreath
Rachel from Faith Hope Home shares a delightful DIY project, the Sweater Weather Pumpkin Wreath, perfect for Thanksgiving and transitioning into winter.
This craft embraces the cozy feeling of sweaters and provides a unique alternative to traditional wreaths. All you need are a pumpkin wreath form and chunky yarn, both affordable and readily available. By wrapping the yarn around the frame and filling in the center, you'll create a charming pumpkin wreath. The contrasting open stem adds character.
Display it on your front door as a welcoming Thanksgiving decoration, and later, as winter decor to keep the warm, inviting vibes alive.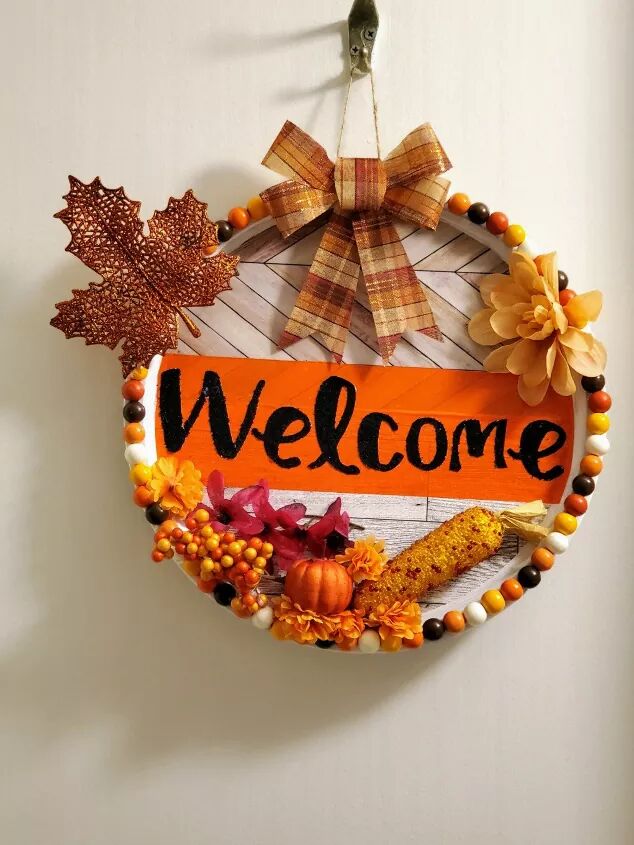 8. DIY a Farmhouse-Style Welcome Sign
Vivian Siu presents a fantastic DIY project, the Thanksgiving/Fall Welcome Dollar Tree Pizza Pan Wreath, ideal for both Thanksgiving and fall decor.
This craft combines a Dollar Tree pizza pan with wood wallpaper to create a charming farmhouse-style wreath. Gather materials like ribbon, paint, adhesive paper, artificial flowers, and alphabet stickers to craft this unique piece. The detailed steps guide you through painting, applying wood wallpaper, and decorating the wreath, resulting in a warm "Welcome" sign surrounded by autumnal elements.
Display this gorgeous creation to welcome guests and set a festive tone for Thanksgiving and the entire fall season.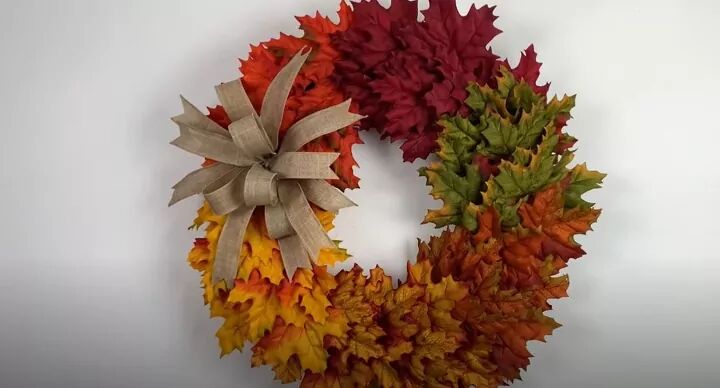 9. Create a Gorgeous Ombre DIY Fall Leaf Wreath
Nick Kreticos, a DIY blogger, offers an easy and budget-friendly project: the DIY Ombre Wreath. With just five materials and $20, you can craft it in two hours.
Nick celebrates the beauty of fall by using colorful maple leaves to create a stunning ombre effect on a grapevine wreath. Adding a burlap bow for a festive touch, he demonstrates securing it neatly with a pipe cleaner.
This DIY autumn wreath is a charming addition to Thanksgiving decor, welcoming guests with warmth and creativity.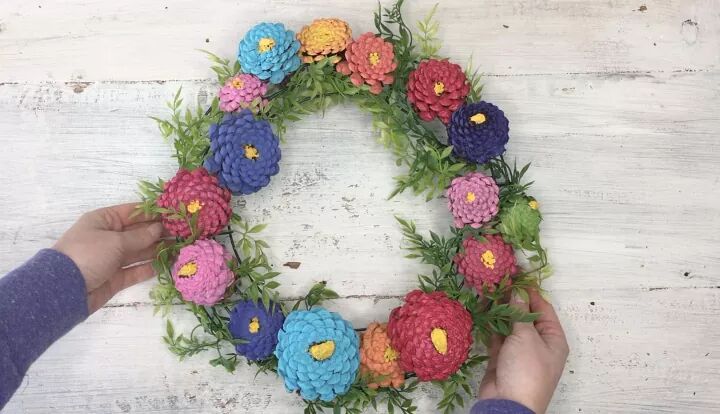 10. Add a Charming Zinnia Pinecone Wreath
Ready to make your home feel warm and inviting this Thanksgiving? Create a delightful pinecone zinnia wreath that'll instantly set the autumnal tone for your holiday gathering.
Gather a bunch of pinecones, paint them in your favorite fall hues, and add a cheery yellow center to mimic zinnia flowers. Trim away the unpainted halves to create petal-like shapes.Secure these pinecone zinnias onto a wire wreath form and fill any gaps with artificial greenery.
Hang this handcrafted beauty on your front door to welcome your loved ones with a touch of nature's charm.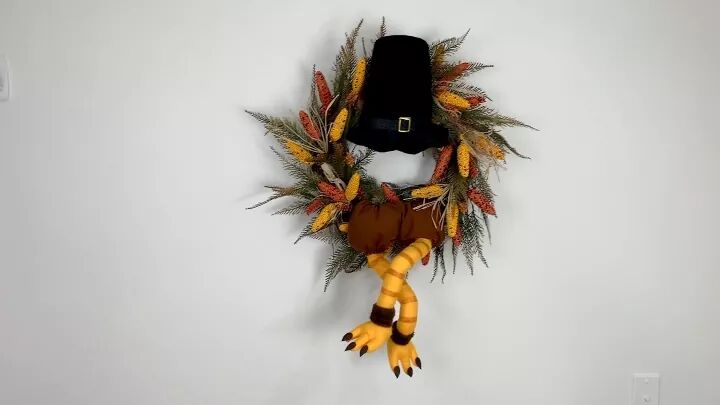 11. Craft a Whimsical Thanksgiving Turkey Wreath
Nick Kreticos presents a delightful DIY project to usher in Thanksgiving spirit with a whimsical turkey wreath. This easy and cost-effective craft will greet your guests with warmth and charm.
Begin with a 14-inch grapevine wreath frame and cut greenery into smaller pieces. Assemble the base by dipping greenery into glue and placing it evenly on the frame. Incorporate a pilgrim turkey decoration for a whimsical touch. Add candy corn embellished with raffia for extra flair and complete the look with miniature flowers or berries.
This charming wreath is a perfect Thanksgiving decor addition that captures the essence of the season without overwhelming your home.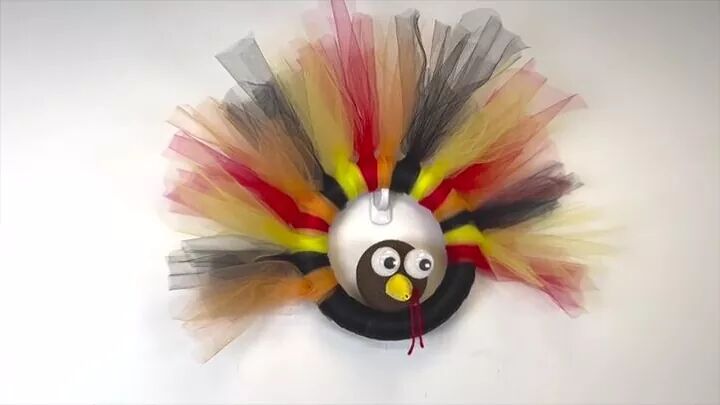 12. Create a Stunning Turkey Tulle Wreath
Nick Kreticos brings another festive and unique Thanksgiving project with a stunning turkey tulle wreath. This delightful DIY craft will infuse your home with seasonal charm.
Start by selecting vibrant tulle colors, cutting them into 22-inch pieces, and knotting them on a foam wreath form. Layer the tulle to create a rich and colorful effect. To cover the styrofoam base, wrap it with black tulle and secure it with pins. Bring your turkey to life by adding a brown-painted styrofoam ball for the head, googly eyes, a yellow ribbon beak, and a red yarn waddle.
This budget-friendly wreath will brighten your home and leave a lasting impression this Thanksgiving.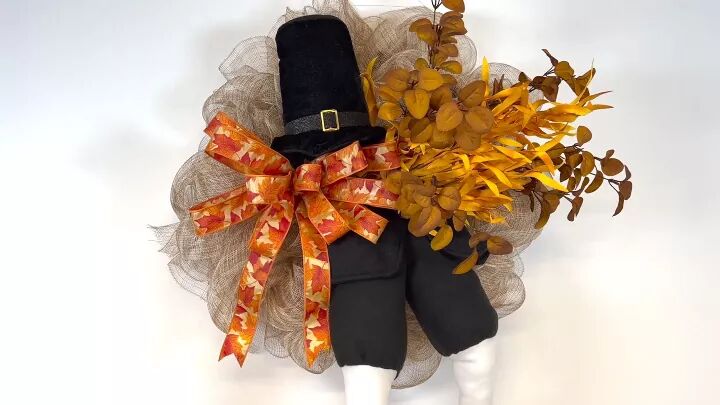 13. Make the Cutest Pilgrim Turkey Wreath
Get ready to craft a heartwarming addition to your Thanksgiving decor with Nick Kreticos's Pilgrim Turkey Wreath!
Using deco mesh and a creative touch, Nick guides you through each step to design an adorable turkey pilgrim wreath. Secure pipe cleaners to a metal wreath frame and cut pieces of deco mesh to create a textured base. Add layers and create a poof effect for a fuller wreath. Attach a pilgrim hat and decorate with fall ribbon, Eva bushes, and brown decorative sprays.
With this delightful DIY project, you'll have a unique and charming Thanksgiving decoration to welcome the season.
Creative Thanksgiving Wreath Ideas
There you have it, a treasure trove of Thanksgiving wreath ideas to make your home shine with holiday spirit.
Which wreath caught your eye?
We'd love to hear about your own creative wreath-making adventures and see the designs you come up with. Share your thoughts, ideas, or even questions in the comments below.
Enjoyed the project?
Published September 13th, 2023 2:37 PM