634 Views
How to Make DIY Mercury Glass Ornaments in 3 Different Ways
August 31st, 2023 2:40 AM
Elevate your holiday decor with these DIY mercury glass ornaments. Inspired by expensive decor, these three budget-friendly alternatives allow you to achieve an elegant vintage look without the hefty price tag.
Learn how to transform ordinary ornaments into exquisite mercury glass masterpieces in three different ways. Experiment with colors and achieve eye-catching results.
Let's get crafting some DIY Christmas ornaments!
DIY mercury glass ornaments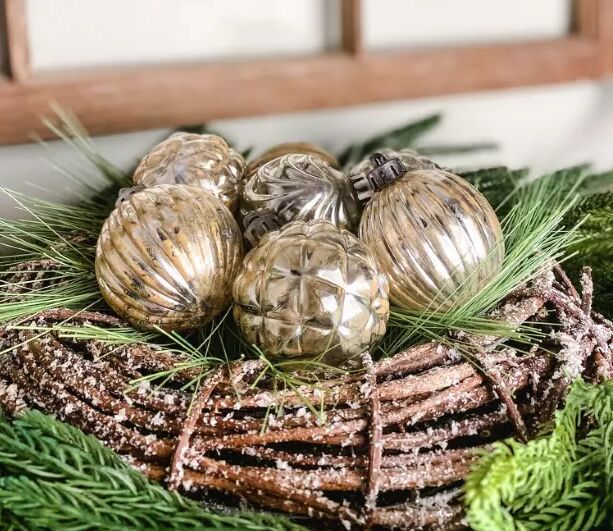 1. Glass & metallic paint technique
First up, Jennifer Howard of Cottage On Bunker Hill shows us how she created these stunning mercury glass ornaments without the hefty price tag. Inspired by high-end catalogs, these shatterproof ornaments emulate the look of real mercury glass.
Using Krylon Looking Glass Paint, clear plastic ornaments, vinegar and water solution, and metallic paint, follow the step-by-step process to achieve the elegant vintage effect. With just a few quick squirts of paint, rolling, hairdryer heat, and vinegar mist, you can transform ordinary ornaments into exquisite faux mercury glass pieces.
Experiment with colors like antique gold or black acrylic paint to achieve varied, eye-catching results. Display your beautiful ornaments in a festive arrangement for an elegant touch to your holiday decor.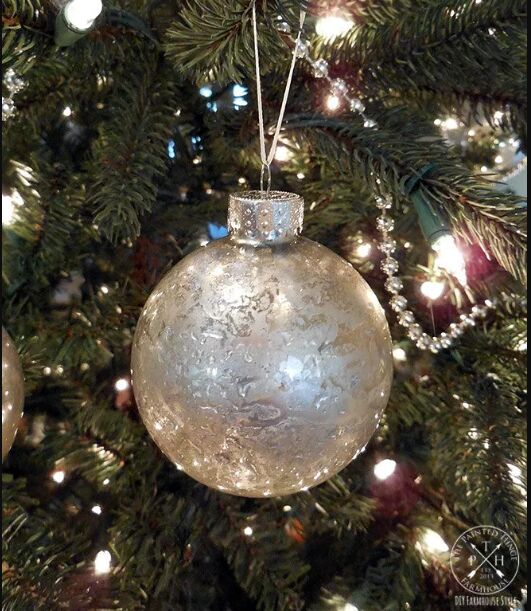 2. Copper metal finish spray technique
Create stunning faux mercury glass Christmas ornaments on a budget with this DIY project by The Painted Hinge. Skip the expensive store-bought versions and make your own using clear glass balls, Rust-Oleum Mirror Effect Spray, Rust-Oleum Hammered Metal Finish Spray in Copper, vinegar, rubber gloves, and a hair dryer.
Remove the metal tops from the ornaments, apply copper and mirror spray inside, then blow dry the paint to spread and dry. Reattach the tops, hang up your beautiful ornaments, and enjoy the vintage-inspired elegance on your tree.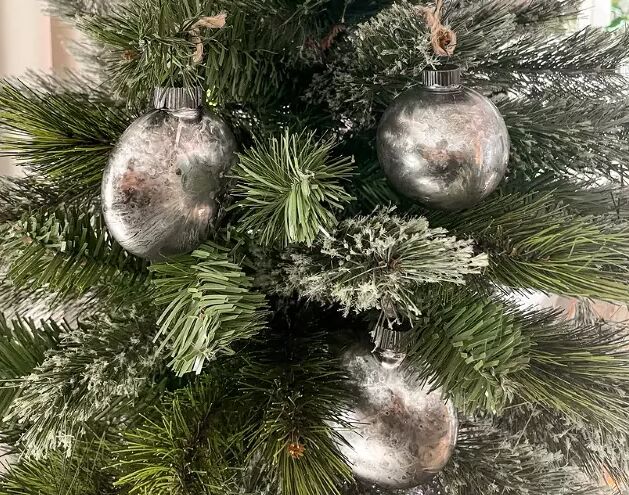 3. Metallic oil-rubbed bronze spray technique
Learn to create DIY vintage mercury glass Christmas ornaments with this easy and affordable step-by-step tutorial by Emily Rone Home. Emily also uses Rustoleum Mirror Effect Spray and white vinegar, as well as metallic oil-rubbed bronze spray.
Start by applying Mirror Effect Spray and vinegar inside the ornaments, then use a hair dryer to dry the layers. Repeat the process for desired coverage, adding metallic oil-rubbed bronze spray for dimension. Spray paint the top caps for contrast, and in no time, you'll have beautiful ornaments perfect for your holiday decor.
How to make DIY mercury glass ornaments
Elegant festive decor doesn't have to break the bank. Have you tried making DIY mercury glass before? Let us know in the comments below.
Enjoyed the project?
Published August 30th, 2023 1:12 PM