1.4K Views
10 Chic & Modern Fall Decor Ideas You Can Make Yourself
Get ready to transform your home into a chic and modern fall haven with these budget-friendly yet stylish DIY projects.
From repainting thrift store Halloween items to creating leaf-stamped napkins, chic concrete candles, and elegant mercury glass pumpkin vases, there's something for everyone to try. Embrace the beauty of autumn with these easy and creative ideas that will elevate your fall decor game!
Chic and modern fall decor ideas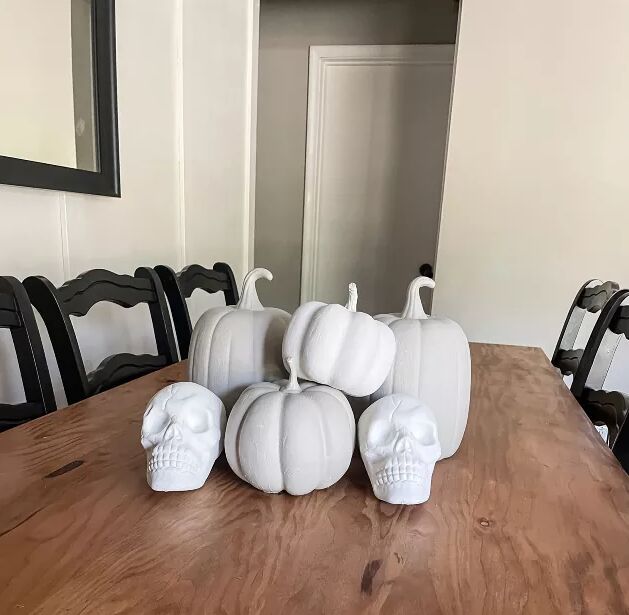 1. Painted Halloween decor
First up, Maddiy.martini transformed thrift store Halloween items into chic fall decor by repainting them with a pottery-like finish using paint mixed with baking soda. The resulting subtle and stylish decorations match the rest of her home decor and are perfect for creating a cohesive and non-orange Halloween ambiance.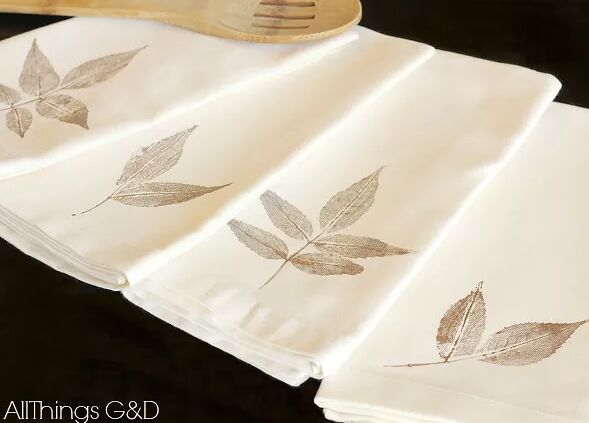 2. DIY leaf-stamped napkins
Create leaf-stamped napkins using leaves from your surroundings and some craft paint, following these instructions from All Things G&D.
Flip the leaf over, apply paint, and brush it onto the napkin. Carefully position the leaf on the napkin, cover it with a paper towel, and use a rolling pin to transfer the paint onto the napkin. It's a quick, budget-friendly way to add a touch of nature to your fall dining table decor.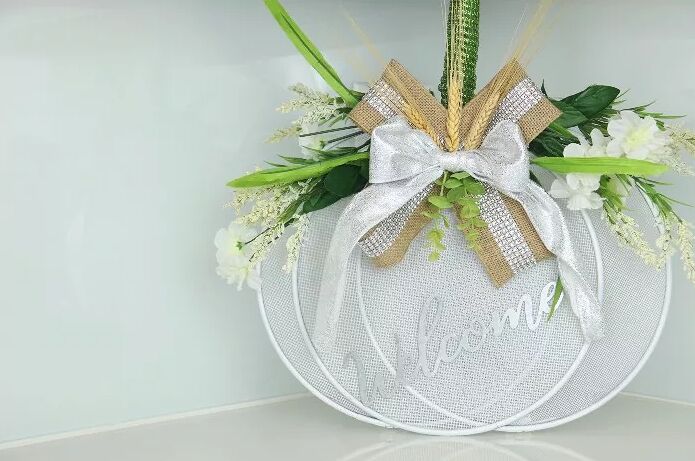 3. DIY pumpkin from splatter screens
DIY Tutoriales y mucho más shows us how to create a chic modern pumpkin using Dollar Tree splatter screens.
Spray paint the splatters and cover the handles with Satin Nylon Trim Cord. Bend two splatters to form the base and arrange them with another splatter to create the stem. Secure them with wire and decorate with flowers, foam sheets, and mesh tube.
Personalize with ribbons and a Welcome sign. It's a versatile and beautiful fall decor project that you can customize to your liking.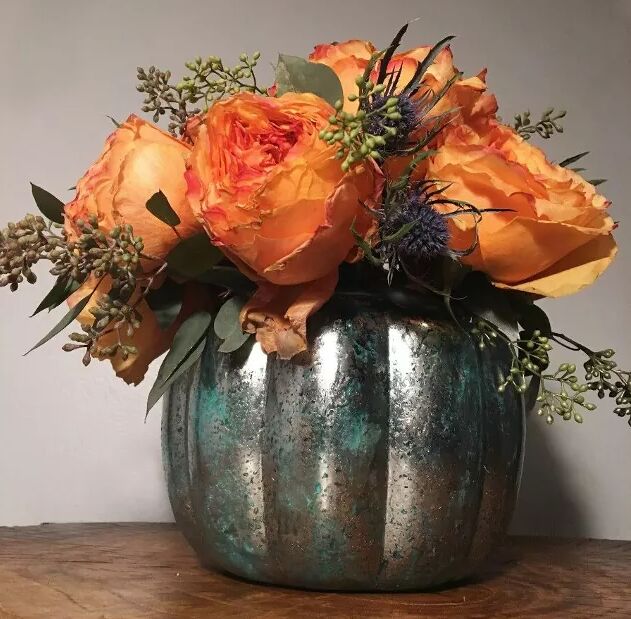 4. DIY mercury glass pumpkin vase
Learn how to create a beautiful DIY mercury glass pumpkin vase with this tutorial by Amanda C. Color the inside of a glass pumpkin jar with food coloring and Mod Podge. Bake it in the oven to set the colors, then add the mercury effect using vinegar and water followed by mirror spray paint.
Finally, add floral foam and flowers to complete the centerpiece. It's a quick and easy project to bring a touch of fall to your home decor.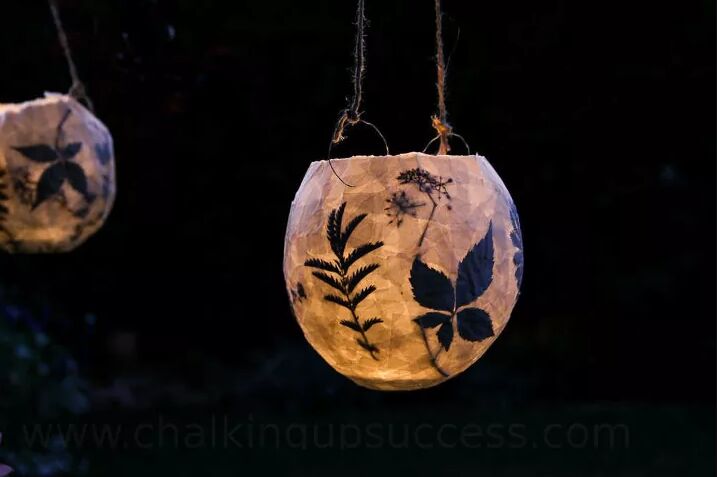 5. Pressed flower lanterns
In this project, Chalking Up Success demonstrates how to create hanging pressed flower lanterns for budget-friendly outdoor lighting at weddings or summer garden parties.
Press flowers or fallen leaves and use paper and glue to cover a balloon, leaving an opening for a candle. Add dried flowers to the paper, pop the balloon, and create loops for hanging with craft wire and jute twine. Enjoy the magical ambiance of these lanterns under the harvest moon!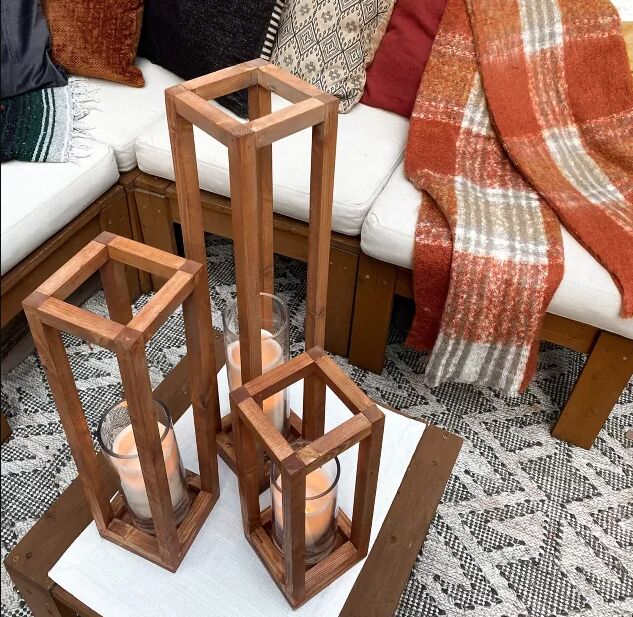 6. Scrap wood lanterns
Here's how to create DIY scrap wood lanterns for fall decor, according to Morgan Nelson. Use 1x4s and 1x6s to build bases and connector pieces, and cut long pieces to desired heights. Sand the pieces before assembling with wood glue and nails. Sand again to smooth rough patches and use wood stain for a weathered look.
Seal with polyurethane for outdoor use. Place a hurricane vase and candle inside, and enjoy your budget-friendly and chic lanterns for indoor or outdoor spaces!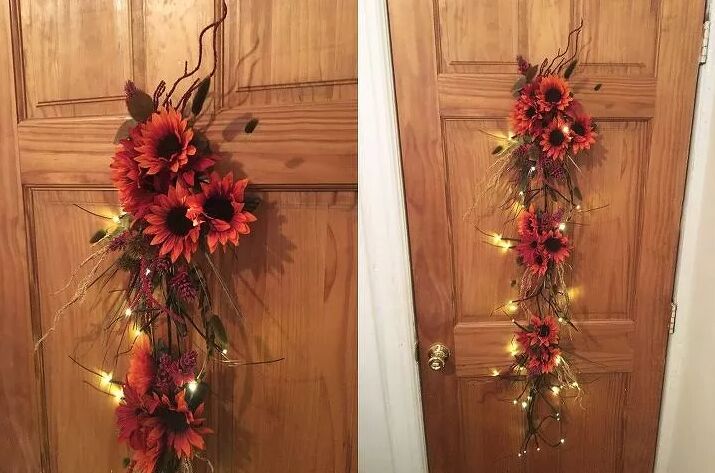 7. DIY sunflower door hanger
Next, Amanda C. shares how to create a DIY sunflower door hanger for fall using LED-lit branches and a variety of fall foliage.
Attach the flowers with floral wire and tape, and add filler to cover any bald spots. Cluster the sunflowers in three groups, and you can easily switch out the flowers for different seasonal themes. It's a budget-friendly and customizable way to decorate your door for autumn.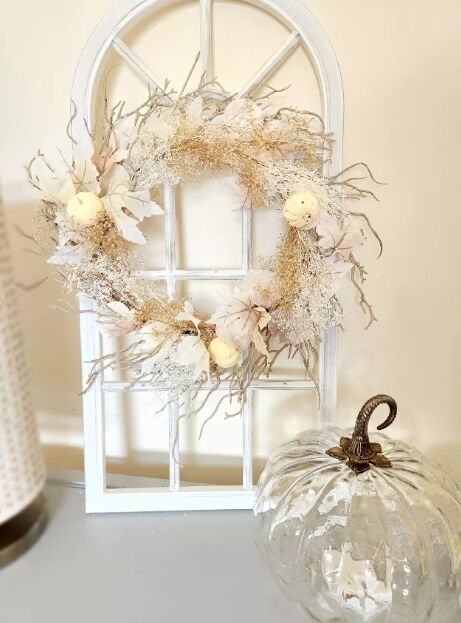 8. White fall wreath
Transform a Halloween wreath into a simple white fall wreath using spray paint, this guide by Liveforcreating, and a few additional supplies. Spray paint the branch wreath, remove any unwanted details, and glue on fall leaves to space them out. Attach stardust mini gypsophila florals with floral wire and add white leaves for a fuller look.
Finally, glue Dollar Tree pumpkins to the wreath for a charming fall decoration that matches your decor theme. Happy crafting!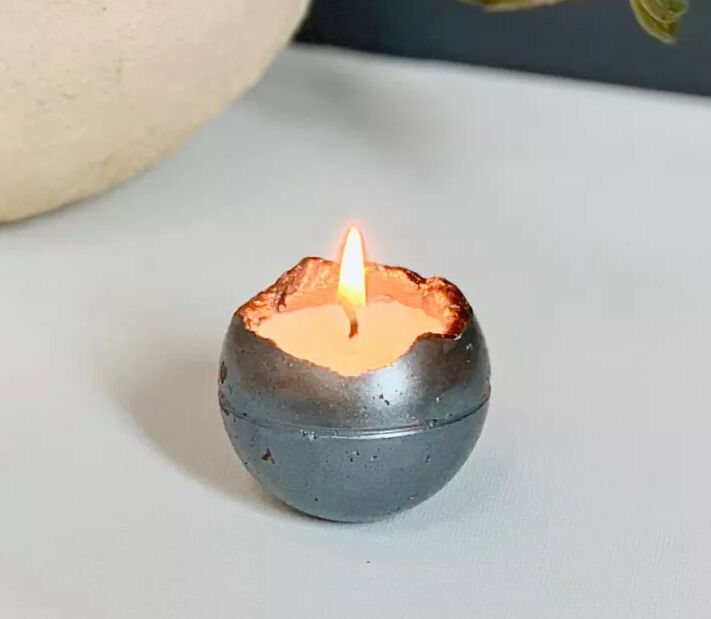 9. DIY concrete ball candle
Artsy Pretty Plants shows us how to create a stunning DIY concrete candle with a simple and affordable method using plastic bouncy balls. Mix cement to a mud pie consistency and mold it around the bouncy balls to create candle vessels. Paint the concrete candle holders with metallic colors for a gorgeous finish.
Glue wicks to the bottom and pour melted wax inside to complete the beautiful and functional concrete candles. You can also make concrete candle holders without adding wax for a different look. The project offers options for scented or scent-free candles, making it a versatile and enjoyable craft.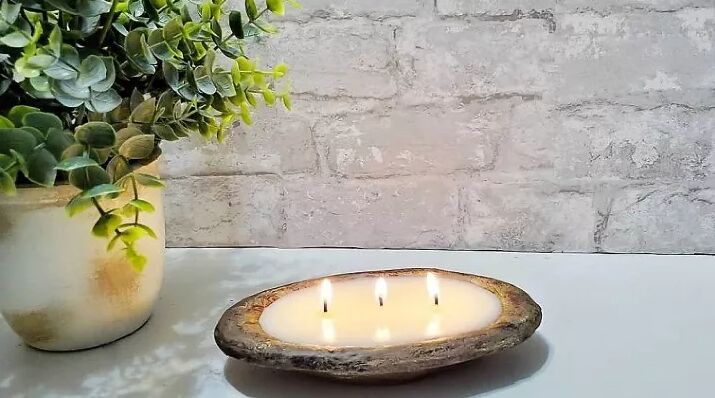 10. DIY faux wooden bowl candle
For another cute candle idea, Decorate and More with Tip shares how to create a budget-friendly wooden dough bowl candle using Dollar Tree items.
Remove the suction cup and arm from a soap dish to use as the base. Apply joint compound to give it a wooden dough bowl look, then paint with various colors of chalk paint to create a wood-like finish.
Finally, melt votive candle wax, add wicks to the bowl, pour in the wax, and let it harden to complete the DIY wooden bowl candle.
Chic & modern fall decor
With these fabulous DIY projects, you can now proudly display chic and modern fall decor throughout your home that you made yourself. Which of these projects was your favorite? Let us know in the comments below.
Enjoyed the project?
Published July 26th, 2023 12:39 PM