1.5K Views
9 DIY Fall Door Decor Ideas That Will Wow Visitors This Autumn
Fall is here, and it's time to get creative with seasonal decorations for our homes. From luxurious front door swags to whimsical candy corn garlands, these DIY fall door decor projects offer endless possibilities for adding autumn charm to your living spaces.
Whether you're looking to spruce up your entrance with a sunflower door hanger or create a simple white fall wreath, these easy-to-follow tutorials showcase the beauty of fall-inspired crafts. Best of all, many of these projects use affordable materials from Dollar Tree and repurpose items you may already have on hand.
So, let's dive into the world of DIY fall decor and embrace the season's warmth and colors!
Fall door decor projects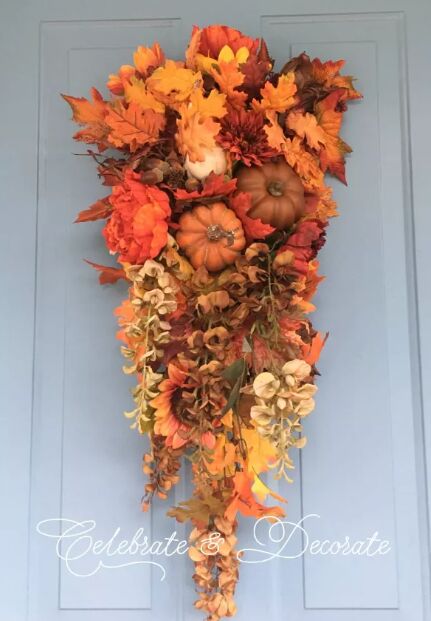 1. DIY fall swag
This DIY fall swag project by Chloe Crabtree involves creating a luxurious fall swag for your front door, using materials like fall flowers, pumpkins, and gourds.
You start with a styrofoam base, attaching a hanger made from floral wire. Then, you decorate the swag by inserting pumpkins, gourds, and fall leaves into the styrofoam.
Finally, you add fall flowers, creating a beautiful floral arrangement to hang on your front door. The result is an impressive and eye-catching display to welcome your guests in the autumn season.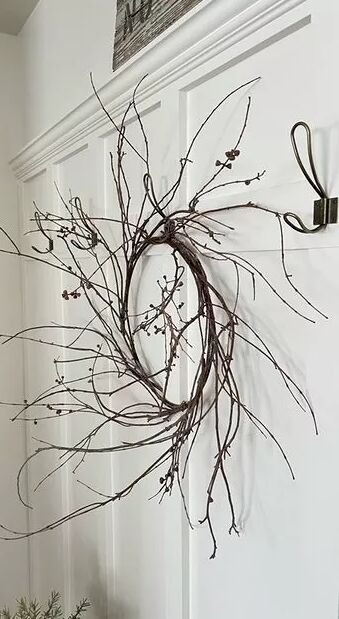 2. DIY twig wreath
This DIY twig wreath project by Interior Redoux provides a simple guide to creating a twig wreath for Fall and year-round decoration.
To make the wreath, gather 14-20 inch long twigs or branches and use a 12-inch dark metal or wood ring as the form. Wire small bunches of twigs to the ring and secure them in place with hot glue.
The finished twig wreath can be customized for different seasons by adding various decorations such as paper hearts for Valentine's Day, blossoms for Spring, pheasant feathers for Fall, and berries for Christmas.
3. Rope and raffia boho wreath
This boho wreath project by Beachwood Place LLC offers a simple and affordable way to decorate your home for Fall using items from Dollar Tree. To make a boho-style wreath, you'll need a wire wreath form, ropes, raffia, scissors, and a brush.
Cut the ropes and raffia into pieces, then loop and secure them around the inner and outer hoops of the wreath form. Once completed, brush the wreath to give it a finished look. The whole process takes about two hours, and you can hang the wreath in your entryway or any other spot in your home.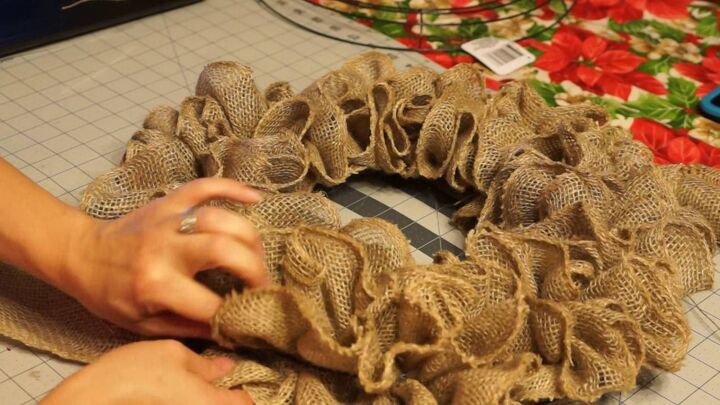 4. Burlap ruffle wreath
This burlap ribbon wreath project by Debi's Wreaths and Things involves making a popular and full ruffle burlap wreath using a simple technique with an added second row for extra volume.
To create the wreath, you'll need a 14.5-inch frame from Dollar Tree, 2 rolls of 30 ft burlap from Wal-Mart or Hobby Lobby, and about 4 zip ties for securing the burlap. The process includes threading the burlap through the frame's middle bars to create ruffles and repeating the same steps for the second row.
Add bows and other embellishments to finish the wreath.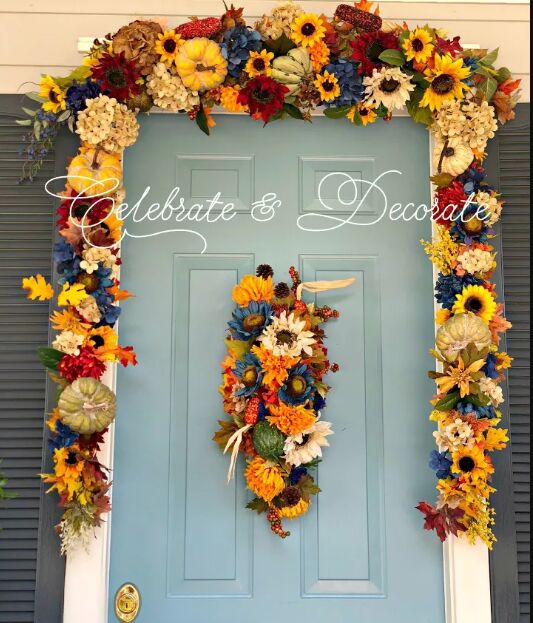 5. Fall door garland & hanger
In this fall decorating project, Chloe Crabtree makes a lush and full decoration for their front door. She uses three pieces of styrofoam, attaches hooks to them, and hangs them on each side and over the top of the door.
Then, add fall leaves and flowers to the foam using hot glue to create a beautiful and welcoming display that will last until Thanksgiving.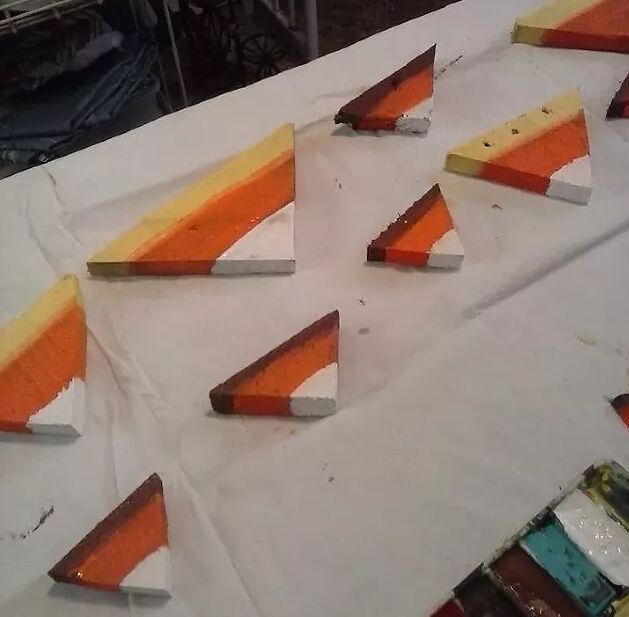 6. DIY candy corn decor
In this DIY candy corn decor project, Melly uses leftover wood scraps from a previous painting class where they made barn wood pumpkins. She repurposes the triangular scraps into a candy corn garland for their front door.
She paints the wood pieces in candy corn colors, adds gold glitter and copper sheen glaze for extra sparkle, and wires them together to form the garland. The final touch includes adding fall leaves and ribbons to complete the whimsical and bright decoration for the fall season.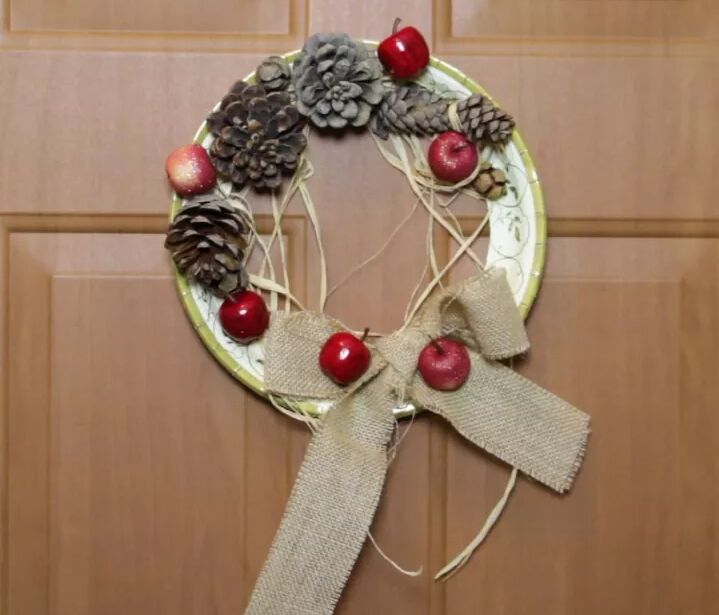 7. DIY paper plate wreath
In this paper plate wreath project, Shawna Bailey demonstrates how to make an easy and cheap fall wreath using just a paper plate and some odds and ends. She cuts out the center of the paper plate, then decorates the rim with craft glue, pine cones, fake apples, raffia, and burlap.
The final result is a beautiful wreath that can be hung on any door using 3M double-sided mounting tape. It's a great idea for fall decorating and requires no wreath form or hot glue gun.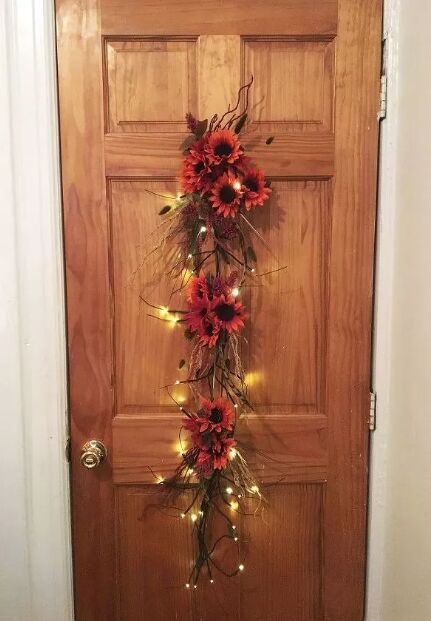 8. DIY sunflower door hanger
In this DIY sunflower door hanger project, Amanda C. crafts a light-up autumn sunflower door hanger using a variety of fall foliage, LED-lit branches, and other materials. She attaches the flowers to the LED branch using floral wire and tape, creating three clusters of sunflowers for a vibrant and seasonal look.
The best part is that the flowers can be easily switched out for different themes throughout the year, making it a versatile and budget-friendly decoration.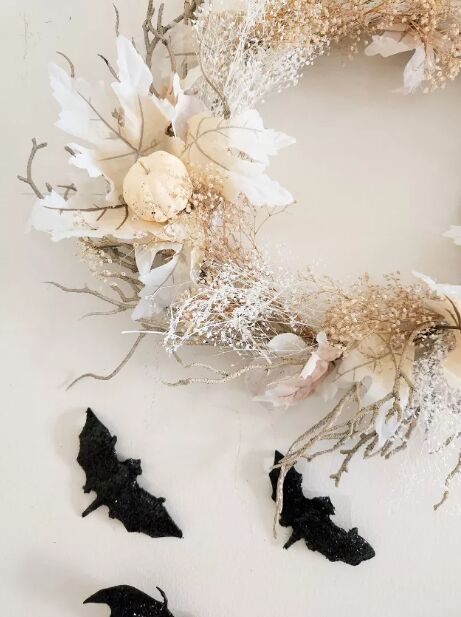 9. DIY white fall wreath
In this DIY white fall wreath project, Liveforcreati ng transforms a Halloween wreath into a simple white fall wreath using spray paint and a few additional decorations.
She spray-paints the branch wreath, removes unwanted details, and then adds fall leaves, stardust mini gypsophila florals, and Dollar Tree pumpkins using hot glue and floral wire. The result is a beautiful and muted-toned fall wreath that can be customized to match any decor theme.
More fall door decor ideas
DIY fall door decor
With these fantastic DIY fall door decor projects, you can easily add a touch of autumnal charm to the entrance of your home.
Which of these projects caught your eye the most? Let us know in the comments below. Happy crafting, and may your fall be filled with warmth, autumnal colors, and creativity!
Enjoyed the project?
Published July 20th, 2023 6:45 AM
Popular Project Book
Popular DIY Questions