1.4K Views
13 DIY Ways to Bring Autumn Colors Into Your Home This Fall
Are you looking for some creative and easy ways to incorporate rich autumn colors into your DIY fall decor projects? You've come to the right place. From lush fall door decorations and topiary trees to luxurious fall swags and rustic rusted tin cans, these ideas will add warmth and charm to your home during the magical season of fall.
As the leaves turn a deep orange and the air fills with the scent of pumpkin spice, these colorful fall DIY ideas are sure to bring the spirit of autumn right into your home. Get inspired and start crafting your way into a beautiful and festive fall season!
Table of contents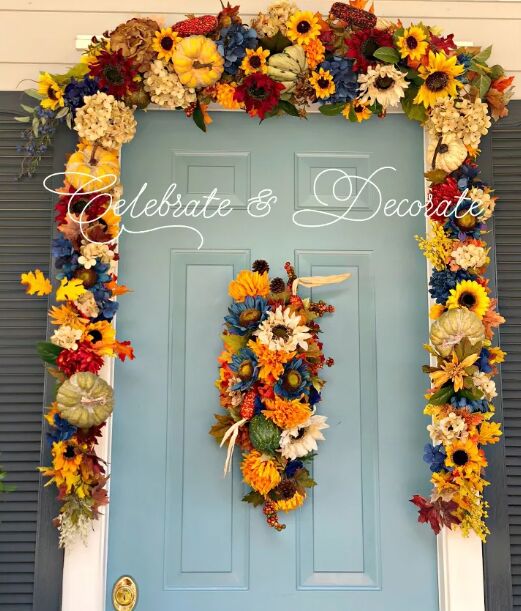 1. Fall door decor
This project by Chloe Crabtree involves creating a lush and full fall-themed decoration for the front door using styrofoam strips. She attaches hooks to the strips, adds fall leaves and flowers to the foam, and hides the edges with low-temperature hot glue and Dollar Tree fall leaves. The result is a beautiful and festive decoration that greets guests until Thanksgiving.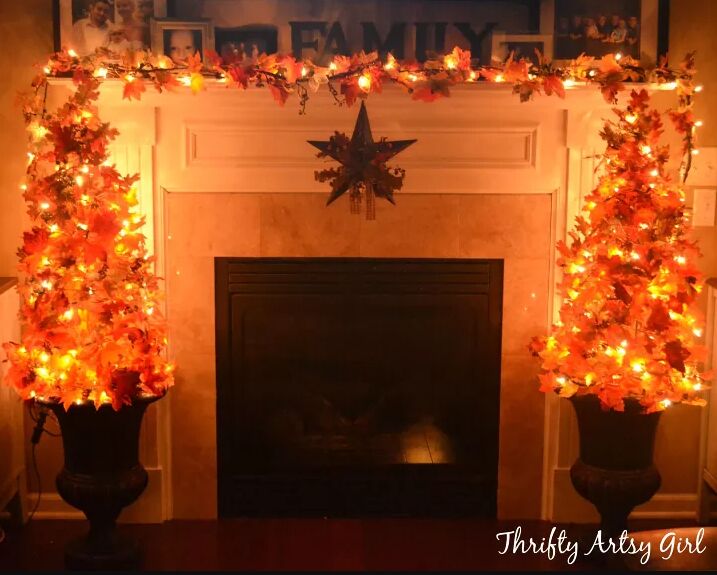 2. Fall topiary trees
In this project, Thrifty Artsy Girl transforms two tomato cages into fall-themed potted topiary trees for her autumn decor. She repurposes the tomato cages by bending and breaking them to resemble tree shapes. Then, she wraps fake fall leaves garland around the cages and adds clear Christmas lights for a softer look. The final result is a beautiful and budget-friendly fall decoration that adds a warm autumn atmosphere to a home.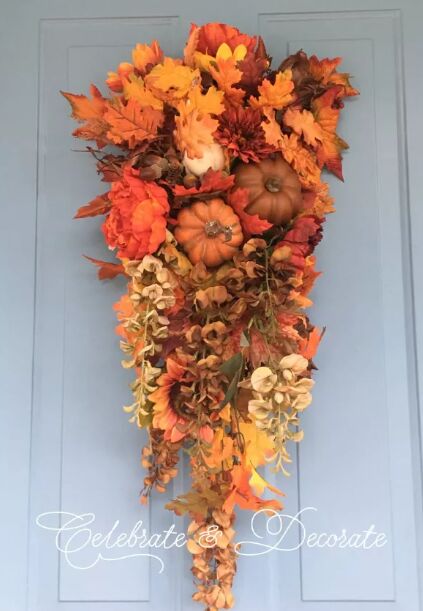 3. Fall swag
Next, Chloe Crabtree creates a luxurious fall-themed swag for her front door using materials like fall flowers, small pumpkins, and gourds. She starts with a styrofoam base and attaches a hanger using floral wire and a pipe cleaner for protection.
Then, she punctures the pumpkins and gourds into the styrofoam and adds fall leaves and flowers to complete the swag. The final result is a beautiful and eye-catching fall decoration to welcome guests.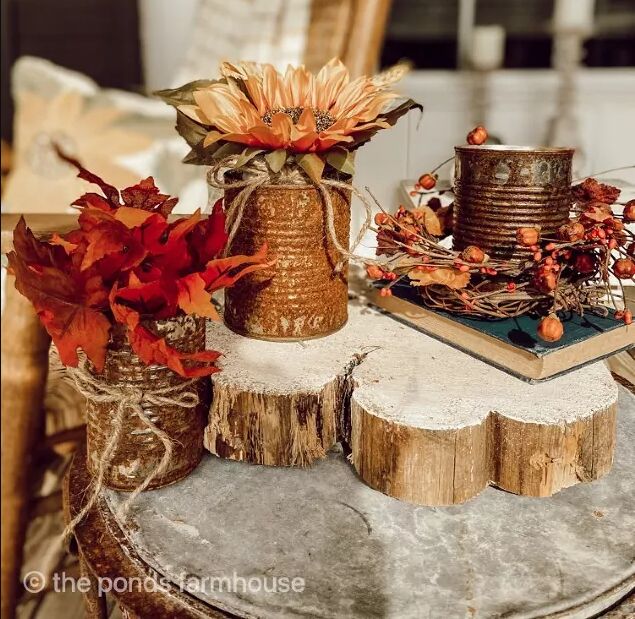 4. Rusted tin cans
In this project, Rachel The Ponds Farmhouse demonstrates how to rust metal faster, giving new metal pieces a vintage, rusty look using household ingredients like white vinegar, hydrogen peroxide, and salt. She provides instructions on mixing the solution and applying it to metal pieces or tin cans to achieve the desired rusted appearance.
The process requires multiple applications, and the results may vary depending on the type of metal used. This method is a cost-effective and straightforward way to create rustic fall decor pieces.
5. Orange peel candles
Pinbusters shares how to make candles out of orange peels, using household items like oranges, olive oil, and matches. She shows the step-by-step process of cutting the orange, removing the pulp, and using the white center stem as the wick.
The orange half is then filled with oil and lit, creating an all-natural and eco-friendly candle. It's a simple and cost-effective solution for candle lighting in emergency situations or romantic settings.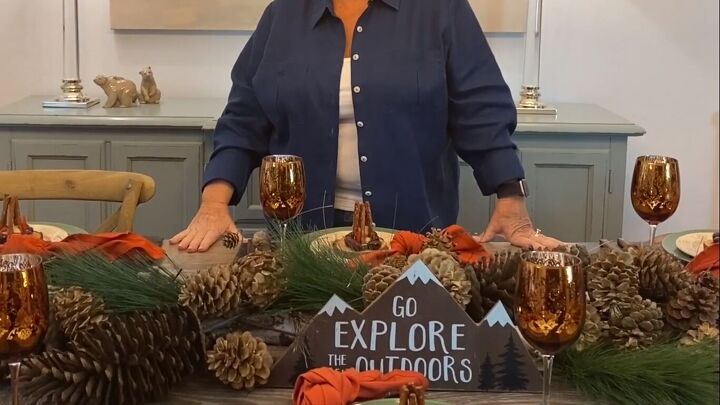 6. Fall tablescapes
This roundup presents 8 DIY fall tablescape ideas that capture the spirit of autumn and bring warmth and beauty to homes during this magical time of year.
The ideas include making pumpkin candle holders, a bleached pine cone centerpiece, a fall camping tablescape, a Thanksgiving tablescape, stamped place cards, a DIY pumpkin cake plate, an ombre pumpkin fall tablescape, and DIY fall candles. Each idea is accompanied by a tutorial and step-by-step instructions to create cozy and festive table decorations.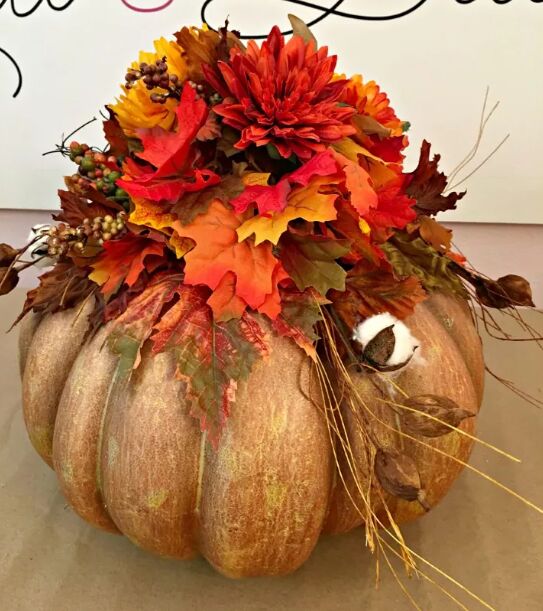 7. Pumpkin floral arrangement
In this quick and easy DIY pumpkin floral arrangement project, Chloe Crabtree uses a large faux pumpkin and half of a standard block of dry floral foam. She attaches the foam to the top of the pumpkin using floral anchor tape and then decorates it with fall florals such as cotton pods, fall leaves, fall picks, mums, and berries.
The finished pumpkin decoration can be displayed anywhere in the home and enjoyed throughout the fall season until Christmas.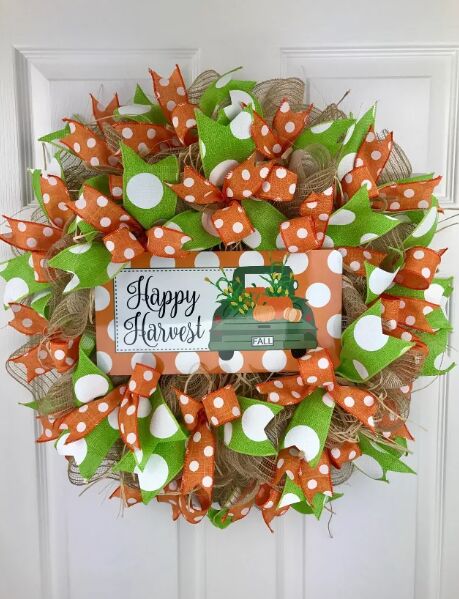 8. Fall ribbon wreath
In this project, you can learn how to create a gorgeous fall wreath by placing pipe cleaners in each section of the wreath form. Then, cut and gather strips of mesh to create a bow tie or ruffle, attaching them to the pipe cleaners.
Add clumps of raffia to each section and decorate with desired ribbons. Fluff the ribbons and spread the loops and tails to complete the wreath.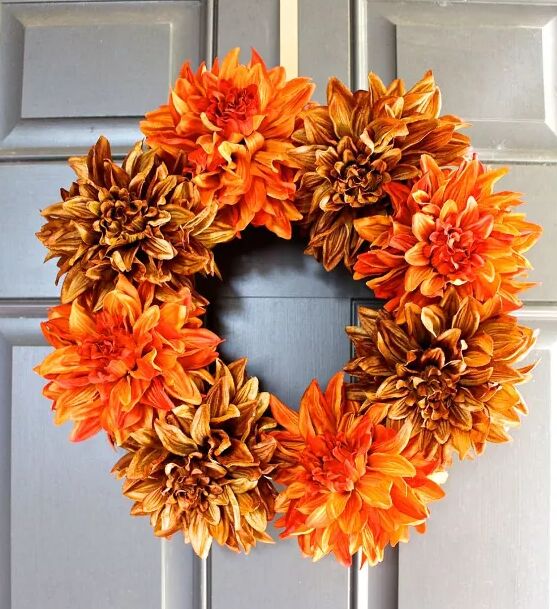 9. Fall flower wreath
In this project, 2 Bees in a Pod - Vicki and Jennifer share their excitement for the fall season. They quickly put together an easy fall wreath using a craft-form ring and large fall floral stems from the dollar store. They mark the floral ring with dots and then attach the floral stems evenly around the ring using wire cutters.
The result is a beautiful wreath that makes a bold statement against their charcoal gray door, all completed in just 5 minutes.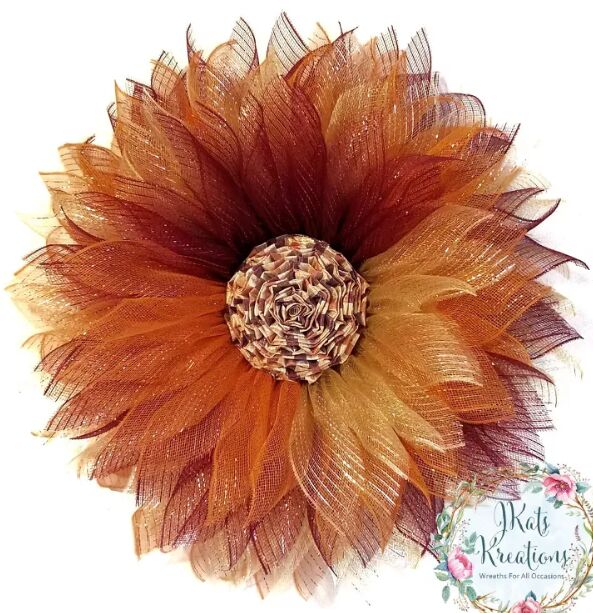 10. Mesh flower wreath
This tutorial by JKatsKreations Wreaths demonstrates how to create a beautiful 26-inch diameter deco mesh flower wreath with a swirl pattern and a ribbon rose center.
The materials needed include a cutting mat, rotary cutter, pipe cleaners, a 10-inch box wire wreath frame, and 30 yards of deco mesh in three colors (Burgundy, Orange, and Gold). The wreath consists of four rings of petals, each with varying quantities of the three colors.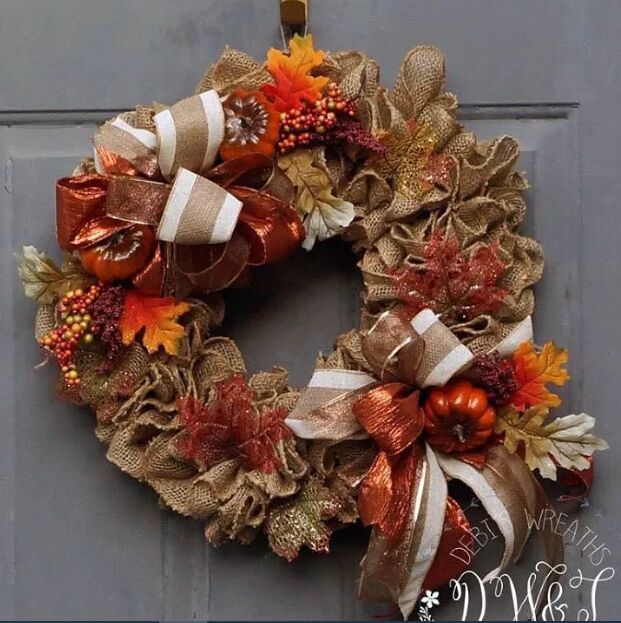 11. Ruffle burlap wreath
This project by Debi's Wreaths and Things is about creating a beautiful and popular ruffle burlap wreath using a simple technique with an added second row for a fuller look. You will need a 14.5-inch frame from Dollar Tree, 2 rolls of 30 ft burlap from Wal-Mart or Hobby Lobby, and some zip ties for securing the burlap.
The process involves threading the burlap through the frame's middle bars in a sandwich-like manner and repeating the process for the second row. Adding bows and embellishments completes the wreath.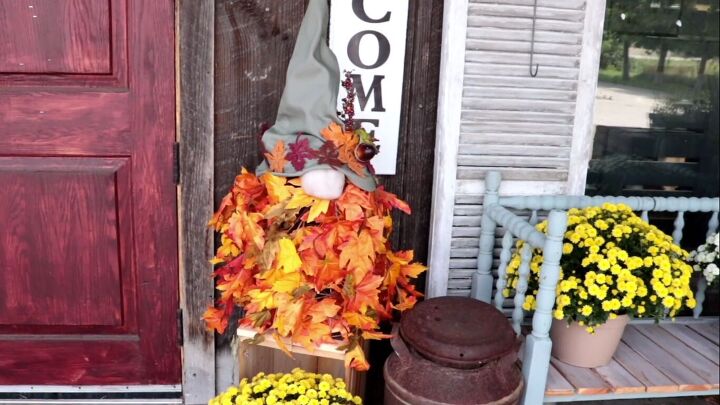 12. Outdoor fall gnome
This tutorial by Holly Grace shows how to make a cute and festive outdoor fall gnome using a tomato cage, garland leaves, fabric, and other materials.
The steps include attaching the garland leaves to the cage, filling gaps with leaf picks, making and decorating the gnome's hat, creating a gnome nose from tights, and assembling the gnome by adding the hat and nose to the cage. The finished autumn gnome makes for a charming fall decor piece.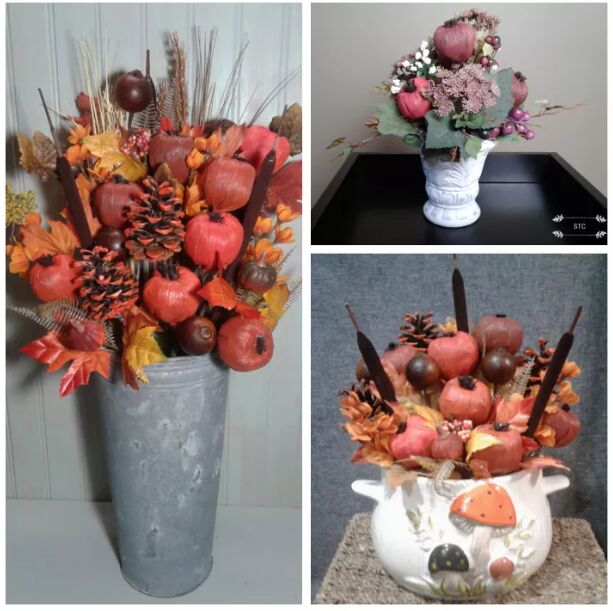 13. Custom floral picks
This project by Skilled Thrifty Creatives involves repurposing faux garlic bulbs and brown seed pods to create custom floral picks for flower arrangements. The bulbs and seed pods are painted in fall colors and assembled into picks using wooden skewer sticks and wire.
The picks can then be used to create beautiful fall-themed floral arrangements in various containers, such as galvanized cans, soup tureens, or vintage vases. The variety of picks allows for endless possibilities in creating unique and charming flower arrangements.
Autumn colors
Whether you're a seasoned crafter or just starting out, these step-by-step guides make it easy to create stunning decorations that will greet guests and create a warm and inviting atmosphere. Which of these projects was your favorite? Let us know in the comments below.
Enjoyed the project?
Published August 3rd, 2023 2:49 AM