1.4K Views
10 Rustic DIY Fall Decor Ideas to Try This Autumn Season
We have a collection of impressive and easy-to-follow DIY rustic fall decor projects that will add warmth and ambiance to your home this autumn.
From creating rustic twine pumpkins and lidded primitive pumpkins to repurposing rain boots into fall planters and making adorable tin can lanterns, these projects use simple materials and techniques to achieve stunning farmhouse-style decorations.
You'll also learn how to craft a beautiful burlap wreath, a cute fall gnome, and even how to rust metal for vintage-inspired treasures. Plus, we'll show you how to make a lovely fall pillow using Dollar Tree items. Get ready to add a touch of rustic charm to your home with these creative and budget-friendly DIY fall decor ideas!
Table of contents
1. DIY rustic twine pumpkin
This DIY project by Agnes Chrzanowska shows how to make rustic twine pumpkins using jute rope, wire, and a hot glue gun. The process involves creating loops with the rope, securing them with wire to form the pumpkin shape, and adding a stem. The result is a charming fall decoration perfect for seasonal decor.
Rustic farmhouse chicken wire decor ideas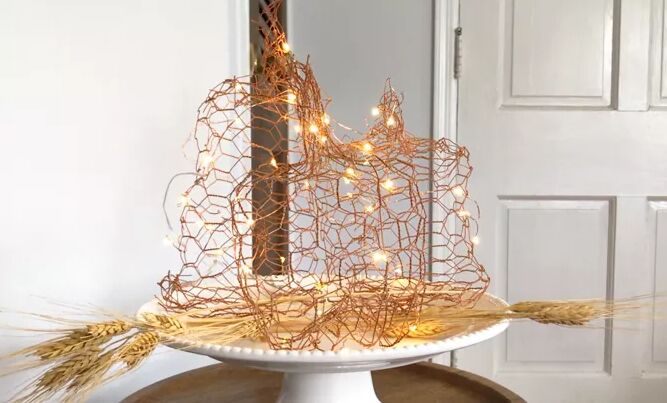 2. Rustic farmhouse chicken wire decor
This roundup by Abbie M showcases five rustic farmhouse decor ideas using chicken wire for the fall season. The projects include a chicken wire centerpiece, fall wreath, fall lantern, fall cornucopia, and a fall sign.
With easy-to-follow steps and basic materials, you can create cute decor pieces that will add a warm ambiance to your home this autumn.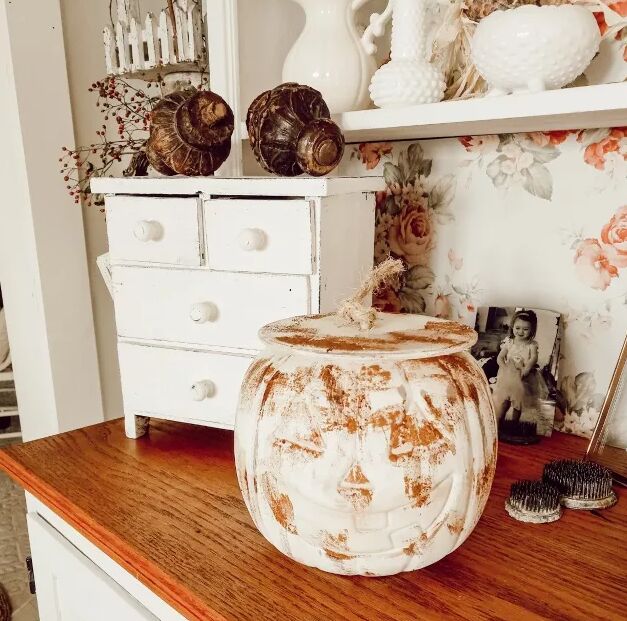 3. Lidded primitive pumpkin
Learn how to create a lidded primitive pumpkin with this easy DIY tutorial by Corine Mapes- Junk to Gems.
Using a plastic pumpkin from a dollar store, chalk paint, craft paint, Mod Podge, and cinnamon, you can achieve a distressed and rustic look. Additionally, paint and distress a wooden round to serve as the lid, and drill a hole for attaching a rustic rope handle.
The finished piece can be used to store candy or as a decorative vase for fall flowers. Give it a try and enjoy the cozy ambiance it brings to your fall hutch.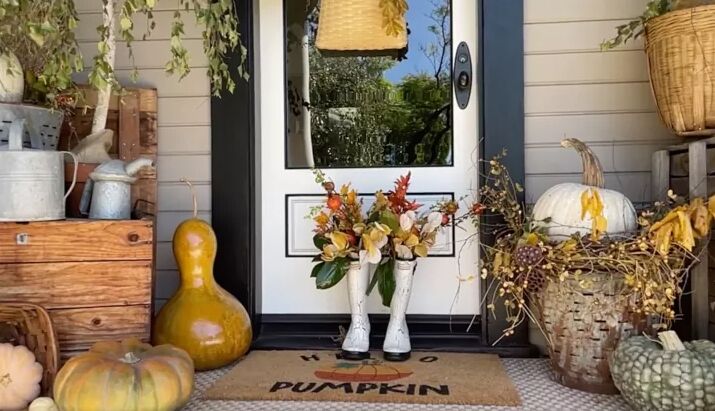 4. Rain boot planters
Repurpose your old rain boots into rustic fall planters with this DIY tutorial by W M Design House.
Use frog tape to mask off areas you don't want to paint, then apply crackle medium for a textured look. Paint the boots with off-white mineral paint, and watch as the crackle effect appears. Add a top coat to protect the paint, and once dry, remove the tape to reveal the finished boot.
Weigh down the boots with bricks and get creative with floral arrangements to style them for fall, pink and white themes, or even Christmas. These rain boot planters will make adorable decorations for your home, inside or outside.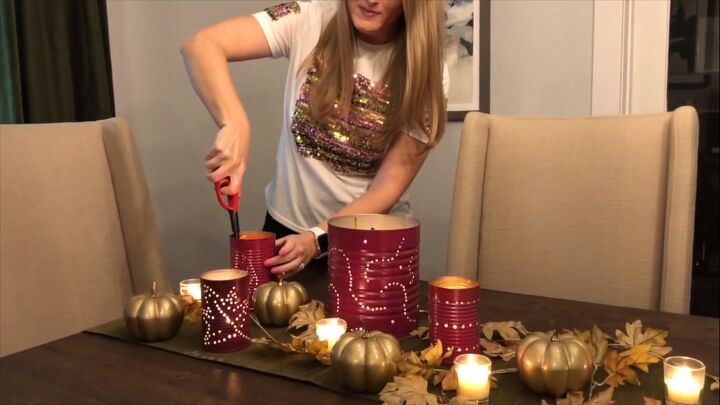 5. Tin can lanterns
Next, Amber Oliver shows us how to create cute tin can lanterns for fall with this easy DIY tutorial. Start by cleaning and peeling the labels off the tin cans. Then, draw your desired design on the cans, such as leaves or fall-themed words.
Clamp the cans to a table for stability and choose a drill bit to create holes in the cans. Be cautious and wear gloves as the metal can be sharp. Once you've drilled the holes, sand down any rough edges, paint the cans with spray paint, and place candles inside to create festive fall luminaries.
These upcycled autumn lanterns can be the focal point of your fall tablescape.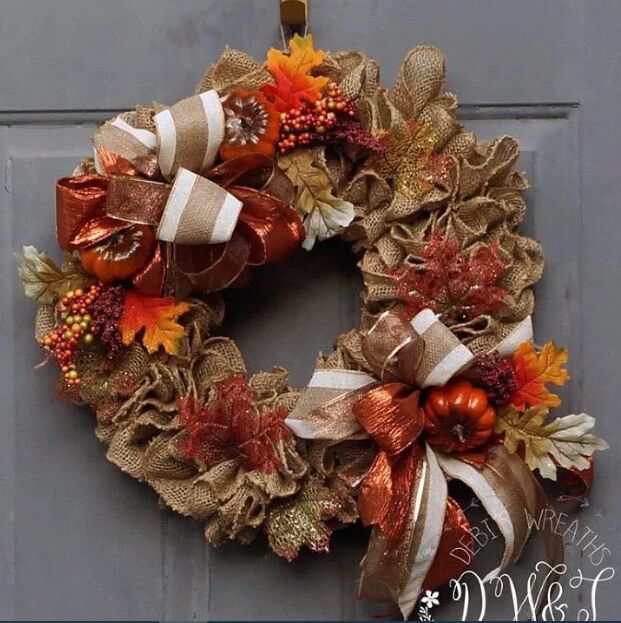 6. DIY burlap wreath
Learn how to create a beautiful and full ruffle burlap wreath with this simple technique by Debi's Wreaths and Things.
You'll need a 14.5-inch frame from Dollar Tree, two rolls of 30 ft burlap, and about 4 zip ties. Zip-tie the burlap on the crossbar for extra security, then start bringing the burlap through the sides of the first middle bar and continue around. Next, repeat the process for the second middle bar to make the wreath fuller. Add bows and other embellishments, and your fall wreath is ready to hang.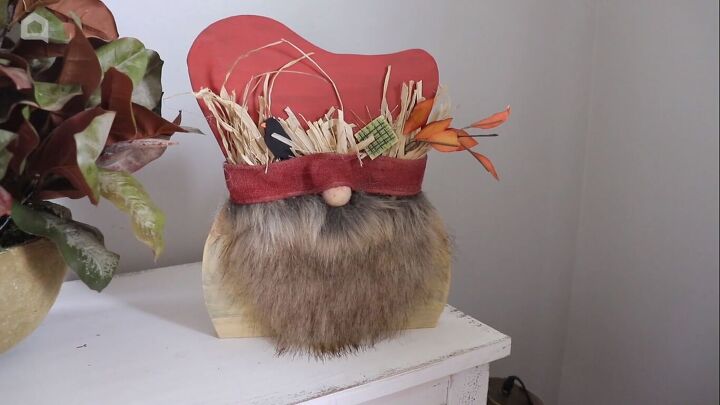 7. DIY fall gnome
Create a DIY fall gnome decor piece with this step-by-step tutorial by Holly Grace. Start by cutting out a wooden gnome shape and painting it in fall colors. Add rustic touches with black wax and white paint. Make a checkered pattern patch and a fur beard to give the gnome character.
Attach the hat to the body, add a wooden bead nose, and decorate the hat with ribbon and raffia. Get creative and customize your DIY fall gnome to match your fall decor.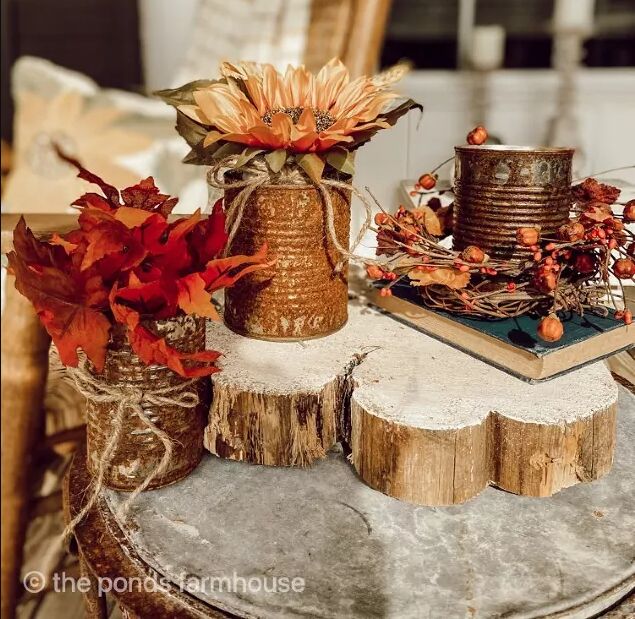 8. Rusted metal decor
Learn how to rust metal quickly and easily with Rachel The Ponds Farmhouse by using just three household ingredients - white vinegar, hydrogen peroxide, and salt.
Prepare the metal surface by removing any protective coating or oils with steel wool. Mix the ingredients in a spray bottle, then completely cover the metal piece or tin cans with the spray mixture and let it dry in the sun for faster results. Repeat the process multiple times for a more pronounced rustic look.
Not all metal will rust at the same speed, so some items may require more applications. The process is inexpensive and perfect for creating vintage-inspired treasures.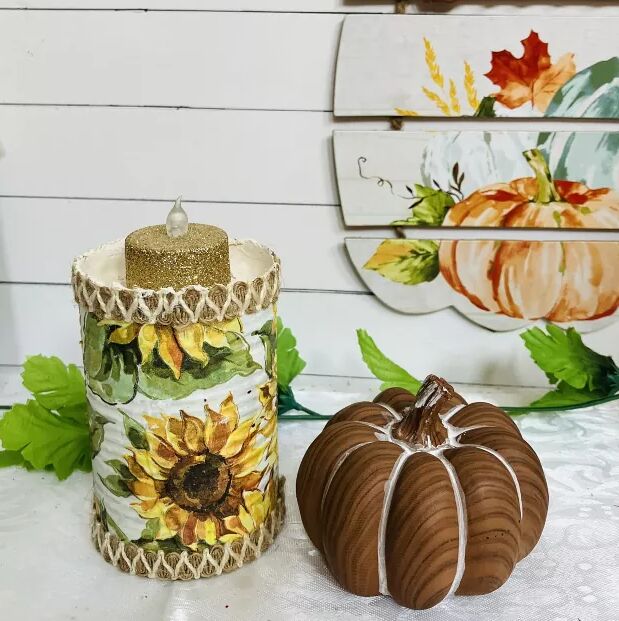 9. DIY tin can candle holder
Speaking of tin cans, Sun's Arts shows us how to create a beautiful sunflower-print candle holder using upcycled tin cans and Dollar Tree items.
Clean and paint the tin can, then adhere a sunflower-printed napkin using Mod Podge. Fill the can with plastic shopping bags to prevent landfill, and decorate the top and bottom with jute ribbon using hot glue. Seal the top with a mixture of caulk, white glue, and lightweight spackling.
Add an electric votive candle, and you have a gorgeous farmhouse-style candle holder perfect for any season. This DIY project is eco-friendly and a great way to repurpose materials.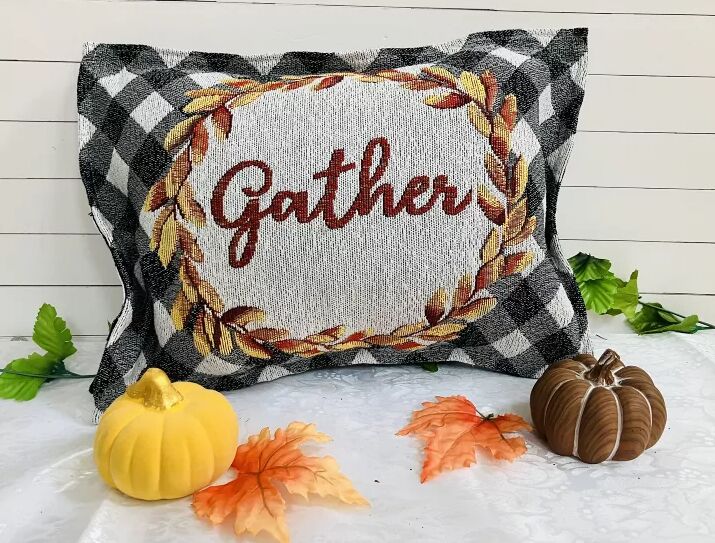 10. DIY fall pillow
That's not the only rustic DIY project that Sun's Arts has for us for fall. Next up, create a cute and easy fall pillow using Dollar Tree items.
Glue together a fall-themed placemat and a plain placemat, leaving one side open. Insert a pillow or polyfill through the opening and close it with hot glue. Optionally, add tassels and wooden beads made from cotton yarn to the corners of the pillow using hot glue for a farmhouse-style touch.
DIY rustic fall decor
With these fantastic DIY rustic fall decor projects, you can transform your home into a cozy and inviting space for the autumn season. Which was your favorite project? Let us know in the comments below.
Enjoyed the project?
Published July 26th, 2023 11:48 AM