1.3K Views
5 DIY Fall Candles That Will Bring a Cozy Glow to Your Home
Add a touch of magic to your autumn decor with these five creative DIY fall candle projects. From faux wooden dough bowl candles to woodsy-scented campfire candles, these tutorials will guide you through the process of crafting your own unique and beautiful candles.
Whether you're using Dollar Tree items, napkin transfers, or even orange peels, you'll be able to create enchanting candles that add a warm and cozy ambiance to your home this fall.
So grab your supplies and let's get started on our candle-making adventures!
DIY fall candle ideas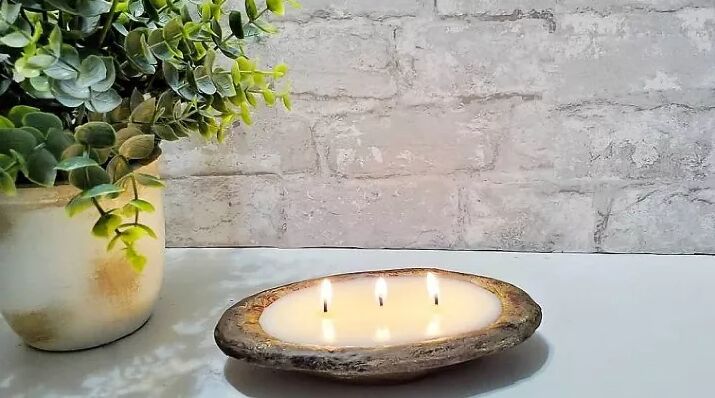 1. DIY faux wooden bowl candle
In this DIY project, Decorate and More with Tip shows us how to create a faux wooden dough bowl candle using items from Dollar Tree. The project starts by repurposing a soap dish to serve as the base of the wooden dough bowl. Joint compound is applied to the dish to create a textured surface resembling wood.
After drying and sanding, the dish is painted with various colors of chalk paint to achieve the look of wood. A coat of poly is added for a finishing touch.
To create the wooden bowl candle, a votive candle is melted and poured into the bowl, with a wick secured at the bottom using hot glue. The final result is a cute and affordable wooden dough bowl candle for your fall home decor.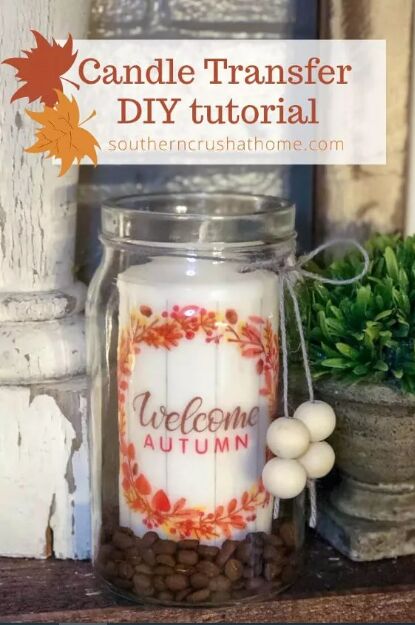 2. DIY candle transfer
Next, Melanie Ferguson demonstrates how to transfer images from napkins, tissues, or photos onto plain wax candles or battery-operated candles. Just look at how this adorable "Welcome Autumn" candle turned out!
To achieve this, the chosen design is cut from a napkin or printed photo and laid onto the candle's surface. An iron, heat gun, or blow dryer is used to lightly heat and adhere the design to the candle. The same process can be applied to battery-operated candles for better results.
The final step includes adding decorative elements, such as placing the candle in a glass jar, adding twine with beads, and using coffee beans to complete the look. The project is simple, fun, and allows for personalized and unique candle designs.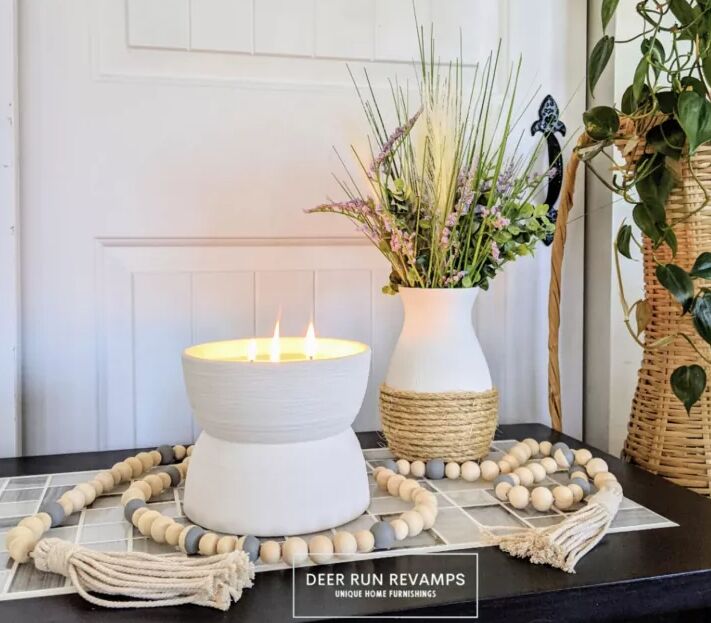 3. DIY 3-wick candle
This project by Deer Run Revamps involves creating a modern 3-wick candle using mostly items from Dollar Tree. The candle is made by stacking two bowls with E6000 and hot glue for extra hold. The bowls are painted with a textured paint mixture made with baking powder for a high-end look.
Religious candles are used to fill the bowls with melted wax and new candle wicks. Once cooled and hardened, the wicks are trimmed, and the candle is ready to be enjoyed.
This project is simple, affordable, and versatile, fitting into various decor styles. We also think these beautiful candles would make great gifts!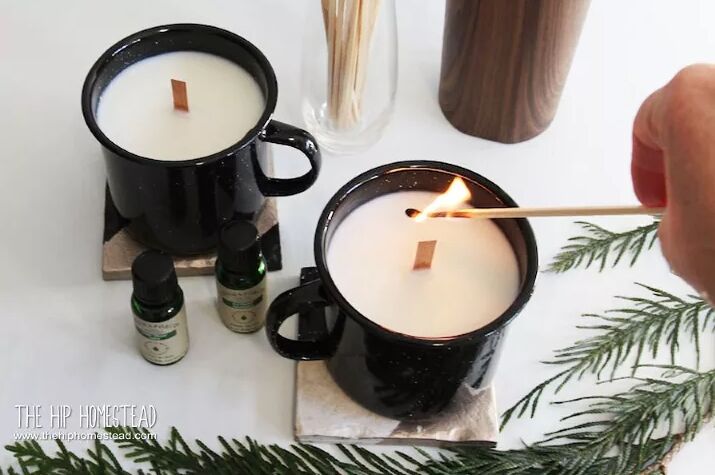 4. Woodsy-scented campfire candles
The perfect fall candle isn't just about the look, it's also about the scent. This project by Jana The Hip Homestead involves creating woodsy-scented campfire candles with real wood wicks as a homage to the campfire experience. Enamel camping mugs are used as candle holders due to their heat-resistant properties.
The DIY process includes melting natural soy wax flakes in the mugs, adding cedar and eucalyptus essential oils for the woodsy scent, and placing wood wicks in the candles. Once cooled and solidified, the candles emit the scent and crackle reminiscent of a campfire in the comfort of one's home.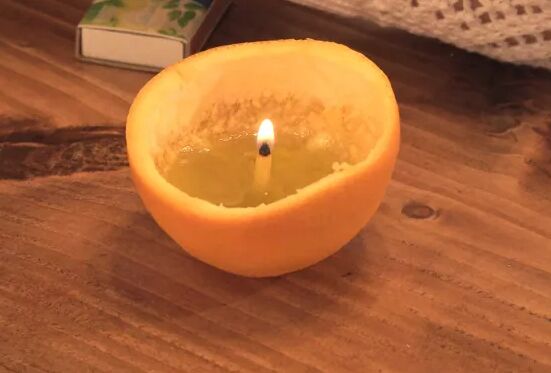 5. DIY orange peel candle
Last but not least, Pinbusters shows us how to make candles out of orange peels using household items. The process starts with buying oranges and having olive oil and matches on hand.
Using a paring knife, the orange peel is sliced around and pulled apart into two equal halves. The pulp is scooped out, leaving only the white center stem as the wick. The orange half is then filled with olive oil, and the stem is lit to create an all-natural green candle.
Tise DIY project is also an eco-friendly alternative to traditional candles, making it a winner in our book!
DIY fall candles
Why settle for store-bought candles when you can make your own and enjoy the cozy glow they bring to your surroundings? We hope these five DIY fall decor project ideas have encouraged you to embrace the art of candle-making and infuse your home with the scents and aesthetics that resonate with your style and personality.
Let us know in the comments which of these fall candles you're going to try your hand at crafting first.
Enjoyed the project?
Published July 21st, 2023 8:59 AM
Popular Project Book
Popular DIY Questions