1.3K Views
7 Light-Up Fall Decor Ideas For That Cozy Autumn Glow
Looking for that cozy fall glow? Here are seven easy and affordable DIY light-up fall decor projects for your home. With simple materials and step-by-step instructions, these DIY projects are perfect for those looking to add a personal and rustic touch to their fall decorations. Let's create a warm and inviting ambiance that celebrates the season's beauty!
Light-up fall decor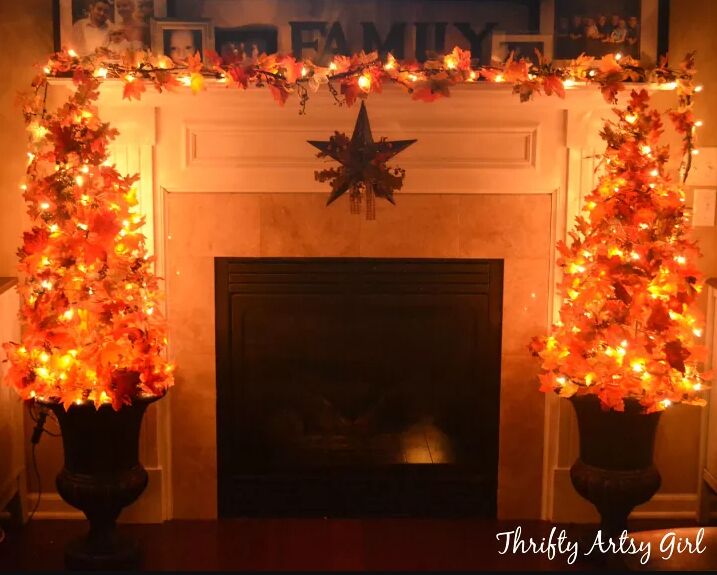 1. Light-up topiaries
Create stunning and affordable fall decorations with these easy DIY tomato cage fall topiary trees by Thrifty Artsy Girl. Using tomato cages, urn planters, and fake fall leaves garland, you can transform your space into a warm autumn atmosphere.
The simple process involves bending the cages into a tree shape, wrapping them with garland, and adding clear Christmas lights for a soft and cozy glow. With minimal spending, these topiary trees make the perfect addition to your fall decor, adding a touch of beauty and charm to your home.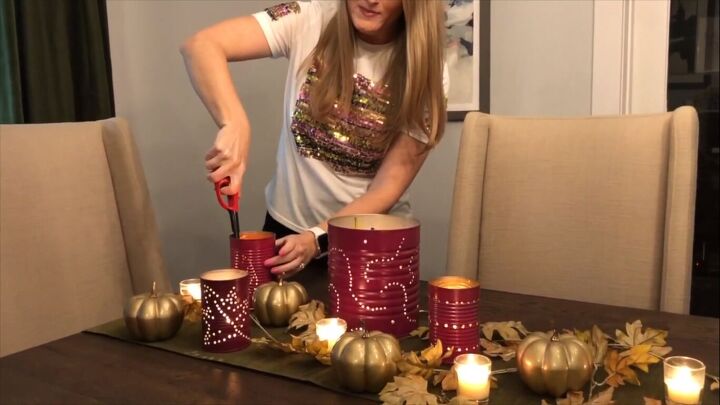 2. Tin can lanterns
Learn how to create beautiful and festive fall tin can lanterns with just a few easy steps by Amber Oliver. Start by cleaning the cans and peeling off the labels, then draw your desired design on the cans. Secure the can to a table using a clamp and choose a drill bit to create holes for the light to shine through.
After drilling the holes, sand down any sharp edges, add a coat of spray paint, and place candles inside. These upcycled tin can lanterns make the perfect autumn centerpiece or decoration for any fall gathering, and they're a great way to add a touch of DIY charm to your home decor.
Discover more DIY fall lanterns here.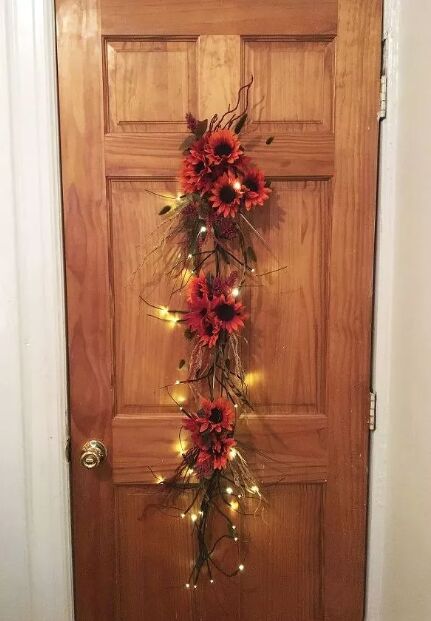 3. Sunflower door hanger
Create a beautiful autumn sunflower door hanger for your home with this easy DIY project by Amanda C. Use a LED-lit branch as the base and attach a variety of fall foliage and sunflowers using floral wire and tape. Customize the arrangement to your liking and add filler to cover any gaps.
The best part is, you can switch out the flowers for different seasons, making it a versatile and budget-friendly decoration for your entrance. Let your creativity shine and welcome fall with this stunning sunflower door hanger!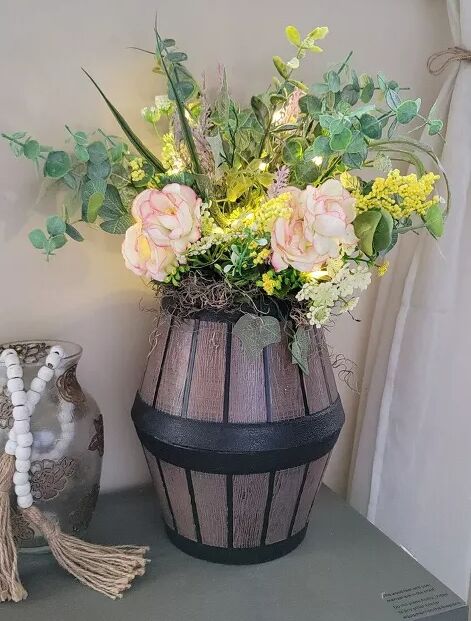 4. Wine barrel planter
Next, Gleespen Designs shows us how to create a wine barrel planter with this simple and budget-friendly DIY using Dollar Tree supplies. Cut a hole in one of the half-barrel flower pots and add floral foam to keep the flowers upright. Stack the pots together and glue them to create a barrel-like structure. Decorate with florals, greenery, and fairy lights for a rustic touch.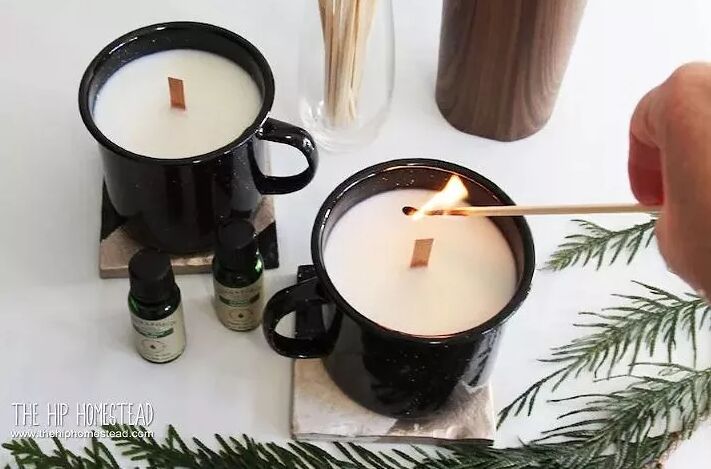 5. Woodsy-scented campfire candles
In her DIY project, Jana The Hip Homestead shares how to create the cozy atmosphere of a campfire in your own home with these woodsy-scented campfire candles made with real wood wicks.
Use enamel camping mugs as heatproof candle holders, and melt natural soy wax flakes with cedar and eucalyptus essential oils for a delightful scent. Simply place the wood wick in the melted wax, let it solidify, and enjoy the crackling ambiance reminiscent of a campfire.
See more DIY fall candles here.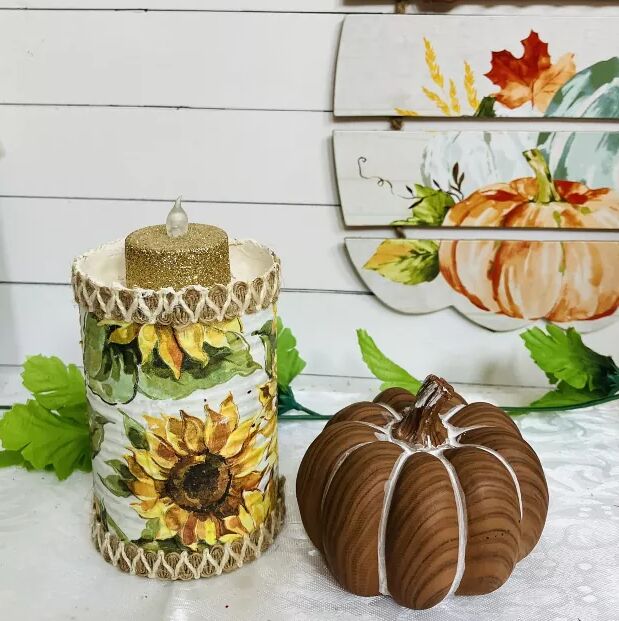 6. Sunflower-print candle holder
Create a charming sunflower-print candle holder for your home with this easy DIY using upcycled tin cans and Dollar Tree items. Following the instructions from Sun's Arts, paint the can, apply a sunflower-printed napkin with Mod Podge, and seal it.
Fill the can with plastic shopping bags, seal the top with a caulk and glue mixture, and decorate with jute ribbon. Add an electric votive or a flame candle for a lovely addition to your farmhouse decor, perfect for fall or any season.
Discover more fall-inspired candle holder DIYs here.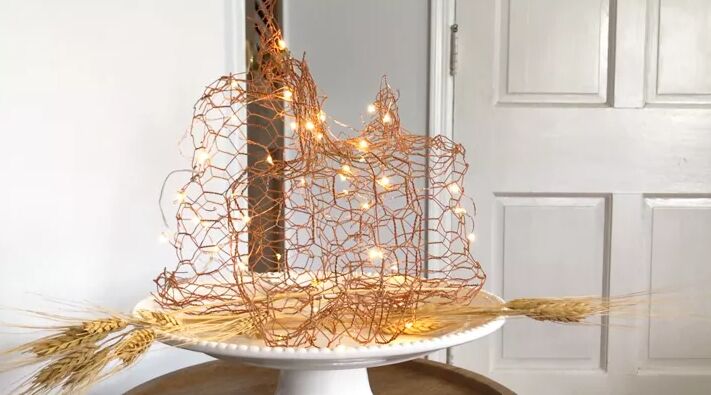 7. Light-up pumpkin centerpiece
Follow the tutorial by Abbie M to create a rustic farmhouse chicken wire centerpiece. First, cut the chicken wire to size and create a short fat tube. Mold the chicken wire into the desired shape, rounding out the bottom and pinching the top to a point. Spray paint the centerpiece to add some color.
You can make these in various shapes and sizes, and they make a perfect fall tablescape centerpiece, with the option to add fairy lights for extra charm.
Light-up fall decor ideas
Whether you're a seasoned crafter or a beginner looking to add some handmade charm to your home, these projects offer something for everyone. So, gather your supplies, unleash your creativity, and enjoy the beauty of autumn in your home.
Which of these light-up fall decor ideas was your favorite? Let us know in the comments.
Enjoyed the project?
Published August 2nd, 2023 11:44 AM
Popular Project Book
Popular DIY Questions