1.3K Views
8 Christmas Planter Ideas For Your Front Porch or Entryway
November 17th, 2023 10:14 AM
Sprucing up your home for the holidays goes beyond just trimming the tree. Whether you have a spacious porch or a modest entryway, these creative Christmas planter ideas offer a warm welcome.
From classic evergreen arrangements to whimsical winter scenes, we've gathered a collection of DIY Christmas planter ideas to inspire your seasonal decor. Let's dive in!
For even more ideas, see Hometalk's ultimate guide to DIY Christmas decor here.
DIY Christmas planter ideas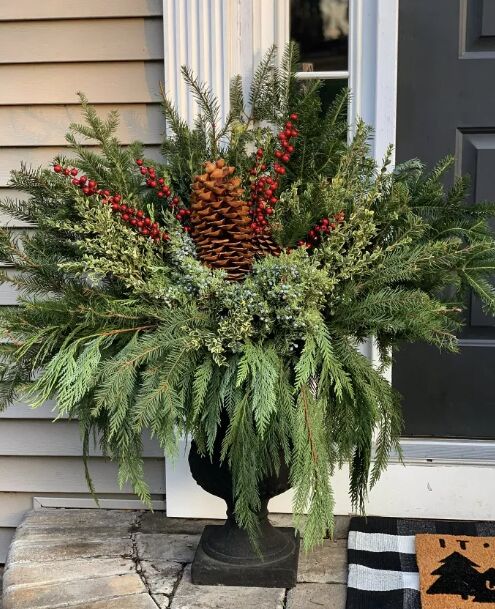 1. Winter planter
This DIY project by Stacy Ling | Bricks 'n Blooms focuses on creating beautiful outdoor planters for winter. Stacy uses low-budget options by using greens from her yard and asking neighbors for cuttings, plus fresh-cut greens last longer than nursery-bought ones. These winter containers are perfect for greeting visitors to Stacy'shome.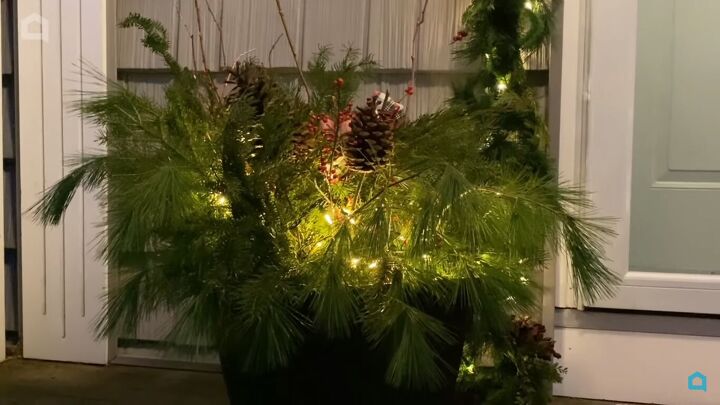 2. Light-up winter planter
This project by Jennifer Howard| Cottage On Bunker Hill guides you in creating a light-up winter planter using pine and spruce. You'll start by filling a planter with dirt, then add greenery in a thriller, filler, and spiller arrangement.
Common pine creates a flowing spiller, while different spruces provide height. Juniper with blue berries adds a pop of color. Large pine cones attached to sticks are added, along with red winter berries for a festive look.
A simple bow made from ribbon and spray-painted copper branches add finishing touches, then string lights are included for a warm glow.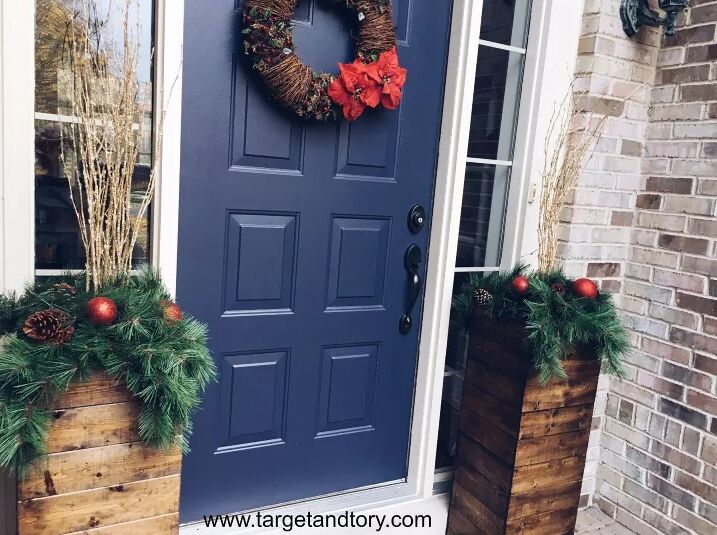 3. Box planters
Andrea's DIY project involves creating festive box planters for under $25 each. She followed a plan she found on Pinterest, using 1x2 furring strips and tongue and groove planks from Lowe's.
After assembling and staining the planter, Andrea added furring strips for support. The total cost of filling each planter was $20. To add a decorative touch, she included gold screws and experimented with holiday-themed decor.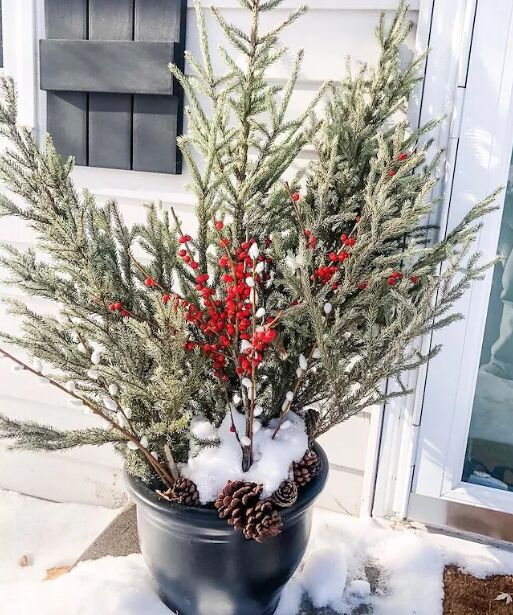 4. Holiday planter on a budget
This project by Maddiy.martini demonstrates how to create expensive-looking holiday planters for nearly no cost. The creator gathered free Christmas tree boughs from a local tree farm, adding a festive touch with inexpensive red berry and pussy willow stems from Goodwill.
They filled the planter with the boughs, securing them with rocks, and arranged the additional stems. Finally, they added pine cones for a finishing touch.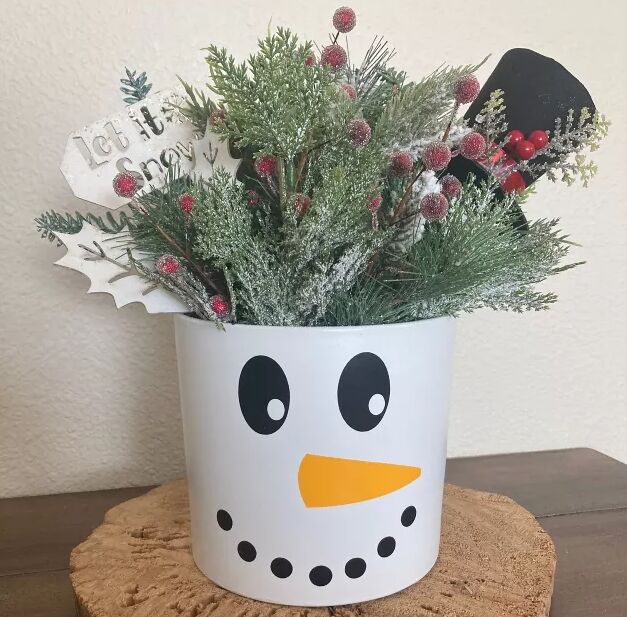 5. Frosty the Snowman planter
The Crafty Pumpkins show how to repurpose a white vase into a Frosty the Snowman-themed planter.
The materials needed include the white vase, floral foam, Christmas greenery, pine cones, Christmas berries, a "Let it snow" pick, a Frosty hat pick, floral shears, newspaper, and orange and white vinyl (or acrylic paint).
The creator used a Cricut to create Frosty's face but noted that acrylic paint can also be used. They filled the vase with floral foam and arranged the greenery, adding the Frosty hat and berries as final touches.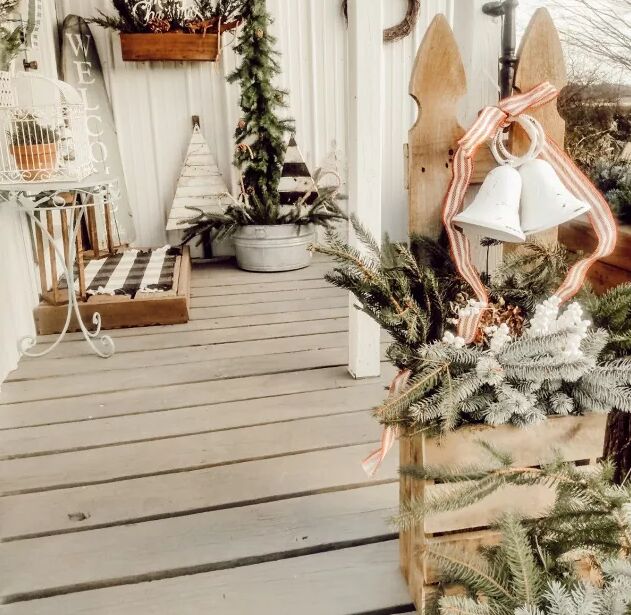 6. Reclaimed wood planter
For this project, Corine Mapes- Junk to Gems wanted a unique porch decoration for Christmas and winter. She used a section of reclaimed fence and pallet wood pieces to make planters.
Corine glued and nailed the pieces together, then filled the planters with Christmas greens, bittersweet, dollar-store berries, and DIY enamelware bells.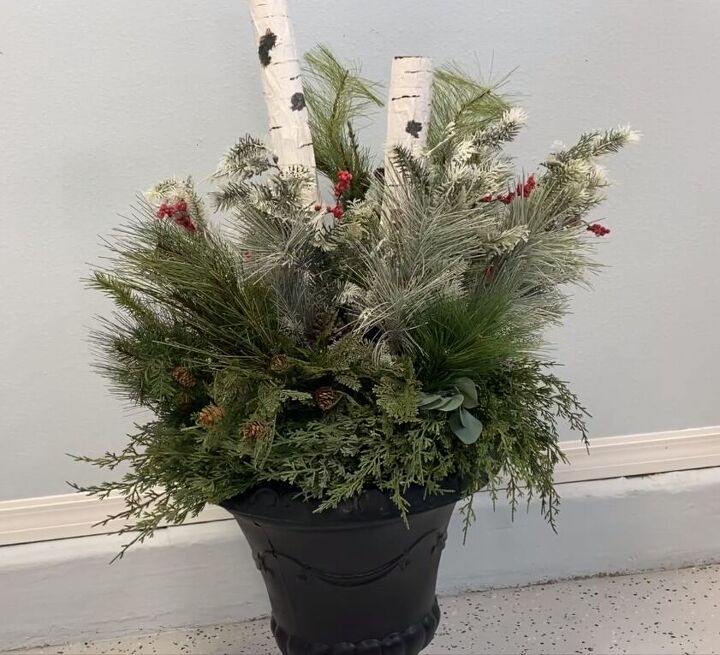 7. Faux birch log planter
Chloe Crabtree's Christmas planter project guides you in making DIY birch logs out of pool noodles and then using them in a festive arrangement. The process involves craft paper, pool noodles, Mod Podge, and acrylic paint.
Chloe provides step-by-step instructions on how to cut, crumple, and glue the paper to the pool noodle, then paint it to resemble birch bark, as well as how to cover the ends for a finished look. The birch logs are then inserted into a planter filled with evergreen branches.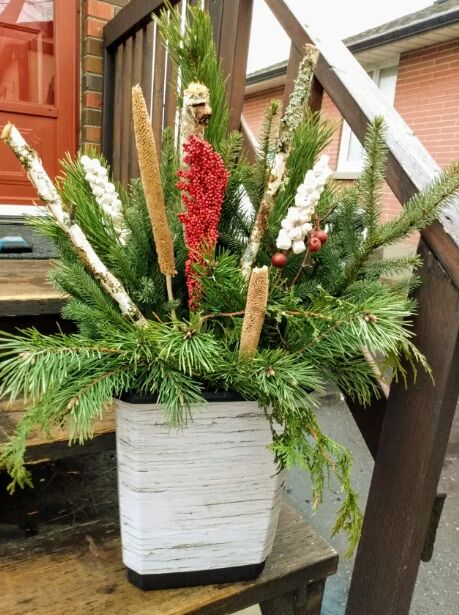 8. Birch bark winter planter
This project by Melanie, also inspired by birch trees, turns ordinary bins into winter planters with a birch bark appearance. Using Dollar Store finds like bins and vinyl plank wood, wrap the bins and fill them with soil and greenery. The total cost is just $14, creating beautiful planters for the season.
---
Christmas planter ideas
As we get ready for the holidays, these DIY Christmas planter ideas help make your front porch look really festive. What are you putting in your Christmas planter this year? Let us know in the comments below.
Enjoyed the project?
Published October 19th, 2023 6:03 AM
Popular Project Book
Popular DIY Questions