1.3K Views
6 Festive DIY Christmas Topiary Ideas For Your Front Porch
October 18th, 2023 9:34 AM
Looking to spruce up your front porch or living spaces for the holidays? Take a look at these DIY Christmas topiary ideas. From unexpected materials like gutter guards to classic ornaments, there's a festive topiary for every style.
These step-by-step guides will walk you through the crafting process. So, let's dive in!
For even more ideas, see Hometalk's ultimate guide to DIY Christmas decor here.
DIY Christmas topiary ideas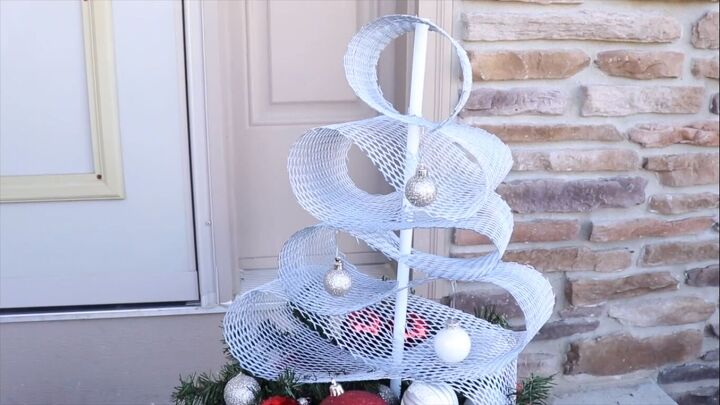 1. Gutter guard topiary
First up, Sarah Vanderkooy shows us how to create a Christmas topiary for your porch using an unexpected material: gutter guard.
Follow these simple steps to roll out, paint, and weave the guard into a tree shape. Plant it securely in a pot, decorate it with greenery and ornaments, and voilà! This unique holiday decoration is sure to impress.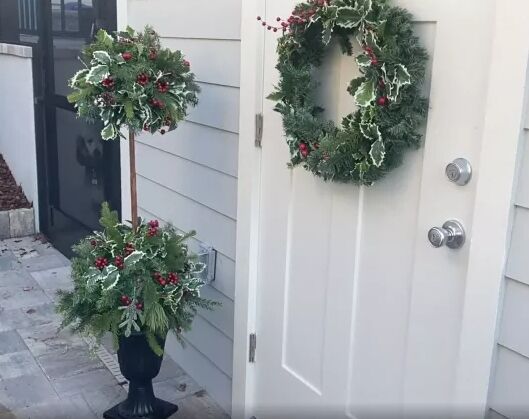 2. Christmas ball topiary
You can easily craft a DIY Christmas ball topiary for your porch with this step-by-step guide by Chloe Crabtree. Using basic materials like floral foam, Styrofoam balls, and faux greenery, you'll create a festive piece for your holiday decor.
First, secure floral foam snugly into an urn and trim it to fit. Insert a wooden stick into the foam and slide on two Styrofoam balls, one large and one small.
Wrap them with faux greenery and Christmas picks using floral pins for a lush look. Add ornaments for extra festive charm and finish with bright red berries.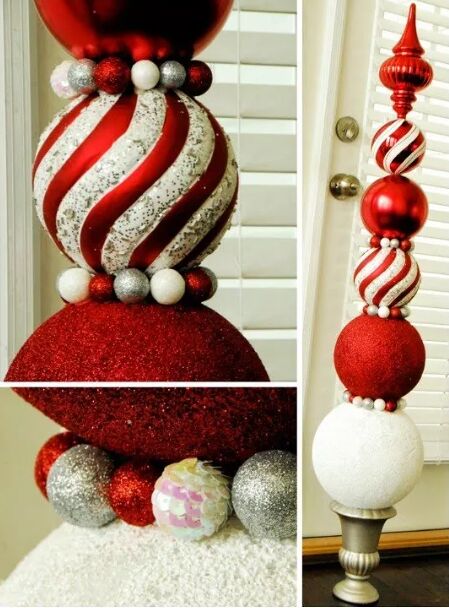 3. Indoor Christmas ornament topiary
To craft a budget-friendly DIY Christmas ornament topiary like Christina at SWEETHAUTE, select a sturdy base like an urn or pot, insert a wooden dowel, and add glass pebbles for stability.
Paint and glitter Styrofoam balls if using, then stack them on the dowel. Thread shatter-proof ornaments onto the dowel, securing them with glue. Finish by attaching mini ornaments.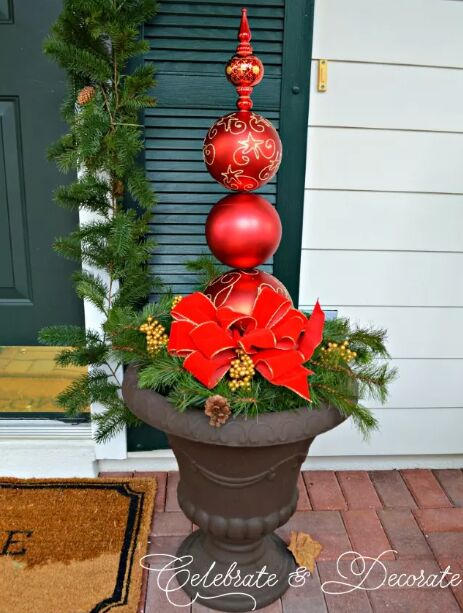 4. Outdoor Christmas ornament topiary
For an outdoor version of a DIY Christmas ornament topiary, Chloe Crabtree has a great tutorial.
Begin by removing the ornament caps. Melt a hole on the opposite side using an empty glue gun to fit a 1/2-inch dowel. Make sure each ornament has a hole on both ends for the dowel.
Smooth out any ridges with the glue gun. Secure the dowel in styrofoam for stability. Arrange the ornaments, ensuring they sit snugly together. Place the dowel in the urn with styrofoam for support.
Add additional foam if needed to keep the topiary upright, then decorate with artificial greenery and a matching bow for a festive finish.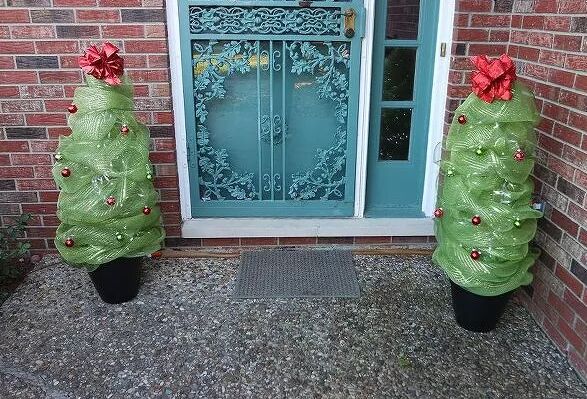 5. Light-up deco mesh topiary
Next, Abbie M shows us how to create a light-up deco mesh Christmas topiary using a tomato cage as a base.
Follow these simple steps: 1. Trim the tomato cage to size. 2. Secure it to a planter using tape and add weight to the base for stability. 3. Tie the top of the tomato cage with a pipe cleaner. 4. Safely wrap LED lights around the cage. 5. Attach green deco mesh with pipe cleaners, covering the cage. 6. Decorate with ornaments using hooks twisted onto the mesh.
These light-up trees can brighten up your front porch or any corner of your home in need of holiday cheer. To change things up after Christmas, you can swap the green mesh for white.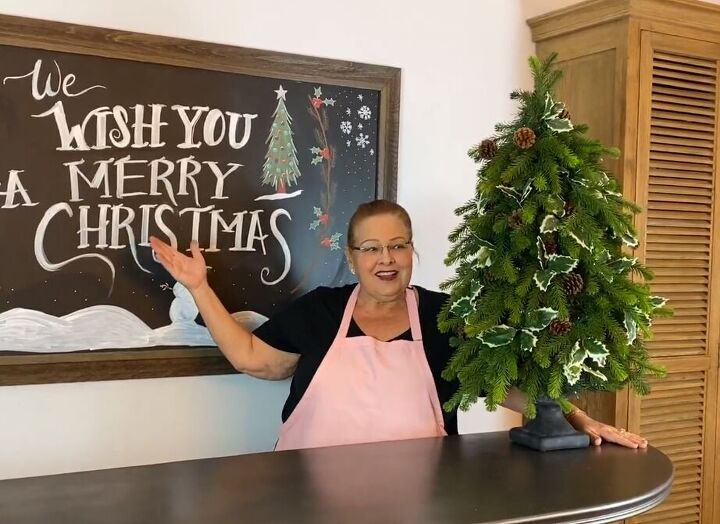 6. Christmas tree topiary
Learn how to craft a DIY Christmas tree topiary using a tomato cage and chicken wire with this guide by Chloe Crabtree.
Trim the top of a tomato cage and secure the top with a pipe cleaner. Use pipe cleaners to fasten chicken wire around the base, trimming excess wire as you work up to create a tree-like shape.
Wrap garlands around the base for texture and embellish with evergreen picks for a fancier touch. Add glittering holly picks for an icy effect. If needed, place your topiary on top of an urn for added height.
---
DIY Christmas topiary ideas
With these creative DIY Christmas topiaries, you're all set to make this holiday season sparkle. Which of these ideas are you planning to try out? Let us know in the comments below.
Enjoyed the project?
Published October 17th, 2023 10:40 AM
Popular Project Book
Popular DIY Questions