2.8K Views
11 DIY Oversized Christmas Decorations For Big Holiday Vibes
October 14th, 2023 6:04 AM
In this roundup, we've gathered a collection of DIY oversized Christmas decorations that are both budget-friendly and easy to create.
From giant jingle bells to oversized wreaths and even a life-sized nutcracker, these crafts will add a touch of holiday magic to your home.
Let's get started on crafting your own impressive holiday decor!
For even more ideas, see Hometalk's ultimate guide to DIY Christmas decor here.
DIY oversized Christmas decorations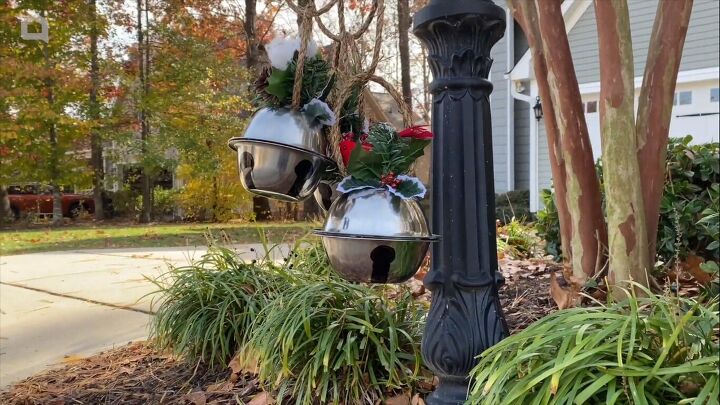 1. Oversized jingle bells
Transforming your space for the holidays doesn't have to be costly or complicated. These oversized jingle bells are a breeze to create. By following these straightforward steps by Meredith - Arts & Classy, you'll craft large holiday decorations that won't break the bank.
Start by gathering materials like mixing bowls, a black sharpie paint pen, rope, burlap, and embellishments. Draw a distinct "X" on the bottom of three bowls with the paint pen to achieve a sleigh bell look.
Glue the bowls together, add rope for hanging, and attach decorative elements for a personalized touch. Finish by securing the bells with burlap ribbon and adding a bow.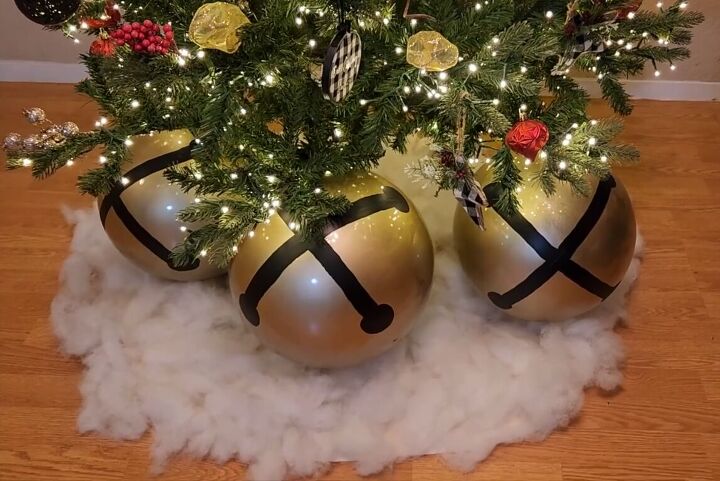 2. Giant jingle bells
For another jingle bell project, learn how to craft giant jingle bells for your Christmas decor using inflatable balls from a dollar store and this guide by Mitch Couch.
Start by placing the ball on a stand and applying primer to create a paint-friendly surface. Spray paint it gold, allowing thin coats to dry for about 24 hours. Measure and mark the ball for jingle bell details, then paint them with black acrylic paint.
Finish by placing the jingle bells under your Christmas tree for a festive touch.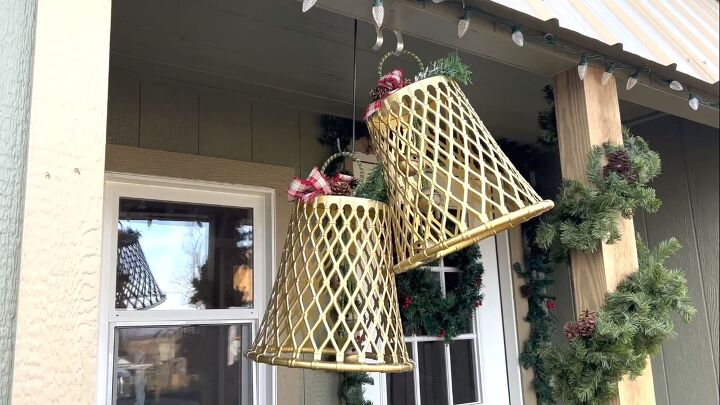 3. Waste paper basket bells
Switching to the more traditional bell shape, learn how to transform ordinary waste paper baskets into festive DIY Christmas bells using just a few steps from Holly Grace.
Head to the dollar store and grab waste paper baskets and jingle bells. Spray paint the baskets gold, ensuring even coverage inside and out. For an antique look, spray the jingle bells with black paint, then mist them with white vinegar. Once dry, lightly spray with gold paint.
Drill a hole in the basket for the clappers, then thread ribbons through for handles. Embellish with greenery, pine cones, and bows using hot glue. Reattach the jingle bells as clappers, and display your charming DIY Christmas bells.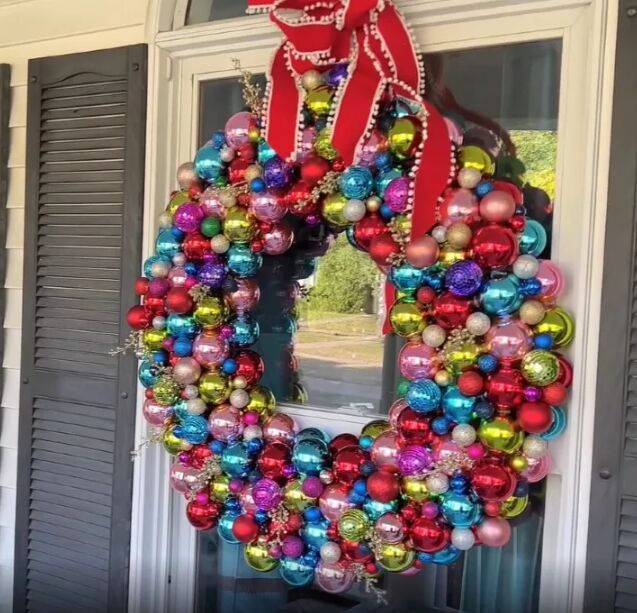 4. Jumbo Christmas ball wreath
Learn how to create a jumbo Christmas ball wreath using pool noodles and ornaments.
Following these instructions from Sonata Home Design, connect two pool noodles to form a circle with duct tape, securing the ends tightly. Fashion a hanger by folding a 25-inch wire covered with jute and looping it under the noodle.
Attach jingle bell ornaments to the outer edge with hot glue, ensuring the top is facing down. Add a second layer for extra fullness. Fill gaps with smaller ornaments and enhance with greenery or picks. Display the wreath in an outdoor window to spread holiday cheer to your neighbors.
5. Giant balloon wreath
For another oversized wreath idea, Sarah Vanderkooy shows us how to make a Christmas balloon wreath using cardboard as a base.
Draw two concentric circles on the cardboard, cut them out, and make small X-shaped cuts around the wreath form. Inflate green and red balloons, pushing the ends through the X's to secure them.
Add red balloons with adhesive glue dots. Craft a bow from red poster board and attach it to the wreath. Hang the finished wreath for a colorful and playful holiday decoration.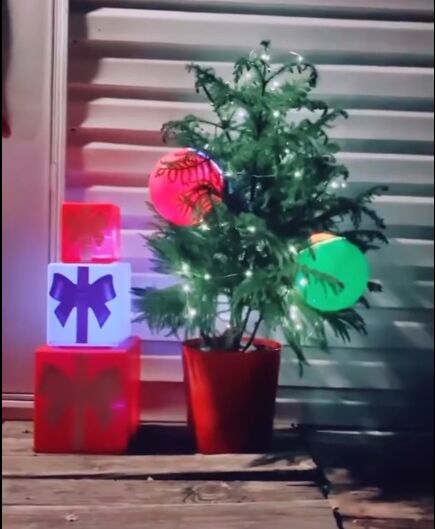 6. Light-up oversized ornaments
Moving on to oversized ornaments, Amy Hill | TXMamaShopsNDiys shares how to create glowing outdoor ornaments with items from Dollar Tree. You'll need a kids' bouncing ball and an LED hanging lamp.
Place the ball in a bowl for stability, then remove the bulb from the lamp to access the fairy lights. Shape the lights into a circle within the lamp's edge. Use E6000 glue to secure the lamp to the ball, allowing 24 hours to dry.
Once dry, they're ready for display, emitting a beautiful glow at night. Enjoy these enchanting ornaments during the day and night!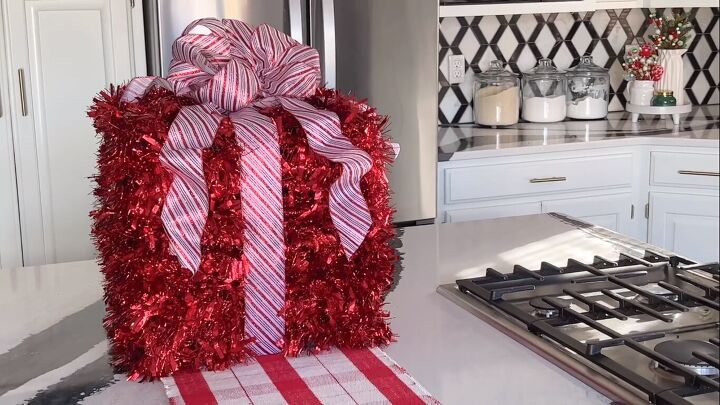 7. Oversized Christmas gift box
Sonata Home Design demonstrates how to turn square wreath forms and tinsel garlands into a large DIY Christmas gift box.
Begin by assembling the wreath forms into a box shape using zip ties, ensuring stability. Trim the zip tie ends for a polished look.
Then, wrap the box with tinsel garland, securing with hot glue as needed. Cover the top in a similar fashion, weaving the garland through the sides.
To finish, adorn the box with ribbon, tying it into a knot and affixing a grand bow using florist wire. Use this gift box as a centerpiece or place it beneath your Christmas tree.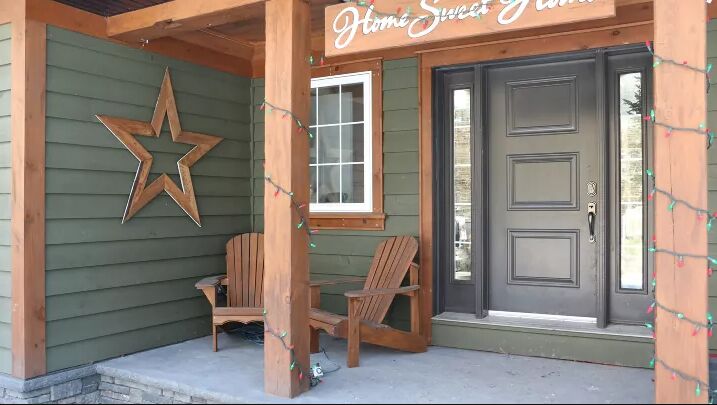 8. Giant Christmas star
This DIY project by HEIDI involves creating a giant wood star using 10 pieces of 4"x1/2" cedar, cut to 2 feet each. The crucial aspect is ensuring consistent measurements.
The boards are cut at 18 degrees on one end and 36 degrees on the other. A pocket hole jig is then used to create holes for assembly using 1" pocket screws. The completed star is suitable for year-round display.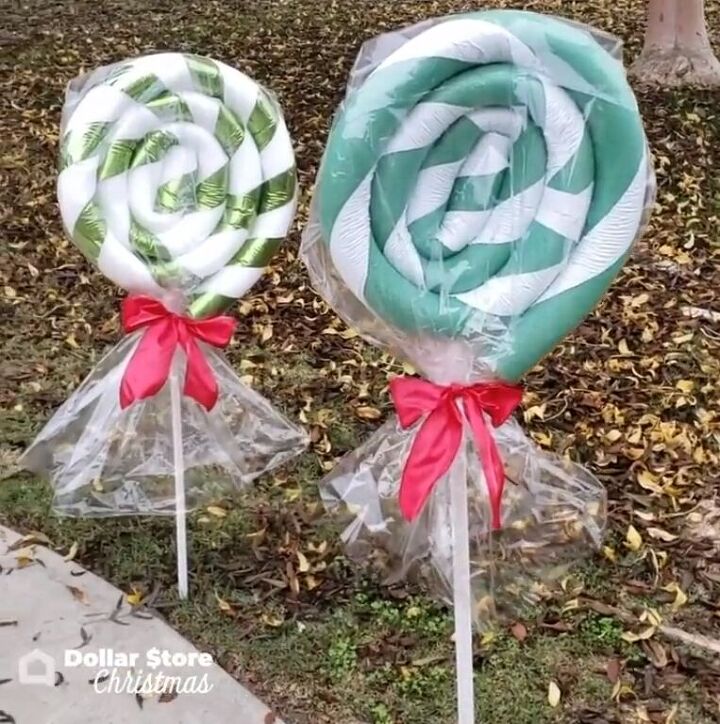 9. Giant lollipops
If you're going for more of a Candyland Christmas theme, this DIY project by Mitch Couch demonstrates how to create impressive giant lollipops using pool noodles, duct tape, and other simple supplies.
By gluing two pool noodles together and securing them with duct tape, you form the lollipop's base. The noodles are then coiled, wrapped with rubber bands, and a stick is inserted for stability.
After wrapping the lollipop in cellophane and adding ribbon, you have a festive and waterproof outdoor decoration. Each lollipop costs less than five dollars to make, providing an affordable way to spruce up your yard for the holidays.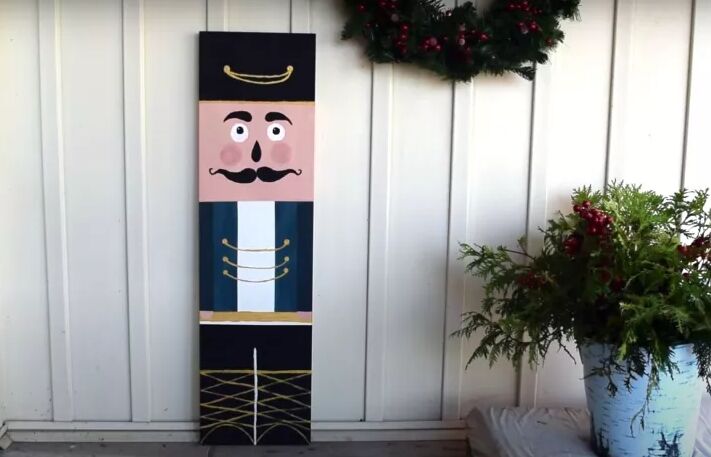 10. Giant nutcracker
This DIY project by Recreated Designs guides you through creating a giant nutcracker decoration using scrap wood, paint, and rose gold wax.
By marking and painting sections of the board, you'll bring the nutcracker to life with distinct features. From the black boots to the peach-colored face, and gold accents, the nutcracker takes shape.
The project is simple, engaging, and can be completed in just a few hours, making it a perfect holiday activity.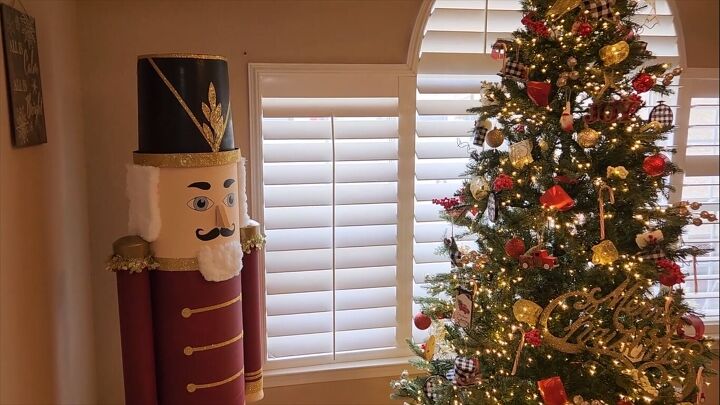 11. Life-size nutcracker
This DIY giant nutcracker project guides by Mitch Couch you through creating a life-sized nutcracker using materials like a concrete form tube, wood, PVC pipes, and paint.
It involves steps like attaching legs to the base, crafting the body and arms, priming, making the helmet, painting, adding gold trim, and detailing the face.
The result is a six-foot-tall nutcracker that stands as a festive guardian over your Christmas celebrations.
---
DIY oversized Christmas decorations
We hope you've enjoyed this roundup and found inspiration for your own holiday crafting. Which of these DIY oversized Christmas decorations will you be trying out this year?
Wishing you a season filled with joy, warmth, and beautiful handmade decorations. Happy holidays!
Enjoyed the project?
Published October 13th, 2023 10:48 AM
Popular Project Book
Popular DIY Questions