706 Views
11 Cute DIY Christmas Gnomes You Can Craft For the Holidays
October 31st, 2023 10:44 AM
Get ready to add a sprinkle of holiday magic to your home with DIY Christmas gnomes! These adorable little creatures with their fluffy beards and pointy hats are here to bring cheer.
The best part? You can make them yourself! In this article, we'll show you some easy and fun ways to create your very own festive gnomes. Let's dive in and get crafty!
For even more ideas, see Hometalk's ultimate guide to DIY Christmas decor here.
DIY Christmas gnomes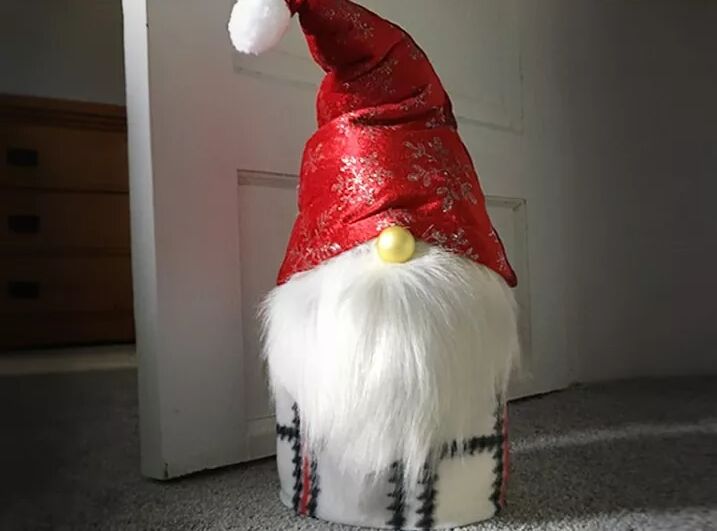 1. Doorstop Santa gnome
First, this DIY project by Craftidly | Dawn Stewart involves making a cute Santa gnome using a plastic jug as a base. It can be completed in about 10 minutes and serves as a festive doorstop.
The jug is filled with rice or rocks for weight, covered with fleece fabric, and decorated with a Santa hat and faux fur beard. Gnomes are often considered symbols of good luck, and this craft adds a cheerful touch to holiday decor.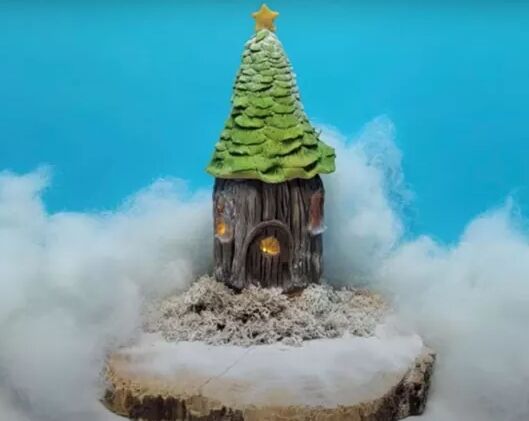 2. Christmas gnome house
If you're making a cute Christmas gnome then he's going to need a cute Christmas gnome house! This DIY project by Theartge guides you in creating a Christmas gnome house using a mason jar and polymer clay.
After covering the jar with clay, you'll shape it into a gnome home, complete with windows and a door. The roof is fashioned from tin foil and clay, giving it a tree-like appearance.
After baking and painting, the finished piece can be illuminated with fairy lights for a cozy winter decoration, and you can even use it to store small surprises.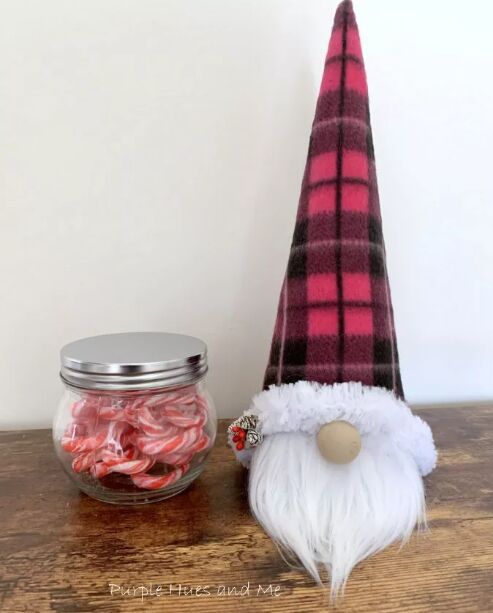 3. Christmas gnome candy jar
This project by Gail@Purple Hues and Me guides you in creating a festive gnome treat jar, which is a popular holiday decor trend. The jar is transformed into a gnome with a cone-shaped hat made from poster board, a scarf, and faux fur for the beard. It stands about 16 inches tall and includes an airtight lid for storing holiday treats.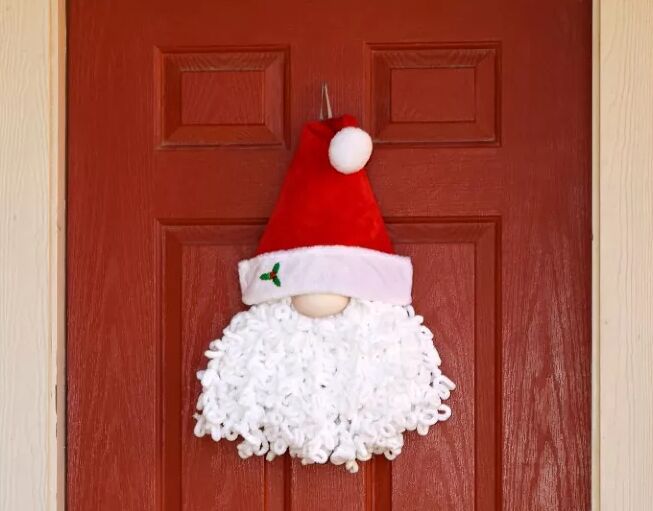 4. Loopy yarn Santa gnome wreath
Next, this creative project by Stephanie Pass guides you in creating a festive loopy yarn Christmas Santa wreath using a dollar store tinsel sign as the base.
The sign is easily unraveled, and the little embellishments can be saved for decoration. The beard is made from white loopy yarn, and it's attached to the frame using small nubs.
After adding stuffing to the wreath form, the Santa hat is placed over it. The nose is crafted from pantyhose and stuffing, and the hat is secured around it.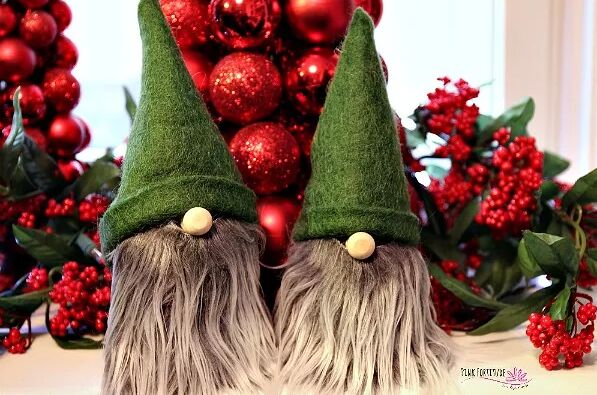 5. Pill bottle gnome
This DIY project by Holly Bertone | Pink Fortitude shows how to make a Christmas gnome using upcycled pill bottles, taking only about 10 minutes. It's an eco-friendly and adorable addition to holiday decor.
The tutorial emphasizes using long-pile faux fur for the beard. Steps include measuring and gluing felt onto the bottle, attaching a nose knob, adding fur, crafting a hat, and shaping it.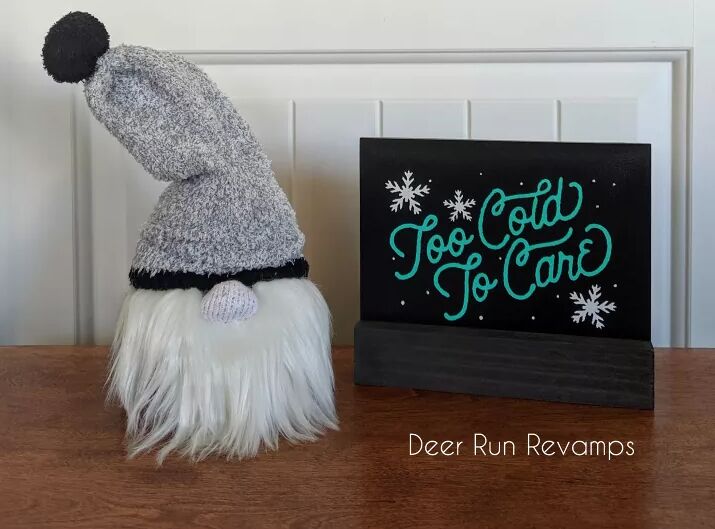 6. Christmas sock gnomes
This project by Deer Run Revamps demonstrates how to make Christmas sock gnomes, a popular craft that's easy and fun to do. The supplies needed include fuzzy socks, a white sock, rice, faux fur fabric, a glue gun, wire, rubber bands, twine, and an X-ACTO knife.
The process involves filling the white sock with rice to form the gnome's body, securing it with rubber bands and twine, and adding a nose made of rice. The gnome's hat, beard, and finishing touches are then crafted using additional socks and fur fabric.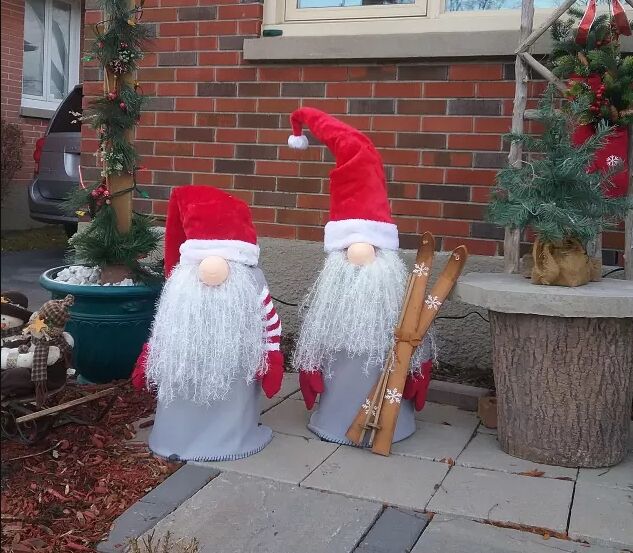 7. Tomato cage gnomes
Melanie's DIY project guides you in making large Christmas gnomes using tomato cages as the base. The supplies, including a fleece blanket, socks, mittens, and a Santa hat, can all be found at the Dollar store.
The process involves wrapping the tomato cage with a cut blanket, attaching arms, painting a styrofoam ball for the nose, and assembling the gnome's features. The result is a trio of adorable gnomes for your front yard.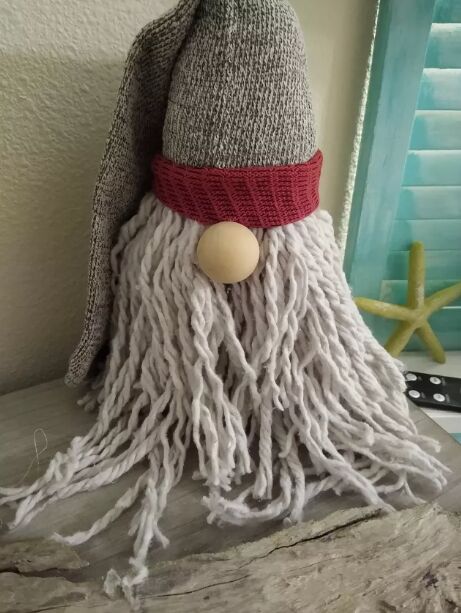 8. Dollar Tree mop gnome
This project by Beth and Spencer Teller guides you in creating Christmas gnomes for the holidays using budget-friendly supplies. You'll need a mop, sock, foam cone, wooden balls, and a hot glue gun, all from the Dollar Tree.
After carefully removing the rope from the mop, spread the pieces to create a whimsical "hair" effect. Attach layers of rope around the cone to cover it completely. Use the sock to make a hat and attach a wooden ball as the nose.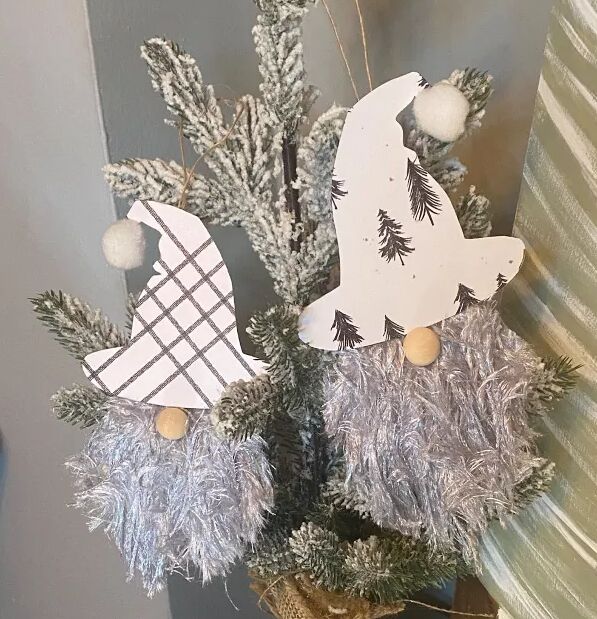 9. Yarn gnome ornaments
For more Dollar Tree gnome inspiration, this DIY project teaches you how to make gnome ornaments using Dollar Tree supplies. You'll need wooden cutouts (like a witch's hat and a ghost), yarn, scrapbook paper, Pom poms, and a glue gun.
Start by tracing and attaching scrapbook paper to the wooden hat, then use white fuzzy yarn to create the gnome's beard. Add a wooden half-bead for the nose and top it off with a witch's hat. Finish by attaching a loop for hanging.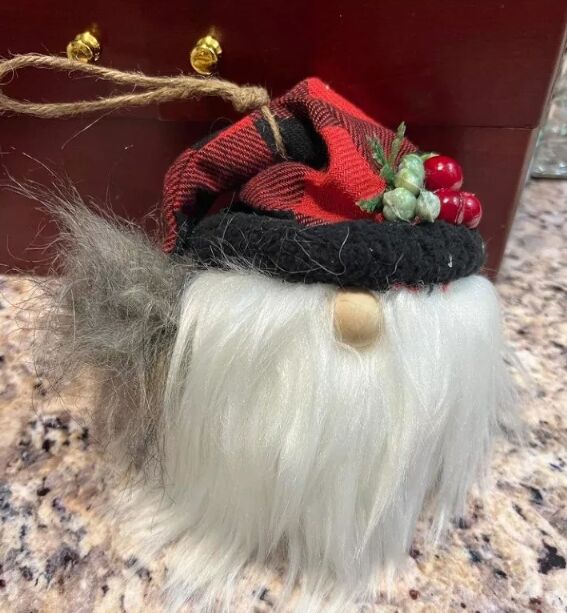 10. Jingle bell gnome
This project by Judy Wyatt guides you on how to make gnome ornaments using jingle bells. You'll need a jingle bell, faux fur or fuzzy material, a small hat, a half bead for the nose, chunky wool, and decorative berries.
Start by measuring and cutting the fur, then attach it to the bell using hot glue. Trim the hat and glue it on, adding the half bead for the nose. Attach the wool for the beard, followed by the berries for decoration.
Add twine for hanging by securing it under the hat with hot glue. This creates a cute and festive ornament, perfect for gifts.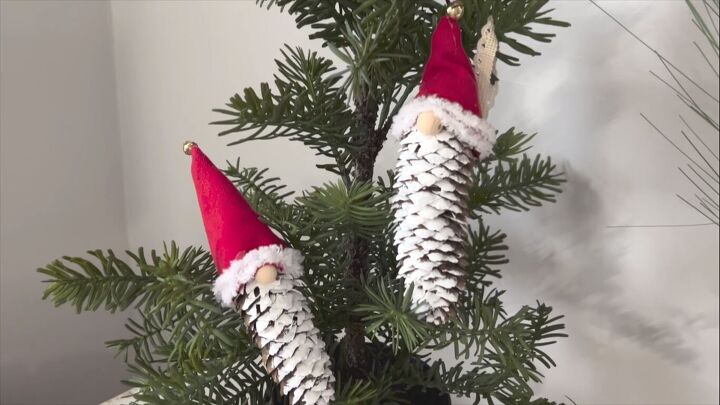 11. Pine cone gnome ornaments
This tutorial by Holly Grace offers three pine cone Christmas decorations that are easy to create.
The first involves painting flower pots, stamping them with holiday-themed words, and attaching pine cones for a festive touch. The second project entails threading foam balls onto twine, wrapping craft wire around pine cones, and adding ribbon and greenery.
The final project features painting pine cones, crafting gnome hats, and embellishing with beads, yarn, and ribbon to create adorable gnome ornaments.
---
DIY Christmas gnomes
Whether they find a spot on your mantel, tree, or as delightful gifts for loved ones, these gnomes are sure to spread smiles all around. Which of these DIY Christmas gnomes will you be crafting this year? Let us know in the comments below.
Enjoyed the project?
Published October 31st, 2023 6:57 AM
Popular Project Book
Popular DIY Questions