1K Views
11 DIY Gingerbread Christmas Decor Ideas to Sweeten Your Home
November 17th, 2023 10:04 AM
Gingerbread-themed decorations are a heartwarming addition to any holiday setting.
From cute milk carton gingerbread houses to intricate garlands, this roundup offers a range of creative projects that capture the essence of a Candyland Christmas.
Whether you're crafting ornaments, wreaths, homestead displays, or even a whole gingerbread village, each project brings a touch of holiday magic. Dive in and explore these step-by-step tutorials on DIY Gingerbread Christmas decor.
For even more ideas, see Hometalk's ultimate guide to DIY Christmas decor here.
Gingerbread Christmas decor ideas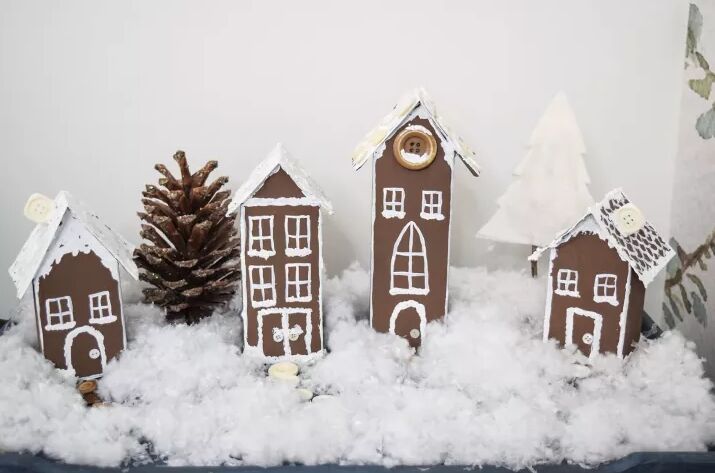 1. Milk carton gingerbread houses
Create adorable gingerbread houses using milk cartons with this tutorial by Recreated Designs. Here's how:
Prepare the Cartons: Start with clean, paper milk cartons. Any size will do.
Paint the Cartons: Use brown chalk paint (like Annie Sloan's Honfleur) to cover the outside. Ensure full coverage, but don't worry about the bottom or inside.
Shape the Roof: After drying, trim the tops and create a pointed roof for your gingerbread house.
Add a Roof: Use a folded business envelope to form a roof. Paint it brown, let it dry, and attach it to the top of the carton.
Decorate: Sketch windows and doors, then paint them with white water-based paint. Add "icing" along the seams.
Snowy Finish: Mix white paint with Fusion Fresco powder (or alternatives) to create a thickened paint for a snowy effect.
Personalize: Get creative! Add unique touches like vintage buttons for doorknobs and a sprinkle of glitter for a touch of sparkle.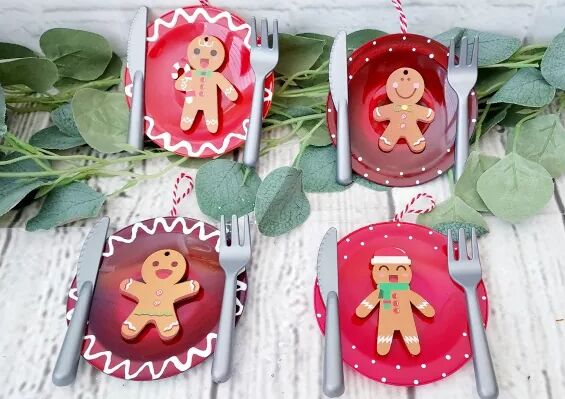 2. Gingerbread ornaments
Impress your guests with these gingerbread man cookie ornaments by Kiki DiY's. They're perfect for decorating your tree, kitchen, tiered tray, or shelf. Here's how to make them:
Spray Paint Plates: Take plastic toy plates and spray them with red paint. Let them dry for an hour or more, depending on the weather.
Add Puffy Paint Details: Use white puffy paint to create swirls, dots, or rickrack patterns along the plate border. Let it dry for a few hours.
Glue Gingerbread Men: Attach cute gingerbread man cookies to the center of the plates.
Glue Cutlery: Secure toy plastic forks and knives to the sides of the plates using hot glue.
Add Baker's Twine (Optional): For ornaments, attach baker's twine with a loop and two knots at the bottom. Glue the knotted part to the back of the plate.
These DIY gingerbread ornaments are a delightful addition to your holiday decor. They're kid-friendly and sure to bring a smile to everyone's face.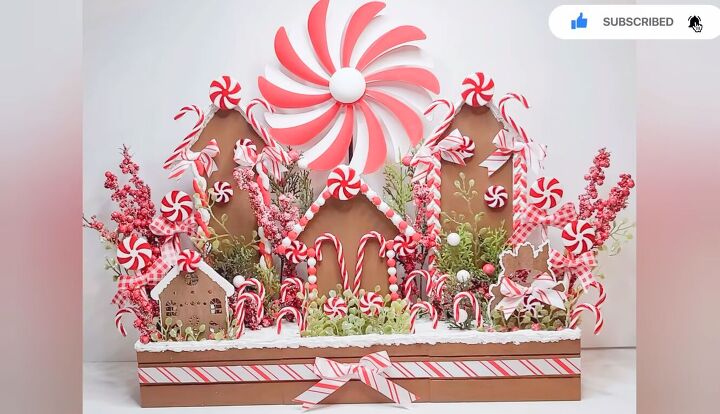 3. Gingerbread homestead display
Crafting in Mimi's World shows us how to craft a DIY gingerbread homestead display with a cozy farmhouse feel. Here's how:
Prepare the Planter: Use three Dollar Tree wooden crates. Cut off one side from two crates and both sides from one crate. Glue them together to form a long wooden planter.
Paint Wooden Arrows: Pick up three Dollar Tree wooden arrows, paint them in a brown shade (like Apple Barrel in Nutmeg Brown).
Frost with Caulk: Use caulk to create a frosting effect around the planter.
Transform Arrows into Houses: Attach craft sticks to the arrow tops to create roofs. Frost with caulk and add glitter for detail.
Fill with Decor: Add smaller wooden pieces, painting, frosting, and glittering them for a cohesive look.
Create Embellishments: Fill a decorative silicone mold with hot glue, let it set, then paint in red and white for peppermint-themed decorations.
Decorate the Houses: Use hot glue embellishments, plastic peppermints, candy canes, and ribbons to adorn the houses. Insert them into floral foam in the planter.
Make Faux Lollipops: Use wooden dowels, peppermint-striped ribbon, plastic peppermints, and gingham ribbon to craft lollipops. Paint the floral foam white.
Final Touches: Add more florals, plastic candy, ribbon, and a pinwheel for a whimsical finish.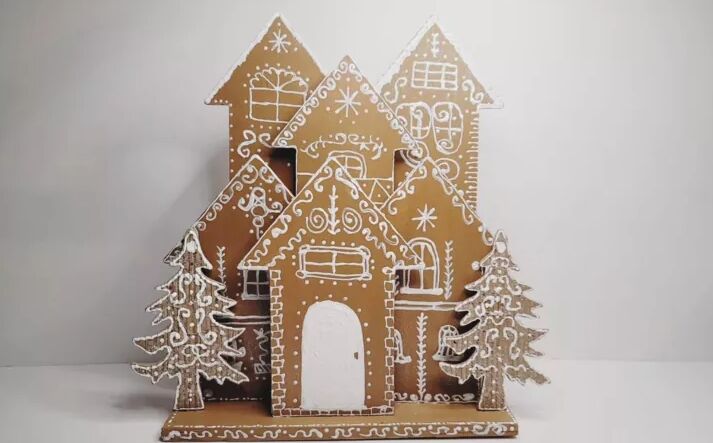 4. Gingerbread village
Learn how to craft a rustic and budget-friendly gingerbread village using Dollar Tree supplies by following these steps, again from Crafting in Mimi's World.
Craft Houses: Start with six wooden arrows, three tall and three short. Cut one tall arrow to make a medium-sized one.
Paint with Hazelnut: Use Waverly Chalk Paint in Hazelnut for a warm finish.
Add Frosting Designs: Use a paint marker to sketch fun designs like swirls, dots, and arches.
Enhance with Fabric Paint: Use Tulip Slick or Puffy fabric paint to outline and add texture to the designs.
Add Glitter: Apply a thin coat of Tulip Glitter Fabric Paint for a glistening effect.
Create the Base: Paint a wooden plank in the same manner as the houses.
Revamp Ornaments: Remove embellishments from cardboard Christmas tree ornaments, repair any tears, and redesign them with paint.
Build the Village: Use wood glue and hot glue to assemble the houses on the wooden base, securing them with Tumbling Tower Blocks.
Add Trees: Attach trees on each side of the village using hot glue.
Here's the final result: a charming neutral gingerbread village made with Dollar Tree supplies.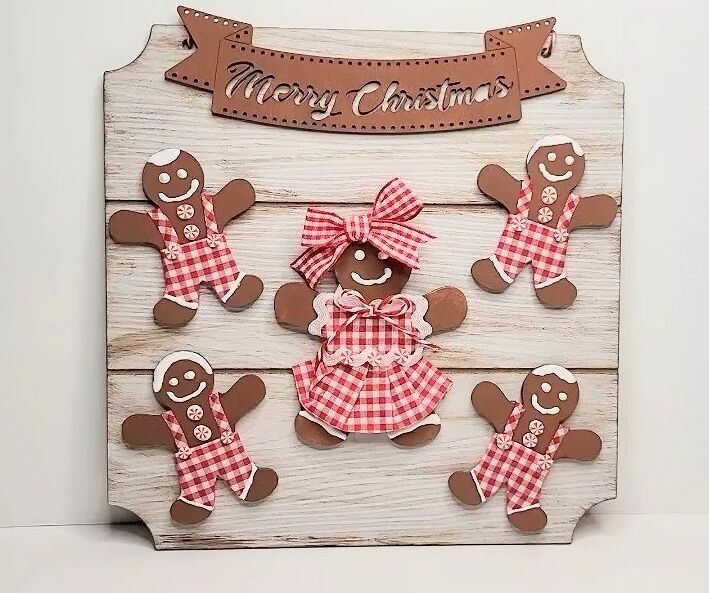 5. Gingerbread family plaque
Celebrate your family with this festive wooden plaque project by Crafting in Mimi's World:
Preparation: Gather the gingerbread shapes representing your grandkids and a "Merry Christmas" banner. Paint them in Nutmeg Brown.
Add Clothing: Use red & white gingham fabric to craft adorable outfits for the gingerbread kids.
Girls' Dresses: Cut rectangles and glue three edges for a finished look. Create pleats and embellish with ricrac and mini peppermints.
Boys' Outfits: Design pants with suspenders and add details with slick paint and mini peppermints.
Add Faces: Use white slick/puffy fabric paint for simple facial features.
Assemble: Give the plain plaque sign an antique look using wax. Assemble all the elements for the final display.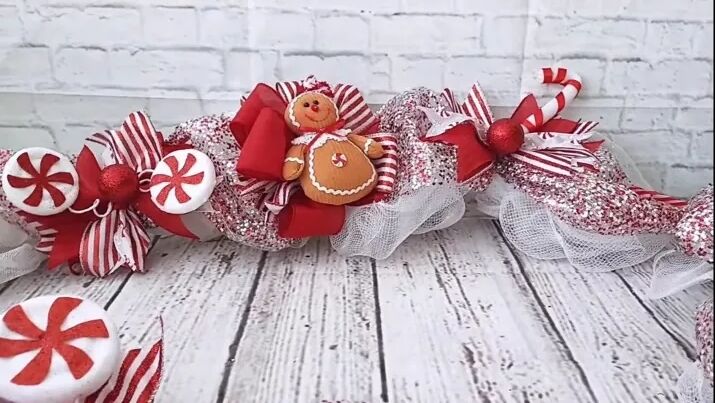 6. Gingerbread garland
If you're looking to add a sweet touch to your holiday decor, this DIY gingerbread garland by Kiki DiY's is a perfect choice.
Gather Supplies: You'll need two different rolls of 5-yard 2.5" ribbon and one 5-yard 1" ribbon
Prepare the Garland: If you're reusing an old garland, strip it down. If not, get your white and sparkly mesh.
Make Loops: Craft 6" loops with both styles of mesh, securing them with zip ties.
Craft Ribbon Bows: Cut 3 pieces of each ribbon at 9", dovetail them, and create a crisscross pattern without repeating ribbon styles.
Decorate with Peppermint Picks: Add peppermint rounds and sparkly foam ornaments using hot glue.
Create a Central Bow: Make a funky bow using 2.5" ribbon strips, tie them tightly, and fluff.
Add Gingerbread Lady: Secure a gingerbread lady to the central bow with hot glue.
Assemble the Garland: Start with crisscrossed candy canes, zip tie them, and continue the pattern (candy cane, bow) until the center.
Continue Assembling: At the center, attach the funky bow, then continue the pattern until the end.
This gingerbread garland is a cute addition to your holiday decor, perfect for mantles, cabinets, windows, or anywhere you like!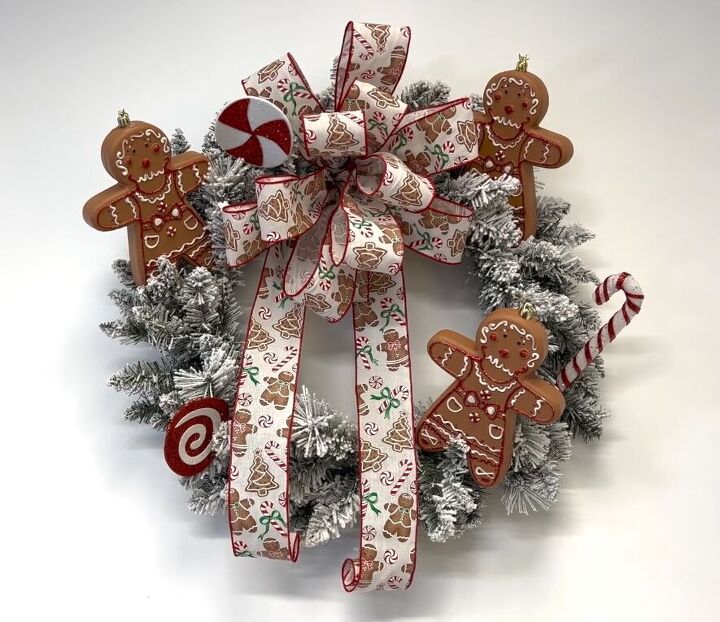 7. Gingerbread wreath
Follow these simple steps by Nick Kreticos to craft a festive DIY gingerbread wreath without using hot glue or tape. Here's what you'll need:
Fluff the Wreath: Begin by fluffing out the flocked wreath to create a perfect circular shape.
Make the Bow: Use gingerbread-themed ribbon to create a large, impressive bow. Attach it securely to the wreath using a pipe cleaner.
Add Gingerbread Men: Incorporate adorable gingerbread men ornaments, matching the ribbon's theme. Secure them in place using hot glue or wire.
Include Peppermint Sprays: Finish off the wreath with charming peppermint sprays for an extra festive touch.
The end result is a lovely DIY gingerbread wreath, perfect for a Candyland Christmas theme.
8. Gingerbread house door decoration
Next, Mitch Couch shares how to create an impressive holiday entrance with this budget-friendly DIY gingerbread house door decoration. Here's what you'll need:
Cut Cups for Gumdrop Look: Slice colored cups in half to resemble gumdrops.
Measure and Cut Foam Board: Cut a foam board in half at the 10-inch mark, creating a 10-inch piece.
Create Curved Edges: Use a razor knife to cut a swirly pattern along one long edge, simulating icing.
Assemble the Frame: Tape the foam board pieces together securely.
Apply Expanding Foam: Use bright white expanding foam to create an icing effect. Apply it all around, avoiding the edges.
Add "Gumdrops": Place colored cup halves onto the foam, securing them in the expanding foam.
Attach to the Wall: Use clear adhesive with silicone to stick the frame to the wall, ensuring it's ready for Christmas guests.
The end result is a spectacular gingerbread house door decoration that adds a touch of magic to your holiday decor.
9. Gingerbread doormat
This project by Jennifer Howard| Cottage On Bunker Hill is about creating a festive DIY gingerbread doormat inspired by a Christmas doormat design sold at Anthropologie.
Jennifer uses a plain doormat and outlines gingerbread houses, adding details and painting them with white acrylic paint. Additional decorations like a wreath and bushes are also added. The result is a charming welcome mat resembling a giant gingerbread cookie.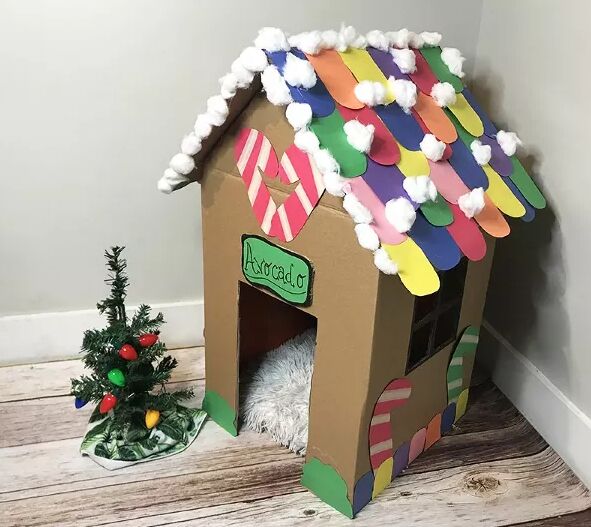 10. Gingerbread cat house
Abbie M's project showcases crafting a gingerbread-themed cat house using a cardboard box.
Construct the box, decorate the roof with vibrant construction paper, and personalize it with elements like windows, a door, and candy embellishments made from cardboard and construction paper.
It's a budget-friendly and pet-oriented DIY to involve your beloved furry companions in the holiday celebrations!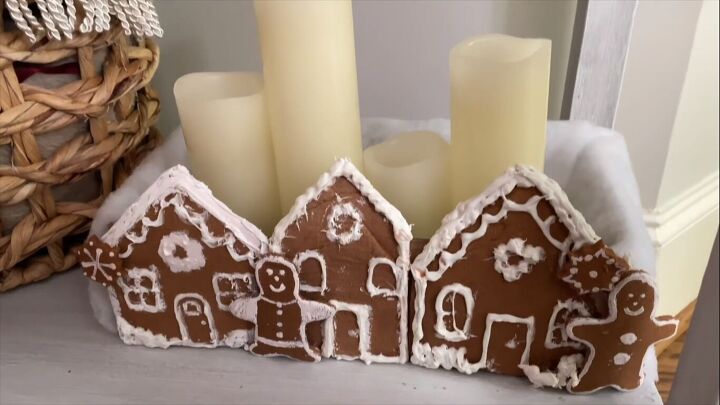 11. More DIY gingerbread decorations
Bring the sweet charm of gingerbread to your holiday decor with these simple DIY gingerbread decorations by Meredith - Arts & Classy: a garland, a jar display, and a gingerbread box.
Make Salt Dough: Start by creating a batch of salt dough for your decorations.
Add Food Coloring: Customize the dough by adding chocolate brown food coloring.
Roll Out the Gingerbread: Roll out the dough between layers of parchment paper.
Cut Out Shapes: Use cookie cutters to create various shapes like snowflakes, snowmen, and gingerbread houses.
Bake: Place the shapes on a cookie sheet and bake for one hour at 200 degrees.
Add Frosting: Use acrylic paint to create the look of frosting on the gingerbread. Add details with dots, lines, and caulk for a three-dimensional effect.
To make the garland, attach the gingerbread shapes to a ribbon using a hot glue gun, creating a charming gingerbread garland. For the jar display, fill a clear container with white sand, creating a snowy base for your gingerbread men and trees. To create a gingerbread box, glue gingerbread houses, men, and snowflakes to a cardboard box. Cover it with quilting batting to create a snowy wonderland.
---
DIY gingerbread Christmas decor
What do you think of these DIY gingerbread Christmas decor ideas? Let us know in the comments below.
Enjoyed the project?
Published October 10th, 2023 9:47 AM
Popular Project Book
Popular DIY Questions